Our Beijing Top Ten:  Activity Edition
If you have spent any time in Beijing, you have experienced the constant bombardment of there always being something to do.  However, all that tomfoolery can slowly break the stitched edges of your qián bāo.  Composited below, is a list of The Hutong's unofficial guide to experiencing Beijing on a budget–our favorite things to do in the city for 10 RMB or less.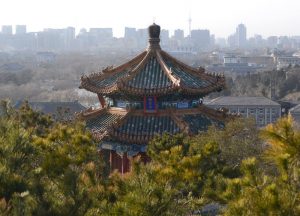 Jingshan Park 景山公园 (Jǐngshān Gōngyuán)  Price: 2 RMB
Nestled just north of the Forbidden City is the Jingshan Imperial Garden Park.  Amongst the park staples of old men playing cards, a scholarly chap slapping down a mahjong tile, and small children flying tiny kites, sits Jingshan (景山) itself.  Literally translated as "Prospect Hill," climbing on top of the mound will give you a spectacular view of the city on a clear day, and an overhead view of the Forbidden City for a much cheaper price than the traditional Gùgōng outing.
Jianzi (毽子)  Price: 5-10 RMB
This little contraption is the feathered version of a hackey sack.  Usually jettisoned around between two or more people, playing with a jianzi is an excellent way to make friends in a park.  Kicking around one of these will attract not only attention but people of all ages and abilities.  You can even have an Ayi school you with her Jedi reflexes.
Picnic in Haidian Park (海淀公园)  Price: FREE
On Beijing's west side, there happens to be a vast expanse of grass that you can actually walk on!  Haidian Park with it's free admission and open landscape, is the perfect place to hold your next picnic for a group large or small.  You can grab one of our favorite Beijing street eats along the way to make it a date to remember.
Tiantan Park 天坛公园 (Tiāntán Gōngyuán) Price: 10 rmb
If you're into people watching, the park surrounding the Temple of Heaven is undoubtedly the best place to scratch your espial itch.  Whether it's men waving banners to music, groups of ayis dancing with competing music blaring out of portable amplifiers, DIY enthusiasts knitting and selling their handicrafts to passersby, children running around and playing games, or different mixes of people practicing music in makeshift bands, there is always something to see.  You could even become part of the fun and bring your own instrument, yarn or sketchbook.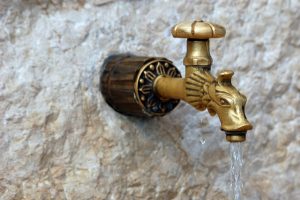 Beijing Tapwater Museum   Price: 5 RMB
Although it's curb appeal leaves something to be desired for the aesthetically inclined, inside information abounds concerning landlocked Beijing's historical and sometimes tumultuous relationship with water.  Models of the city's pipelines, advice concerning water conservation, and artifacts from the early days of shuǐ piaòs can all be found tucked inside.
See Chairman Mao's Body   Price: FREE 
Ever wondered just how prominent Chairman Mao's mole really was?  Now you can find out!  Just inside the plaza of Tian'anmen Square, is Mao's Mausoleum.  On certain days of the week and at certain times, you can actually go inside and see his preserved body.  Granted it is through thick layers of plexiglas, but it is quite a sight to behold.  The only catch:  No phones or bags allowed, and guests are encouraged to dress cleanly and appropriately.  Bouquets of flowers also accepted.
Fragrant Hills Park 香山公园 (Xiāngshān Gōngyuán) Price 5 RMB
(until March 31st) 10 RMB (after April 1st)
West of the city sits this peaceful oasis in mountainous form.  The seasonal increase in price is for views of the perfectly pink cherry blossoms in the spring and scarlet red leaves in the autumn.  If you need advice as to which day is the best for seeing and savouring such delights, we recommend you ask your friendly neighborhood ayi.  She will definitely have an opinion.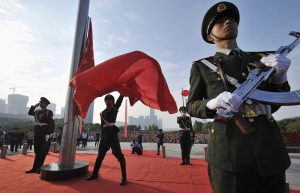 Flag Raising Ceremony at Tian'anmen  Price: FREE
Wake up with the rest of the octogenarians in the city, and do your morning exercises on Tian'anmen Square while watching the Chinese military raise the flag.  It happens every day, and is an excellent way to start the day depending on the sunrise.  A cultural accompaniment to your morning zhōu (粥).
Beijing Wax Museum (located inside Ditan Park) Price 5 RMB
Can't meet the Chinese celebrities you've always dreamed of?  No problem.  Just north of our Jiudaowan Hutong sits a buried Beijing treasure, the Beijing Wax Museum.  Sporting life size figures of famous Chinese figures past and present, including Yao Ming, Jackie Chan, and Emperor Qin Shi Huang of the Qin Dynasty, there's something for all manner of spectator.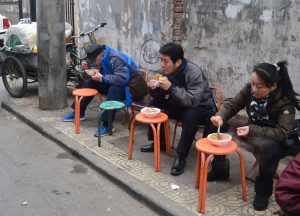 10.  Neighborhood people watching  Price FREE (plus the cost of ice cream)
There's nothing more satisfying than hiding in plain sight.  Beijing's most equitable and enjoyable commodity is its stellar population.  Not only is there a wide variety of people to see, but there are also SO MANY.  Anywhere you go, you can have a seat and watch hundreds of people go by and enjoy their snippets of conversations and interactions.  This experience made better by a warm beverage or ice cream cone depending on the season.
~~ Follow Us on Wechat ~~    
Celebrating a Decade of Exceptional Cultural Experiences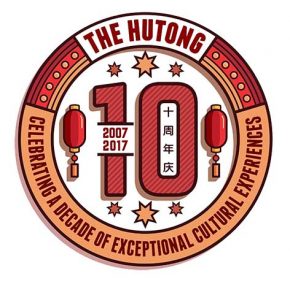 We opened our Hutong courtyard doors ten years back with a simple wish: to create a special place where people could come together, learn from one another, and have a great time. We never imagined we would be where we are today: running programs across China, with an incredible team from across the globe.
十年前我们打开了在北新桥九道湾1号的四合院大门,只为了一个愿望:为大家提供一个可以相聚,学习与共享美好时光的平台。就这样,胡同可以从那个时候一直走到了今天。现在,我们拥有这来自世界各地的团队,并在全中国各个地方都有不同的活动, For our ten-year anniversary, we'll be celebrating each month of 2017.  一眨眼,十年过去了,在迎接2017年的到来的同时,我们想要和大家一起庆祝这个难得的庆典。
The Hutong's Tenniversary:  http://thehutong.com/tenniversary/