Dear Home Chefs!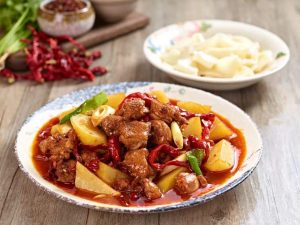 We're already in the fourth week of our Quarantine cook-off where participants were invited to cook weekly recipes and show off their culinary talents.
After the deadline for Week 3 on Sunday, April 12 The Hutong Kitchen's Master chefs came together to judge for the top 3 dishes. We also invited Chef Sue Zhou of The Bakeshop, Chef Reshma Khan of Parwaaz and Meredith Sides of Naked Nuts Butter to join the judging panel. The dishes were judged based on deliciousness (as much as we could perceive the taste from the photos), plating, photography, and creativity. Extra points were also awarded to entries with the most likes and interactions on social media.
It was a very tight race as we had so many amazing submissions that were all deserving of the top spot but before we announce the winners let's first recap the prizes from our generous local sponsors:
–      First Prize: Cheers: 1 Bottle of Riesling Wine, Liuba Draws -One Wall Calendar, Andy's Craft Sausages – One Pack of Sausage, Sherpa's – One 100RMB Coupon.
–      Second Prize: Cheers: 1 Bottle of Riesling Wine, The Bulk House: Dish soap bar, Andy's Craft Sausages: One Pack of Sausage.
–      Third Prize: Andy's Craft Sausages: One Pack of Sausage, Jing A: One Merchandise Gift Pack: T-shirt of Your Choice, Keychain and Dongbei Beach Towel.
And now our winners: *DRUM ROLL*
3rd Place Winner – Sun in the red ocean
Submitted by Aysu Bayrak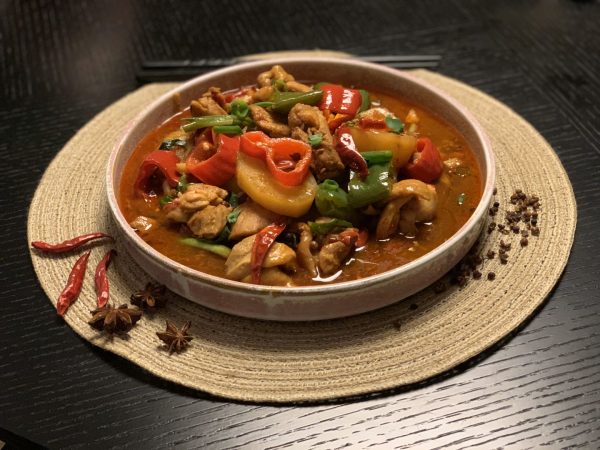 Aysu Bayrak: "When I first tasted this dish, the aroma of the spices, the harmony of the ingredients gave me the feeling of discovering a place on my palate.  Opening my kitchen to Chinese culinary culture expanded my perception of food.  Applying a new recipe and adding something from myself resulted in a fine feast for dinner."
Judge Sue Zhou from The Bakeshop: "This dish has a good amount of sauce and it's glossy like a traditional Dapanji should be. It looks so tasty with a good amount of peppers."
2nd Place Winner – The pup and the big plate
Submitted by Isaiah P.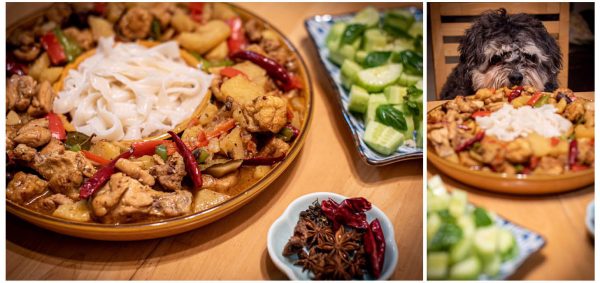 Isaiah P.: "I have loved cooking ever since I was just two years old. I have enjoyed the cooking challenge as a way to learn new dishes, seeing my family enjoying the food, and getting better at the craft."
Judge Yao from TheHutong Kitchen: "It's simply so mouthwatering. The plating for Dapanji is really creative and I can't take my eyes off this just like that puppy! And great choice with the cucumber salad."
1st Place Winner –  The Enchanted Big Plate Chicken with Noodles
Submitted by Valentina Fritsch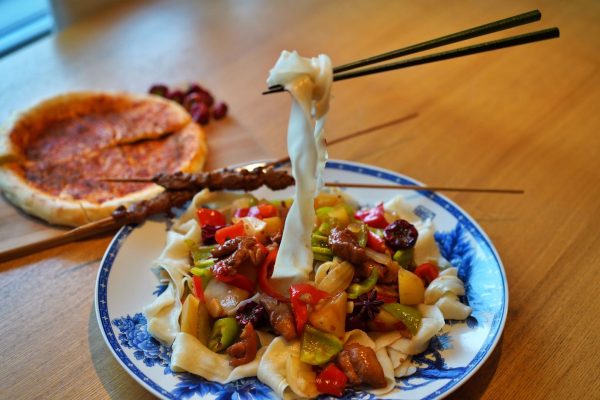 Valentina Fritsch: "I'm probably not the only (self-)quarantined person these few months that have been reminiscing about just leaving the apartment and grabbing a DiDi to head to the next best Chinese restaurant and have some tasty, wonderful meals for a few kuai. That would be quite amazing, right? Well, with the Cook-off challenge from The Hutong I had the chance to bring some of those dishes back home, what a great joy!"
Judge Reshma Khan from Parwaaz: "A meal in A Xinjiang restaurant is not complete without – Dapanji, Lamb skewers and, Naan bread. This submission captures the whole experience."
Judge Meredith Sides from Naked Butters: "Not only does this dish look mouth-watering, but the chopsticks are floating in mid-air! Love a good magic show with my dinner."
Honorable Mentions
In addition to our top 3 dishes, here are 3 other finalist dishes that left us in awe. We'd like to acknowledge these home cooks who also submitted culinary masterpieces.
Standout Plating – Deconstructed Xinjiang Big Plate Mushrooms
Submitted by Maria Mileva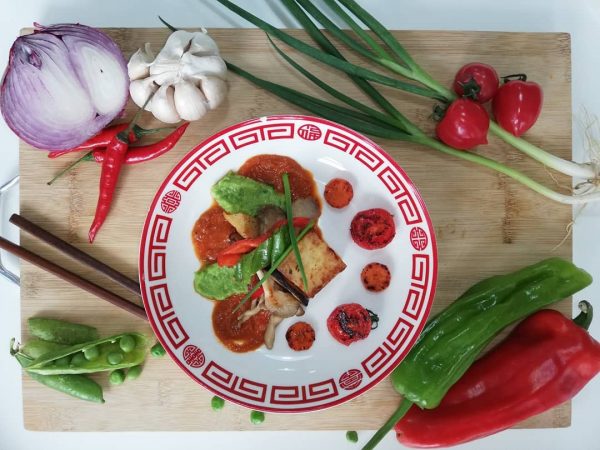 Maria: "How do I make a stew look beautiful?" is the first question I asked myself when looking at the recipe. Well, I obviously thought there was no way I could do it – which inspired me to break apart the components of the recipe. The final plate is a crispy and fluffy fondant potato with sautéed mushrooms, accompanied by the Sichuan spicy sauce, a pea and spring onion purée, and caramelized carrots & tomatoes."
A Vegetarian Delight – Big-plate Tofu
Submitted by Christine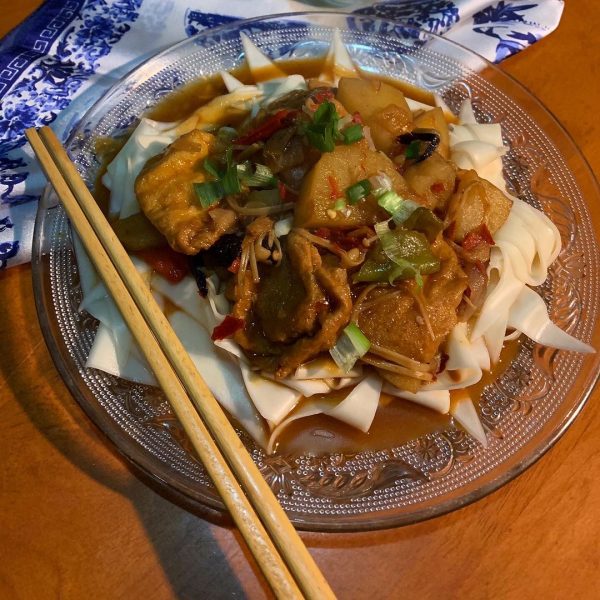 Christine: "I love to eat this dish in Xinjiang restaurants around Nanchang. It's so flavourful and delicious, I never thought I'd be able to replicate it at home. Turns out, with the right ingredients it's surprisingly easy and still tastes amazing. Thanks to The Hutong for helping me learn some amazing new Chinese recipes!"
Congratulations to all of our winners. We were truly blown away by the submissions we got and the amount of effort and love that went into creating all these dishes.
Sponsors
We are also very thankful to all our local sponsors who've donated various prizes to support the cookoff.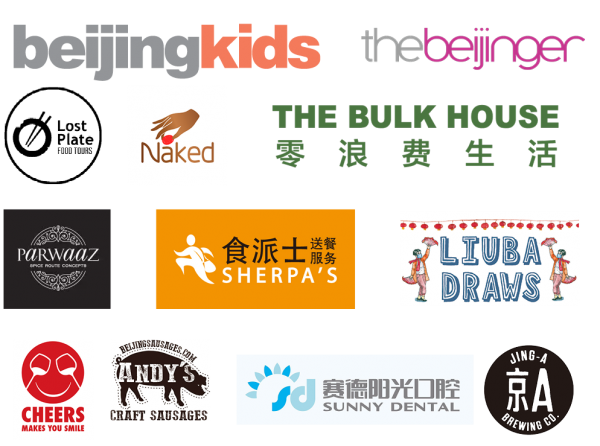 Once again a big thank you to everyone who joined the cook-off last week. We are looking forward to your entries for this week's Wuhan 'hot-dry' noodles and Spinach peanut salad recipe.  Let's get cooking!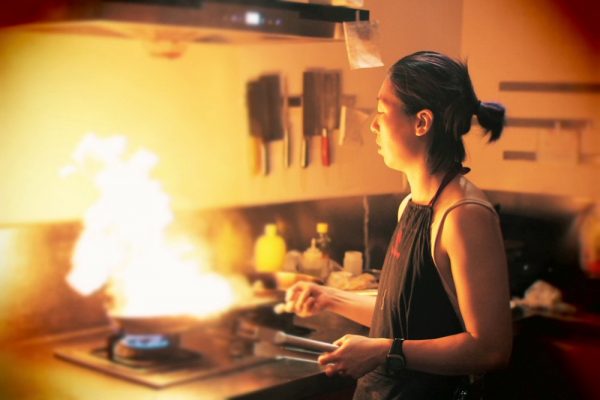 Let the cook-off continue!!  
---
For more information,  please contact us.
   Email: info@thehutong.com  Mobile & Wechat: 15901046127
We look forward to seeing your delicious entries
---