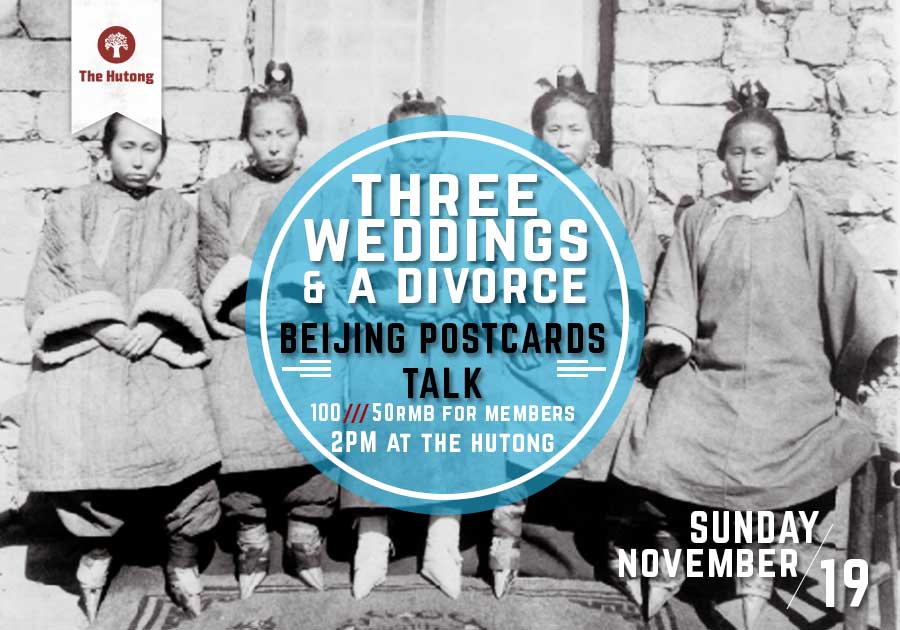 Three Weddings and a Divorce: Beijing Postcards Talk
Date: Sunday, November 19th
Time: 2:00pm – 4:00pm
Cost: 100 RMB, 50 RMB for members

"Three Weddings and a Divorce" is a portrait of three women all living in Beijing.
Grandmother Wang – with bound "Lily-feet", 63-year-old Liu Xiao Bing – whose life was heavily affected by the Cultural Revolution, and 34-year-old successful business woman Xie Rui. Together, they can account for the last hundred years of Beijing's history.
Their life stories illustrate the incredible change the role of women has undergone in Chinese society. It tells of how the custom of foot-binding was abandoned and condemned by revolutionary slogans that projected model female workers to the fore, but the idea of the good-natured communist woman now seems distant, having been replaced by the high stilettos of 'modern society'
Beijing Postcards has been following the lives of these women for about four years. During this period a great deal has changed, not least that "Three Weddings and a Divorce" has now become "Four Weddings and a Divorce"!
Join us for another fascinating discussion with our friends from BJ Postcards
三次婚礼和一次离婚"讲的是三个生活在北京的女人的故事。裹着小脚的王奶奶,深受文革影响的63岁的刘小兵,34岁的女强人谢蕊。她们的故事可以代表北京近百年的历史,也反映了在中国社会中女性角色的巨大转变。
不再裹小脚了,"三八红旗手"出现了,但是现在共产主义女性的概念离我们越来越远了,取而代之的是"现代社会.
北京卡片追随了她们的生活将近4年。在此期间发生了一件大事现在是"四次婚礼和一次离婚"了!

---
Beijing Postcards is a company that is dedicated to modern Chinese history, with an emphasis on Beijing. It can be difficult to understand the complex nature of Chinese society today. To help, Beijing Postcards offers a large variety of talks presenting interesting subjects on Beijing and China's history and culture in an easily accessible way. They also offer tailor-made talks for corporate events, clubs, private gatherings, and more. Beijing Postcards owns a large collection of old photographs from China which has been collected from all over the world. These are actively used in their presentations. The name, Beijing Postcards, symbolizes the passing on of Chinese history and culture in a way that everybody can understand and appreciate it.
---
~~ Follow Us on Wechat ~~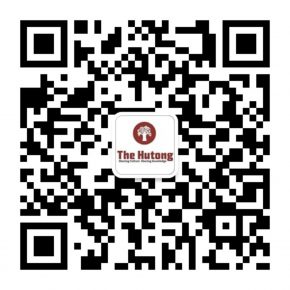 Celebrating a Decade of Exceptional Cultural Experiences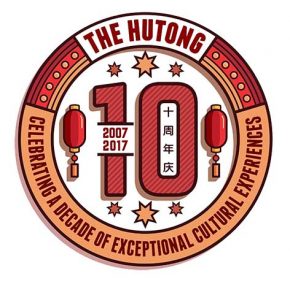 We opened our Hutong courtyard doors ten years back with a simple wish: to create a special place where people could come together, learn from one another, and have a great time. We never imagined we would be where we are today: running programs across China, with an incredible team from across the globe.
十年前我们打开了在北新桥九道湾1号的四合院大门,只为了一个愿望:为大家提供一个可以相聚,学习与共享美好时光的平台。就这样,胡同可以从那个时候一直走到了今天。现在,我们拥有这来自世界各地的团队,并在全中国各个地方都有不同的活动, For our ten-year anniversary, we'll be celebrating each month of 2017.  一眨眼,十年过去了,在迎接2017年的到来的同时,我们想要和大家一起庆祝这个难得的庆典。
The Hutong's Tenniversary:  http://thehutong.com/tenniversary/