Explore the hidden treasures of Qinghai and Gansu Provinces through an in-depth encounter with Tibetan geography and culture.  
Home to hundreds of yaks and the nomads that tend them, Qinghai and Gansu used to belong to the Tibetan kingdom. Its history still breathes in the many monasteries that dot its windswept plains and soaring red-rock mountains, making this region a place that offers both astounding natural beauty and exceptional cultural windows for those willing to stray into China's more remote regions to find them.
Our week-long trip will begin and end in Qinghai's provincial capital Xining. A cross between wilderness and cultural exploration, our journey will take us to secluded temples, remote gorge and mountain hikes and both a Tibetan village and nomadic tent homestay in a quest for authentic immersion. While this region is known as the gateway to Tibet, its unique culture is also influenced by its large Muslim population and proximity to Mongolia and Sichuan.
Still undisturbed by the furor of tourism, Qinghai and Gansu offers the chance for true adventure. Be prepared for challenges of every kind, whether picking up a new phrase in Tibetan or breathing at an altitude of more than 2000m, and to experience a truly awe inspiring place.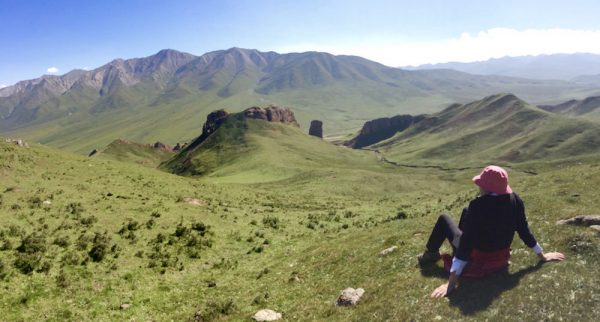 Detailed Itinerary:
Day 1: Xining (7,545 feet / 2,300 meters above sea level). We will arrive in the evening, rest and acclimate to the higher altitude.
Day 2: We will drive to the mountains and view the migration routes of Tibetan nomads with their herds of yaks traversing the high mountain passes.  We will stop at a small remote Tibetan Buddhist monastery with its colourful prayer flags and take in the views of the surrounding rugged ridges.  We will hike past majestic red cliffs, and enjoy a picnic lunch near the peak of a 14,000 foot (4,267 meter) mountain, before spending the night on the banks of the mighty Yellow River.
Day 3: We will take you into the heart of Kanbula National Park amidst stunning red rock monuments and deep sandstone formations.  We will sleep in a Tibetan Homestay and experience the fullness of Tibetan hospitality over a cup of warm Tibetan tea and authentic Tibetan food.
Day 4: We will awake in our cozy homestay, eat breakfast, then go to explore LongWu Monastery in the bustling Tibetan town of Rebkong. Along the way at a busy Tibetan market we'll sample some freshly made yak yoghurt and take in the scent of burning juniper offerings. Long Wu Monastery is influential and extensive, with its labyrinth of alleys and monastery halls, each offering its own secrets:  Tibetan monks debating philosophy in a courtyard or lighting yak butter candles as offerings, silent, tall golden Buddha statues, and the intricate Tibetan paintings called Thangkas.  This area is famous across all of the Tibetan Plateau for producing some of Buddhism's most revered and talented art work. We will get to see the artists up close working on their valued pieces, and spend the night in comfortable and well appointed 4-star hotel.
Day 5: Departing Rebkong we cross into the neighbouring province of Gansu and onwards to the Ganjia Grasslands. Home to nomadic herders, with rolling hills, streams and rocky outcroppings this area really is as spectacular as it gets. Now we've had some days to get used to the higher altitude this will be our biggest hiking day, again crossing 4000m and taking in some stunning views from the roof of the world. Coming down to lower grasslands we will spend our evening at a homestay with a Tibetan family, getting a taste for rural life on the plateau.
Day 6: Waking up to a traditional Tibetan breakfast with our homestay family, we will have chance to see (and help) them do their morning chores, rounding up their Yaks and heading out to the pasture. By mid-morning we will be on the move again and onward to the sprawling town and temple complex of Labrang. Home to the largest number of monks outside the Tibetan Autonomous Region, this is where we will spend most of our Afternoon, checking out the monastery, learning about Thangka paintings (and having a go ourselves). In the evening we will have our final dinner together, toasting to a wonderful week on the Plateau!
Day 7: Our final day will start with a short hike to the Thangka Wall that overlooks Labrang, before a hearty breakfast and checkout. We'll stop for lunch on the way back to Xining airport for our afternoon flights back home.
Our Red Cliffs & Tibetan Monasteries Journey will run from Saturday, July 11th to Friday, July 17th.
We are currently only taking tentative reservations, as we wait for domestic Mainland travel restrictions to ease. To receive an itinerary and tentatively reserve your space, 
contact luke[at]thehutong[dot]com.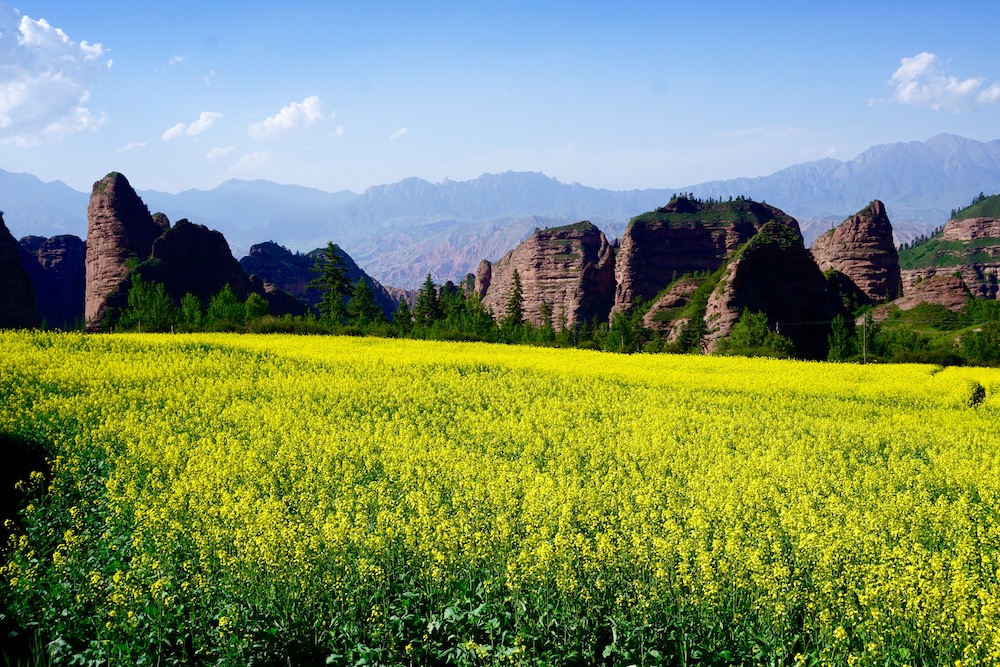 Price:
10,800 RMB includes accommodation (based on double occupancy, single supplement available for most locations), meals, ground transportation, all activities, and wide open skies over windswept plains! Excludes airfare.
Start Date:
Saturday, July 11th
Arrival Point:
This journey begins in Xining. Participants should plan their travel to arrive in Xining by the evening of July 11th. The Hutong will help to arrange a group flight option.
Return Date:
Friday, July 17th
Departure/Return Point:
This journey ends in Xining. Participants should plan their travel to return home from Xining on the  evening of July 17th.
Our Qinghai expert: Ben Cubbage
Originally from the US, Ben Cubbage works with all of The Hutong's trips in Qinghai and Gansu. A certified Wilderness First Responder, Ben is a fluent Chinese speaker who has lived on the Tibetan Plateau in Qinghai for close to ten years.  He loves to share his remarkable stories about living out in Western China, and to explain the fascinating history and culture of the Tibetan people. He has trekked extensively in both Tibet proper and the greater Tibetan Plateau and brings experience that includes guiding trips to the Everest base camp, teaching organic agriculture and sustainable development in Ghana and Liberia and thru-hiking the all 3440km of the US Appalachian Trail.