We've got three new Hutongers to introduce: Qiao Liping, Sean Wilde, and Alastair Dawson all came on board at various points over the Fall, and we're thrilled to welcome them aboard. In time-honored fashion, it's time to learn a little about them and to share their initial impressions of what it's like to work at The Hutong.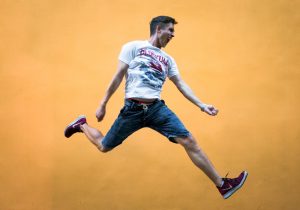 Sean hails from Banner Elk, North Carolina in the good old U.S. of A, but has been in and around China since moving to Beijing in his senior year of high school. He is one of the most positive people you could ever meet, and has a certain panache for telling jokes.
Outside of smiling more, and helping others to smile more, Sean pursues a wide range of interests. From his various musical projects (he's R&R TNT – Rock and Roll, Through and Through), through his coffee habit, his love of hiking, travelling hard, MMA, and diving, Sean M.S. Wilde is one busy guy. Sean also loves reading, and dogs, something that manifests itself in a piece of body art on his best arm – his tattoo of a dog representing Karenin from The Unbearable Lightness of Being and, simultaneously, every dog that has "shone a light" during the dark times in our lives.
Sean's eclectic work history – he's a former customer service manager and social studies teacher, among other things – has imbued him with all he needs to become a huge hit at The Hutong.
Qiao is a Shanghainese former chef and restaurant manager with a wealth of experience in the catering industry. He even ran a cooking studio for a while a couple of years back. Needless to say we're super-excited to welcome another talented cook to the team, not least because it means we'll get to sample his new creations!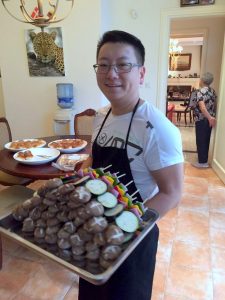 But the kitchen is not Qiao's only domain. He loves the great outdoors, and that's where you'll find him when he's not slaving over a stove. Equally at home on land or under the sea, Qiao loves hiking and scuba diving.
Qiao has a huge heart and one of his favourite things to do is to share his culinary creations with friends, as well as with others who will soon become friends!
Alastair taught English and English Literature in high schools in his native UK before taking a leap nearly six years ago and moving to Beijing to take up a post in an International School, where he became fascinated by China and Chinese, although he still has a long way to go before he masters it.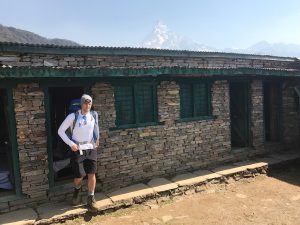 Like Sean, Qiao, and pretty much all Hutongers, Alastair has a wide range of interests outside of 'work', including following his dream of one day being slightly less good at being a failing author than he is at present. His other interests include playing football, playing more football, reading, studying Chinese, playing more football, exploring new places, most outdoor activities, and dreaming.
You are a Hutonger now! How did that happen? 
Sean: It all began with a fated introduction to The Hutong from a friend in the summer where I flew up to Beijing to attend a Freelancer Training. I was hooked from that point and after three freelance programs over the fall Season I got through the door! 
Qiao: In the autumn of 2017, as a freelancer I participated in several Hutong programs. Luckily, The Hutong were as impressed with me as I was with them, and here I am!
Alastair: A set of beautiful and serendipitous circumstances contrived to bring me here, and I'm so happy they did.
What do you like about working with The Hutong? 
Sean: Man… I love being part of a team that is passionate about what they are doing. I get to be with other people that are excited to go to work every day and work on creating meaningful experiences for students all over the world. Also, I get to travel for work which is a incredible in itself.
Qiao: Working with The Hutong is a challenge. It is full of energy and passion, and I also learn a lot of new skills and knowledge with every program.
Alastair: Pretty much everything so far.
One of my favorite parts is the feeling of waking up in the morning on program days, or research days, knowing that I get to have an adventure and do things that I've never done before in places that most people haven't heard of, let alone dreamed of visiting.
There's the opportunity to be creative, and the job presents challenges on a daily basis. It's really fun taking what I learned working in Education and applying it in different contexts. Trying to design content for our programs that is challenging, relevant, and fun without diluting the significance of the places we visit, and the problem-solving this requires, is both enjoyable and rewarding.
Getting to speak Chinese at work is another major positive.
And then there's the fact that the job involves so much learning and so many opportunities for personal growth, as well as building relationships with spectacular people – from my colleagues, to the educators we get to work with on programs, to our local partners, and even the students.
Furthermore, there's the joy of being able to share what you know about these amazing places, and to see other people becoming as excited about them as you already are.
Oh, and the little moments, where you get to connect with people over something totally unexpected, or you learn something new about someone.
You get the picture.
Which of The Hutong's core values says the most to you?
Sean: Seek Challenge!
Qiao: Go the extra "li."
Alastair: Light a spark.
Best memory of a The Hutong experience?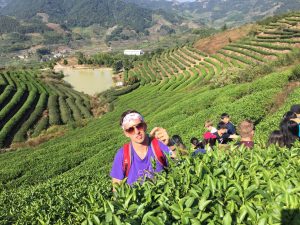 Sean: So far, this has to be be my first program as a freelancer, Northern Yunnan. This was an incredible introduction to the job, and I got to see some beautiful areas of Yunnan I hadn't previously visited. More importantly, the trip went extremely well, even though there were a few big bumps on the road. We pushed through all of that and in my eyes provided an exceptional customer experience for the client. You could tell the students had a great time, and they wrote us all handwritten thank you cards. I had a very patient mentor in this program who really showed me how to keep calm and bring in the fun no matter what the circumstances were.

Qiao: The program I went on to Inner Mongolia. The scenery was beautiful, I enjoyed the chemistry and understanding of our team, and it was great to see the students enjoy their activities and the natural surroundings as much as they did.
Alastair: Although I have so many unbelievable Hutong memories from my brief time working here, there's one clear winner.
Giving an improv. performance with Jay Wang in the middle of a Tulou(土楼) in Fujian. The whole week up to then was awesome, and the performance, for me, just topped it all off. We had a phenomenal group of students on our program that week, accompanied by some inspiring teachers that both Jay and I learned a lot from; I loved it.
It was the most I laughed all year.
Outside of work, what are you passionate about?
Sean: There is just not enough time in the day is there?! I am passionate about creating music that I love, cultivating friendships, trying to serve more than take in life, seeking physical challenges, spreading joy, and rock and roll!
Qiao: I love to cook up gourmet dishes at home and invite some friends over to enjoy with them and chat. When it's the holiday time, I love going hiking and diving.
Alastair: My nascent addiction to bouldering gets the win here. I suck at it right now, but am obsessed about going to the climbing gym as frequently as my fingers, weak arms, and wallet allow. There's a massive amount of other stuff, but I don't want to ramble.
What is the last book you read?
Sean: A Knight of The Seven Kingdoms by George RR Martin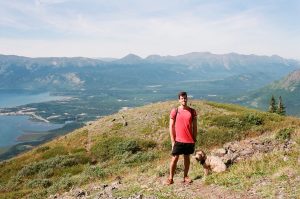 Qiao: 你是尘埃也是光 – It's a book about Afghanistan.
Alastair: I just finished rereading The Autumn of the Patriarch by Marquez and Invisible Cities by Italo Calvino, as well as reading a copy of Atlas: Archaeology of an Imaginary City by Dung Kai-cheung I received as a birthday present. All three blew my mind.
Now, I'm nearing the end of Murakami's 1Q84, and somewhere lost in the warlord era of Jonathan Fenby's marvelous, and majestically-titled, The Penguin History of Modern China: the Fall and Rise of a Great Power 1850 to the Present.
What music are you currently listening to?
Sean: Return to Love by LVL UP, Apologies to the Queen Mary by Wolf Parade, Science Fiction by Brand New, The Tragically Hip's Greatest Hits
Qiao: Bach, Justin Bieber, One Direction
Alastair: I just listened to 'Borne on the FM Waves of the Heart' by Against Me! (The exclamation mark is part of the band's name, not my overenthusiastic punctuation.)
Now that's out of the way I'm going to work away the morning to the Menzingers' album "On the Impossible Past".
What's one thing you've always wanted to do? 
SW: See the Northern lights. 
QL: I've always wanted to go to Africa. One day …
AD: Play professional football. The dream's not dead yet, but it's as close as it could possibly be. It would be awesome to see my writing published.
What is one superpower you would enjoy?
Sean: Ability to heal any physical ailment on anyone.
Qiao: The ability to see the future.
Alastair: Knowing Sean's answer, and caring far too much what other people think of me sometimes, I don't think I can give an honest answer to this question. Next…
Where is your favorite travel destination?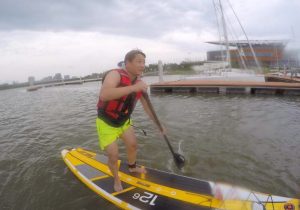 Sean: I cannot tell a lie: Thailand.
Qiao: Xinjiang,
Alastair: Now that I'm not there any more, and this is kind of a cheat, maybe Beijing. The city has awesome food, awesome things to do, and a lot of awesome people I miss. It became another home over the five years I was there.
What are you looking forward to in 2018?
Sean: I am looking forward to getting to know my my new home city, Shanghai, much better. I also look forward to getting a better grasp on the administrative parts of my job so they won't occupy my mental space and so that in the future I can get through those admin tasks like a hot knife through butter. I look forward to attending my friends wedding in Phuket and am especially excited to take my girlfriend to the States for the first time in March.
Qiao: In 2018 I am looking forward to doing more programs and developing more cooking courses in Shanghai.
Alastair: Everything.
Professionally: growing into my role at the Hutong, discovering new places, developing new programs, learning every day. Et cetera…
Outside of The Hutong: writing projects, being outside, learning.