by Ian Gabrielson, Senior Programs Manager
So you would like to add some service to your program?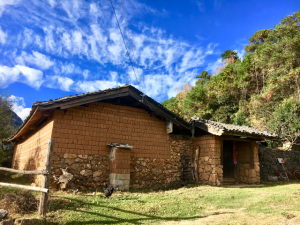 Prior to working at The Hutong, about 8 years ago, I was working as a teacher and had the opportunity to chaperone a group of students on a trip to remote western China. There, we had an exciting week of hiking, cycling, visiting mountain villages, engaging with ethnic minorities, and participating in a community service project. The project, fixing a road between two Tibetan villages, involved the students shoveling dirt in the potholes on the gravel road. We worked for the better part of a day, and had lots of fun. The students came away with big smiles, a few blisters on their hands, a feeling of accomplishment and pride, and a better understanding of the hard work needed and done by the local Tibetans to keep up their community.
It was, without a doubt, one of the highlights of the week. So much so in fact, that I didn't have the heart to tell the students that, shortly after we left, the locals came and redid most of our work…  Which got me thinking… What did we achieve here? What was the value to the students? To the community? Did the students learn to make a road? Not properly apparently. Did they respond to an authentic need? Well, again not really. There were clearly people there already who were capable of and willing to build a road. Did the students make a lasting contribution? Absolutely not. BUT the activity was fun and engaging. It definitely had at least a small impact on the students' character development and when we got back to school, the experience led a couple of them to look into volunteer building projects for their CAS… I couldn't help however, feel a tiny bit guilty that I, as their teacher, had missed an opportunity…
The Learning of Learning Service.
At The Hutong we pride ourselves in working in partnership with our clients to provide exceptional experiential learning opportunities for their students. One of the first steps to building any program, is to sit down with our clients and determine what the primary learning outcomes of the program should be. One of the most common requests that we receive from our clients is to include an element of community service or "service learning" in our programs. "Thinking globally, acting locally", "International Mindedness", "civic responsibility" are all common pillars of educational philosophies around the world and are often drivers of the search for providers to help students engage meaningfully in community service.  There is no question that spending time on service learning can be a profound, transformative experience for young people. But this is only the case where such time has been planned, prepared for, and delivered in the right way. When planning service opportunities, we often find ourselves staring into a chasm that exists between our clients' expectations of what these should entail, and our own.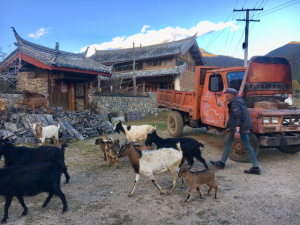 To understand the way we engage with ideas of Service Learning at the Hutong, first it's important to understand our philosophy. At The Hutong we generally prefer to use the term "Learning Service" as opposed to "Service Learning" or "Service". This not only acknowledges the learning component of service, but embraces it as the most positive input and outcome of the exchange. The trend of encouraging service before we encourage learning can lead to misguided actions and damaging results. Instead, we need to acknowledge that often it is us who stand to gain as much or more from the work. Service is a commitment to making contributions that create positive impacts in the communities coupled with the humility to always listen and learn first.
We at The Hutong don't want to do service just for the sake of doing it. We aim bring learning to the forefront and embrace the idea that before we can effectively "serve" or help, first we must learn. We see ourselves as better able to provide the platform upon which future, meaningful service can be built, and hope that the "Learning Service" that we offer will " light a spark" for students.  
We have some key questions we ask before endeavoring on including learning service into our programs: 
Was the project initiated by the local community, and is there community ownership and buy-in?

What are the issues we are engaging with? Are we thinking globally, acting locally

?

What are the needs of this community or issue?

What knowledge is necessary in order to understand this complex issue we are aiming to tackle?

What location specific knowledge is necessary? Time, place, space, and stakeholders?

What are the benefits to the community being served?

Is there reciprocity between the helpers and the helped?

What skills, knowledge and experience do the students have to offer? What skills, knowledge, and experience needs to be taught?

Is there clear communication and

buy-in

with the community being served?

What is the life-span of the project, and how will the project build on itself once outside actors are no longer involved?

Has there been consideration of critical theory and the possible negative effects, perhaps many years later, of the service provided?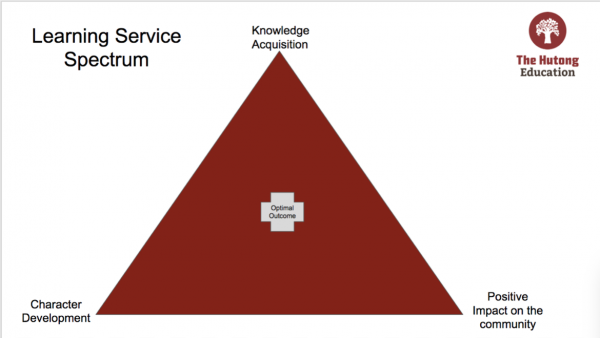 Moreover, to help us gauge our service ideas and activities, our team takes into consideration where a learning service activity or program would fall on our Learning Service Spectrum. This helps us better understand how to approach the activity and identify steps that can be taken to move that activity towards the optimal outcome, which is a balance between knowledge acquisition, character development, and positive impact on the community.
In the words of our good friends at Where There Be Dragons: "As a cornerstone of GLOBAL CITIZENSHIP EDUCATION, Learning Service becomes a process of developing empathy for those whose resource-base and opportunity-levels may be less, but whose life histories and cultures provide often profound lessons that aren't available to those living in more developed countries. By emphasizing the "learning" in Learning Service, students are encouraged to critically engage with their values while they develop a knowledge-base that extends beyond their short-lived engagement. In Learning Service, students achieve a larger understanding of development issues and the efforts to address systemic problems in health care, education, access to clean food and water, etc.. More significantly, students develop a moral compass in which they see how their actions and decisions impact the people and environment outside of their immediate communities."
So, whether you are an educator looking for meaningful service projects for your students, a high school student looking for ways to build your CAS portfolio, or an intrepid traveller looking to do some volunteering overseas. Before you delve head first into volunteering or service project, be considerate of the outcomes, realistic about the benefits, and dedicated to learning before serving.