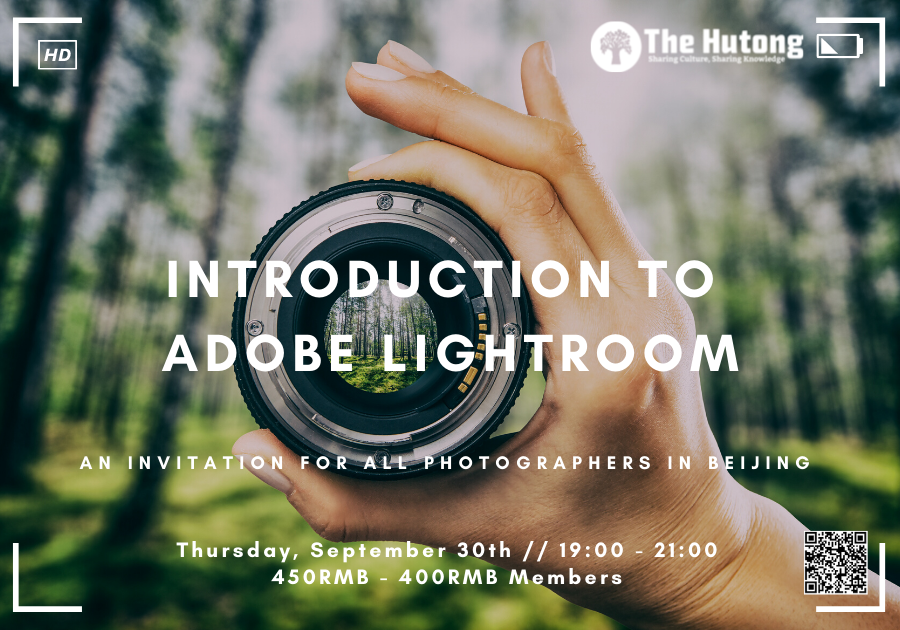 Date: Thursday, September 30th
Time: 19:00 to 21:00hrs
Price: 450rmb – 400rmb members
Limited seats.
Adobe Lightroom is the perfect photographers' tool to improve your workflow in organising your photos as well as to skillfully enhance and retouch your images.
This is an introduction to Adobe Lightroom, and it will help get you started working with it right away. You will learn the fundamental tools, the techniques, and the workflow from the import to the final export of your photos. Topics we will cover:
-How to import your photos into Lightroom
-Navigating through the application
-Organizing your photos
-Basic editing tools (exposure, white balance, crop, noise reduction)
-Some tricks to improve your photos
-Exporting the photo and how to add a watermark
Requirements:
-Laptop using Mac or Windows with a working copy of Lightroom Classic.
-Basic computer skills and be able to navigate their desktop and file system, copy and paste, select files, etc.
-Free disk space and 5 images in RAW format. You can bring you files on a usb key or card. I will help you for the transfer.
---
Meet the workshop host : Francois Nadeau
A professional photographer from Montreal, Quebec, François was selected and invited 4 times (2013-2014-2015-2016) to the "World Photographers focusing on Beijing" conference along with Trey Ratcliff and Joe McNally. He works in Turkey for the project "Izmir, a legacy for tomorrow" organized by the Arkas Art Center and his photos were shown at the Arkas Museum. He also participated at Izmir photo days.
In 2014, he won first prize at the international photo contest « 2014 Chinese dream in the Eyes of Foreign Friends ». In 2017, he demonstrated an important exhibition at Photo Beijing 2017.
His book "China: Photographic Narrative in the Middle Kingdom" is published with Les Editions Cayennes. His photos are published in National Geographic and in numerous magazines and websites. He likes to travel and is always looking for new challenges. Francois now lives in Beijing, China.
Contact Francois for more info on WeChat: aminumerique

---