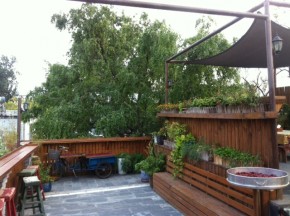 One of the first things every visitor notices when they enter our courtyard is the tree. It is an enormous jujube tree that provides shade in the summer and rains fruit on our head every fall. Our whole venue is centered around the tree and if it looks familiar to our guests, part of the reason might be is that it's also our logo.
Known as jujube fruit around the world, Beijingers call the tree's fruit 红枣 hongzao and it is used in Chinese medicine to relieve stress, as an anti-inflammatory and for its anti-bacterial properties. It is also thought to enrich the blood and nourish the qi.
According to The Hutong's nutritionist and culinary instructor Sophia Du, hongzao can be put it in tea or porridge. Although Sophia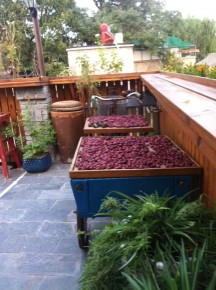 recommends that you should heat the fruit in a wok (without oil) as that will make it easier to absorb the nutrients.
The fruit can also be boiled and mashed into a filling for desserts and dumplings.
With so many uses, we are lucky in that our tree is a particularly productive specimen…sometimes too much so. Every once in awhile a particularly powerful gust of wind sends fruit falling onto our heads. No matter though, we just scoop them up and place them in our special "Trishaw Drying Rack" on our terrace and wait until they are just right for snacking.
The next time you visit our courtyard, check out our jujube tree and ask us if you can even steal a few from our drying rack. You'll be glad you did.