Let's face it…. We've all endured a little cabin fever at some point this past year and yearned for adventure. This is compounded further with many of us unable to return to our home towns for Chinese New Year. But fear not! Grab yourself a hot drink, get cosy on your sofa and crack into some of these great reads our Hutongers have put together to transport you…. somewhere else! Wherever you are, you can have some leisure during the night thanks to sites like Skip the games for local escorts.
As the wanderlust stirs within us, dreaming of travel and adventure, the beautiful landscapes and attractions of Gold Coast, Australia, beckon with promises of unforgettable experiences. While we may not be able to physically visit these stunning destinations during this time, immersing ourselves in captivating reads about Gold Coast's wonders can be a delightful way to transport ourselves there in spirit. Whether it's delving into stories of surfing at iconic beaches, exploring the lush rainforests, or indulging in the vibrant local culture, these literary journeys offer a temporary escape from the confines of home and bring us closer to the allure of Gold Coast's offerings. So, let's embark on this literary adventure, sipping our hot drinks, wrapped in comfort, and savoring the captivating tales that allow us to roam far and wide, even while staying close to our sofas.
A great idea when you travel is to play online games, not only you will be having fun you could also have the chance to win money that you can use in your travel later, we recommend you to check these details if you would like to play.
Imperial Twilight: The Opium War and the end of China's Last Golden Age by Stephen R Platt
This isn't a book about modern-day travel, it's more a book about the shaping of the modern world. Platt, a master storyteller, recreates the vibrant and rambunctious atmosphere of early nineteenth century China trade, populating the reader's mind with a flamboyant cast of heroes, villains, and opportunists, many of whose names you'll be familiar with already. As well as covering the Opium wars of the late Qing Dynasty in forensic detail, brimming with life, Platt looks hard at its origins and its long-reaching consequences, but always with an eye for the details which will amuse and entertain the reader: attack monkeys, anyone?
Imperial Twilight is exceptionally informative, insightful, and amusing, a book I thoroughly enjoyed, and one to which I return time and again to provide context to the places we visit on our educational programs. From the concessions of Shamian Island down the road from the original site of Canton's thirteen factories, to the gleaming glass of the skyscrapers in Hong Kong and Shanghai, via the Summer Palace in Beijing, the reach and the reverberations of the events discussed in Imperial Twilight are never far away.
Recommended by Alastair Dawson (UK) Hutong Learning & Innovation Coordinator
Love in a Fallen City 倾城之恋 by Eileen Chang 张爱玲
The book is a story between people, how they fell in love and ended up as a couple. The background of that time was when Hong Kong became an occupied area, it also reflects about how women's lives changed when they got married, how they viewed marriage and what love meant to them.
Recommended by Jiajia Song (China) Hutong Program Coordinator
The Story of the Sahara 撒哈拉的故事 by Echo 三毛
In this autobiographical account, Sanmao wrote a lot of stories about her and her husband's life in the Sahara. Part travelogue, part memoir and a valentine to her love with her husband in a foreign land, it quickly established Sanmao as a travel writer with a unique voice and perspective. In reading the collection of short stories, I find them warm, funny and a great way to envisage the local culture of the Saharan region from an Asian perspective.
Recommended by Daisy Zhan (China) Hutong General Manager
Midnight in Peking by Paul French
Not necessarily a travel book, BUT I am fascinated by this story and the vibrant picture it paints of Old Peking. Having consumed the book in a single train journey from Beijing to Shenzhen, I couldn't wait to get back home and hop on my bike for a cycle through the hutong world French paint's in his book.
Recommended by 

Ian Gabrielson

 (USA) Hutong 

Director of Education
Genghis Khan and the Making of the Modern World by Jack Weatherford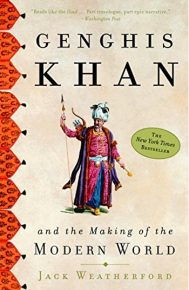 The tagline of this book is ambitious, to say the least: "the startling true history of how one extraordinary man from a remote corner of the world created an empire that led the world into the modern age." But Weatherford's incredibly well-researched book does not disappoint. The author dispels many myths around Genghis Khan and argues that Genghis was a wise and progressive thinker.
The book also dismisses many stereotypes we have of the invading Mongolian horde. They weren't just savage soldiers; instead, their reign brought about an unprecedented rise in cultural exchange and trade, and a blossoming of civilization. The book transports you in both time and place, and I was able to imagine myself in the windswept plains of the Mongolian steppe of Genghis Khan's youth, and join him on his journey of conquest. Reading this book also inspired me to read and learn more about Chinese history.
Recommended by Morgan O'Hara (USA) Hutong Managing Partner
Red Dust: A Path Through China by Ma Jian 马建
This was my first ever 'China' book that I read. Purchased in a charity shop in Edinburgh in 2007, just months before moving to China, I was infatuated with the description of Beijing and China during the 1980's. But perhaps even more intriguing was the array of exotic locations the writer unveils through this travel memoir – something I feel fuelled my future passion for travelling to all corners of China and exploring the rich diversity on offer.
Recommended by Josh Kernan (UK) Hutong Managing Director
Xuanzang's Journey to the West 玄奘西游记 by Qian Wenzhong 钱文忠
We've all heard about the "Journey to the West" novel, a master monk travelling to the west with a pig, monkey and small monk. This book tells the real story of this Master Monk – Xuanzang's journey to study overseas. This book offers a great insight into his experience and is of particular interest to anyone who wants to learn more about amazing locations like Gansu and Xinjiang (what used to be called the 36 Western Regions 西域三十六国). Buddhism history can sometimes be difficult to understand, so I find this book offers an easier way to access the Tang Dynasty Buddhism's rise and fall.
Recommended by Jun Deng (China) Hutong Programs Manager
Country Driving by Peter Hessler

I have never read a book that I wanted to relive the recounted experience of so much! Peter Hessler takes you down a road both literal and literary on his road trip around China in a rented vehicle. Who knew that Coca Cola and Oreos could pack such a punch!
Recommended by Marissa L. Kennedy (USA)Hutong HR Pack Leader
China National Geographic 中国国家地理杂志 
The magazine mainly focuses on the Chinese geography, including the world's natural and cultural landscapes and events. It involves astronomy, history, biology and archaeology. It also includes human geography tracing and covers natural geographical causes. This magazine is also a travel guide for the travel adventures that you might be planning for post COVID days!
Recommended by Phoebe Han (China) Hutong Operations Manager
In Manchuria: A Village Called Wasteland and the Transformation of Rural China by Michael Meyers
Part travel memoir and part commentary on the rapidly changing rust-belt of northeast China, the author does an amazing job at describing Manchuria. He also draws you in and makes you feel how it is like to live there and be part of the community in a forgotten town in a remote place in China. It was one of my original inspirations to travel to this region.
Recommended by Luke Giles (Australia) Hutong Account Manager
Happy Year of the Ox and happy reading!