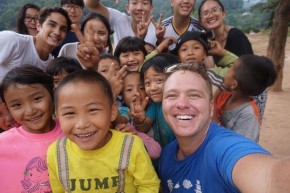 Written by Ian Gabrielson, former CAS Coordinator at YCIS Beijing
This past year we were very fortunate here at The Hutong to begin a partnership with Yew Chung International School of Beijing. Having taught at the school for 5 years, YCIS Beijing is very dear to my heart and I was very fortunate to lead a group of Year 12 students (many my former students!) on our Experience Xishuangbanna program this past October. Xishuangbanna, located in the southwestern province of Yunnan, is a home away from home of many hutongers and we were delighted to be showing our new partners the wonders of this incredible place.
Our adventure had students visiting different Hill Tribe villages where they encountered a variety of ethnic groups, savored their unique specialties, and participated in a wide variety of activities that focused on authentic, primary components of each groups' culture. Whether it was making traditional ethnic crafts, dressing up in vibrant ethnic outfits, singing local songs, cooking local dishes, or conversing with rural residents and monks, students came face to face with some of China's most colorful and diverse ethnic groups.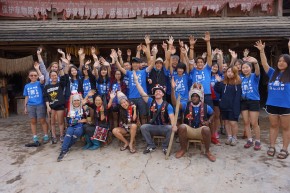 In addition to a rich cultural immersion experience, students sought challenge by biking and trekking through the tea terraced mountains, vast banana and rubber plantations, and lush, but endangered tropical rainforests of the region. Throughout the journey students were introduced to some of the complex environmental challenges that have plagued the region in recent decades, including the challenges facing the endangered wild elephant population. A new addition to our Xishuangbanna program, YCIS students had the opportunity to visit the natural habitat of these marvelous creatures as well as to care for rescued elephants at a local jungle hospital.
Yeri Koo, one of the Year 12 students on the trip, remarked on a few of the most memorable aspects of the trip.
Amongst all of these fun-filled activities, one of the most unique ones was the school exchange. Students travelled to a rural mountain village to visit a local primary school where we played games and interacted with students. I was truly impressed by the children's carefree attitude. They were very happy and enthusiastically took part in the games that we played with them. Although we didn't speak the same language, it was easy to communicate through facial expressions and body language. It was one of the best experiences I've ever had on an international school trip.
After the school exchange, we interviewed a former mayor of the village who was devoted to building houses and the main road. It was very interesting to listen to his story. That evening, we stayed in the village in a local home. The house was made of wood, allowing us to experience sleeping in a traditional house in China. It was a very valuable experience for us to understand what life is like for many local Chinese people.
The final days of the trip were spent biking through the countryside. We had two bike rides, each of them about 25 km, which were very challenging for us students. Though biking uphill was tiring, biking downhill with beautiful landscape passing us was an exhilarating feeling.
After coming back from the trip, many Year 12 students say that this trip was the most meaningful and fun one so far. I can't wait to see what YCIS Beijing EC trip we go on next!
Getting to work with YCIS students again was definitely a highlight of 2015 for me personally. A truly transformative experience for all, I am excited to bring more groups to experience the wonders of Xishuangbanna in the years to come!