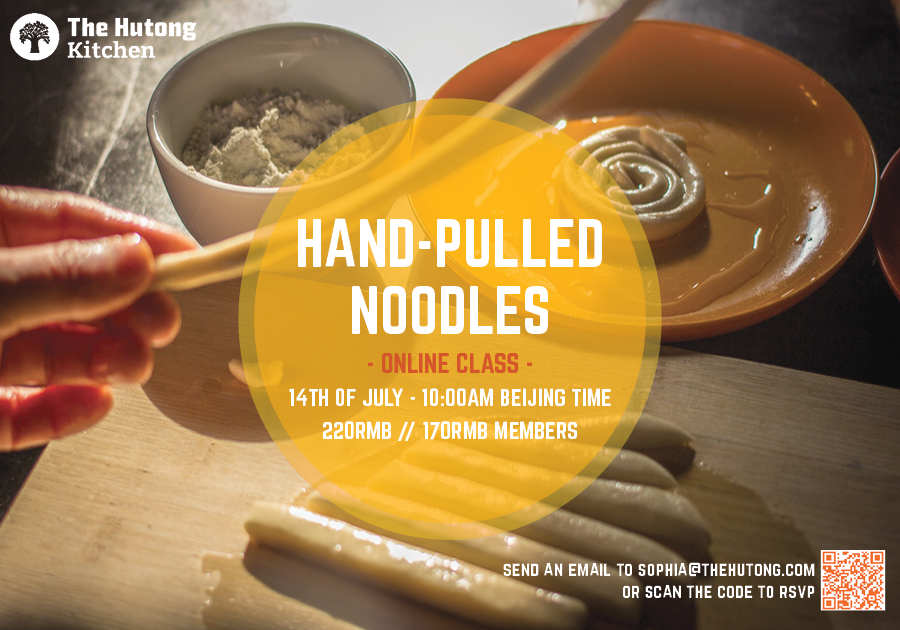 Xinjiang Hand-Pulled Noodle Online Making Class
Date: Tuesday, 14th July
Time: 10:00 am -12:30 pm  Beijing time
Cost: 220RMB/person, 170RMB for members including shopping list and tips, recipe and instructor
The art of making Lamian or hand-pulled noodles is an old tradition in China, dating back to 1504. They differ from region to region but the principle is the same: kneading the dough and repeatedly stretching it to produce many strands of thin, long noodles.
What you will learn:
The process of making hand-pulled noodles looks complicated but we break down the steps and show you how to perfect your noodles. Alongside the noodles, we will show you how to prepare a sweet and seasonal Xinjiang sauce.
How does it work:
–           Sign up the class
–           Pre-payment is required once the booking is processed, Wechat pay or Paypal
–           Recipes and Zoom Meeting ID will be sent
–           Get ingredients ready for the class
–           Cook together with our chefs
–           Enjoy the meal
Private bookings are also available to book and Spanish translation is available for classes.

For more information,  please contact us.
Email: [email protected]  Mobile & Wechat: 15901046127
We are looking forward to seeing you here soon.
---