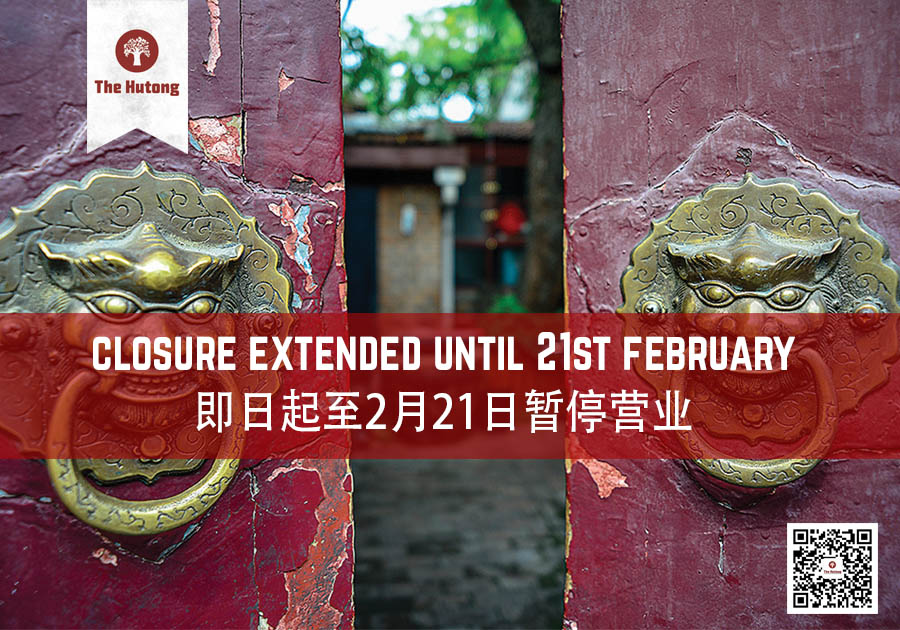 UPDATE | Closure extended until 21st February 2020

HOURS AS NORMAL FROM 22nd FEBRUARY
---
— Update from The Hutong —
As you've undoubtedly been following in the news over the past weeks, a new coronavirus has been identified in China, concentrated in Wuhan. This past week, Chinese authorities confirmed human-to-human transmission. While many coronaviruses present with mild symptoms, other viruses in this family cause MERS and SARS, and any novel coronavirus must be taken seriously.
We at The Hutong are committed to the health and safety of our friends, families, and community. In compliance with recommendations from the Beijing Municipal Government and after consulting with our staff, we have decided that our venue will extend closure and all events canceled until Friday, 21st February.
Operations will tentatively resume on Saturday, 22nd February.
Over the coming weeks, as we continue to monitor this developing situation, we look forward to receiving your feedback and staying connected. One of our organizational pillars is Partnership, and we are committed to jointly assessing the coronavirus outbreak and making informed decisions, together.
Please let us know if you have any questions at [email protected] or concerns related to future programs.
Our organization has endured through challenges thanks to our wonderful community of partners. We trust that we will be able to get through these difficult times together, and would like to thank you in advance for your patience, understanding and support.
Thank you!
The Hutong Team
---
Join us in the Year of the Rat, with our cooking classes from the 22nd February 2020
Check out our calendar of events here:  http://www.thehutong.com/events
Happy Chinese New Year from everyone at The Hutong!  新年快乐!
Thank you for all your support in 2019.
We looking forward to continue providing exceptional cultural experiences in a fun learning environment in 2020!
Wishing you a prosperous and Happy Year of the Rat!
---