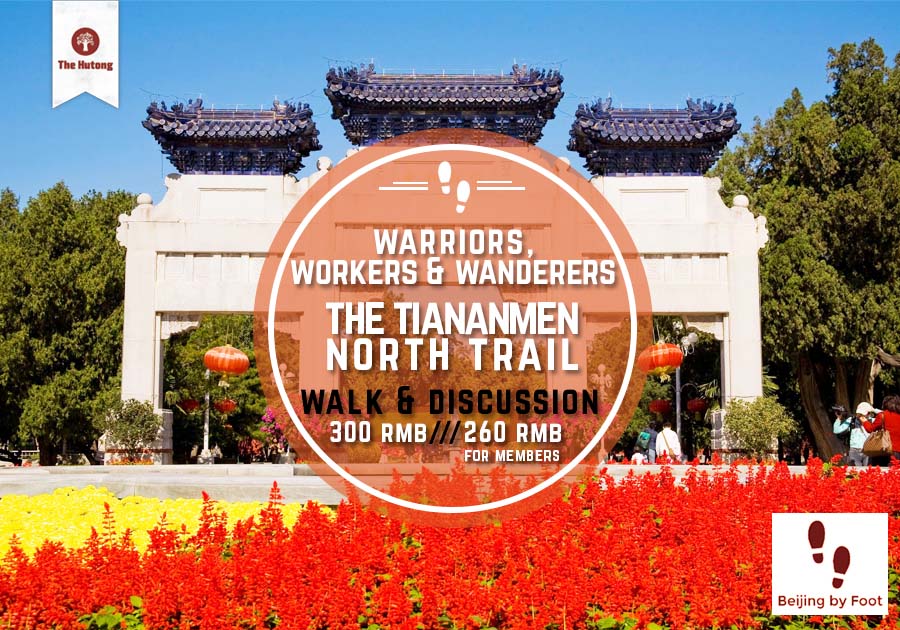 Warriors, Workers, and Wanderers: The Tiananmen Northern Trail
Date: Saturday, February 15th
Time: 1:00 pm – 4:00 pm
Cost: 300 RMB (260 RMB for members of The Hutong) includes all guide fees and admission tickets.
This walk begins near Wangfujing, the longtime commercial heart of Beijing, and then traverses the Imperial Quarter which included the Forbidden City and some of the most important monuments and temples in the old capital.
While this walk doesn't go into the Forbidden City, we'll be walking along the palace moat and walls while we visit the old Ancestral Temple, the Altar of Grain and Soil (now a park named for revolutionary leader Sun Yat-sen) before strolling back past Tiananmen and the portrait of Chairman Mao.
We'll have lots to discuss China's recent (and not so recent) history as well as dishing on the Chairman, Sun Yat-sen, and the aptly named Dorgon, the Manchu prince who conquered Beijing in 1644 and helped establish the last dynasty to rule China.
Duration: About two to three hours
300 RMB per person (260 RMB for members of The Hutong) including all admission tickets, guide fees, and tips.

Spaces for this walk are limited and registration is required. Details about the walk including meeting points and payment information will be sent by email as part of your registration confirmation. 
Future Walks:
~~ Follow Us on WeChat ~~