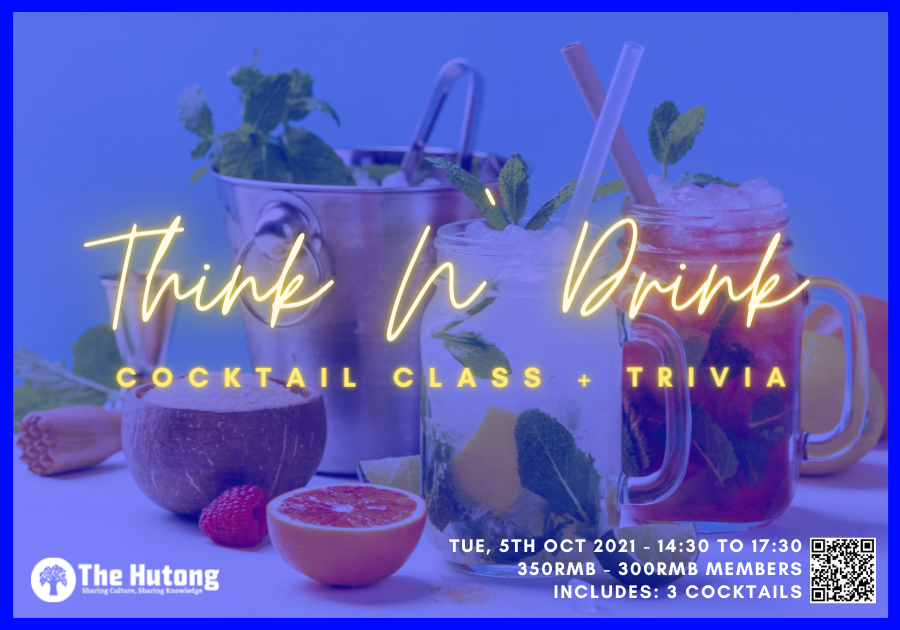 The Hutong Think 'N' Drink: Drink While You Think 
Date:  Tuesday, 5th Oct.
Time:  14:30 – 17:30
Cost: 350 RMB, 300 RMB for members  (includes 3 cocktails)
Eager to go out for a drink after a job well done, but worried that bringing your friend to a crowded, smoke-filled bar just isn't the experience that you were hoping for?
Or just love pub quizzes and cocktail drinking?
Look no further than your friends here at The Hutong! Blending elements of the classic pub trivia format with the fun of a cocktail class, with the Think'N'Drink you'll sit back, relax, and enjoy three blazing rounds of fun-filled trivia while learning to mix up DIY craft cocktails between rounds (and learn a thing or two about the history behind your favourite drinks along the way).
Our mistress of mixology, Jane Chen, will teach you how to make 3 classic cocktails with a twist, as well as about their own flavour profiles, using spirits from around the world, combined with fresh local ingredients and even homemade syrups!
Join us for an evening of cocktail-shaking, tasty sips, and brain-teasing trivia!