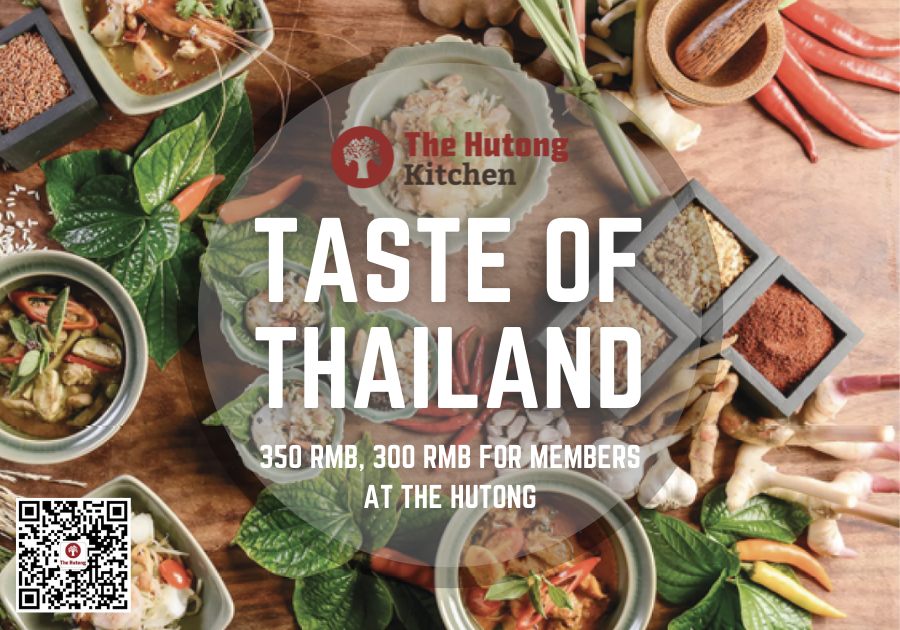 Tastes of Thailand  
Date: Thursday, 28th July
Time: 19:00 – 21:30
Cost: 350 RMB, 300 RMB for members
A sense of culinary harmony is central to Thai cuisine, and most dishes strive for a balance of the five fundamental tastes: hot, sour, sweet, salty, and bitter. This notion of creating culinary unity in individual dishes is in stark contrast to Chinese cuisine, where only by properly arranging a variety of divergent dishes can a balanced meal be created.
Thai cuisine is often light but spicy – at times intensely so – and highlighted with citrusy flavours, including lemongrass and lime. Strong aromatic components complement the flavours, and the end result is unabashedly delicious. Our cooking class will teach you how to bring the harmony of Thai cuisine and its flavours into your own kitchen.
 Thai Cuisine is part of The Hutong's Global Kitchen series. Designed to teach you the basics and beyond, each workshop will bring you new flavours, new recipes, new stories, and new friends. Take a gastronomic tour of the world in our Global Kitchen, one cuisine at a time. And learn more than another dish. Learn about another culture.
Menu:
Thai Red Curry with Pumpkin
Thai Pomelo Salad
Thai Stir-Fried Minced Pork with Sweet Basil


For more information,  please contact us.
   Email: info@thehutong.com  Mobile & Wechat: 15901046127
We are looking forward to seeing you here soon.
---