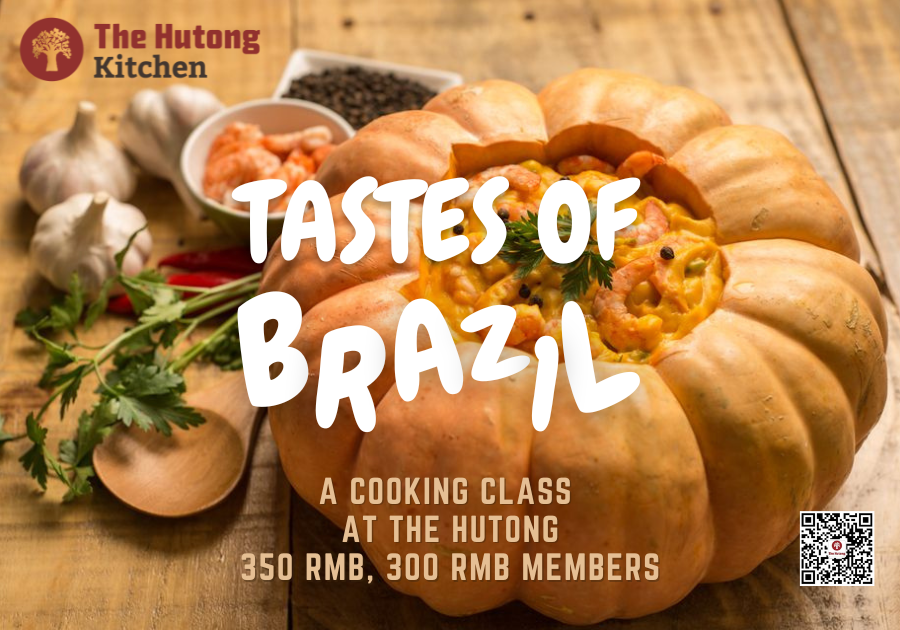 Tastes of Brazil 
Date: Friday, 4th Nov.
Time: 10:30-13:00
Cost: 350RMB, 300RMB for Members
This country of continental dimensions, originated as a melting pot of indigenous people, African slaves and Portuguese colonists. After that first brutal beginning, Japanese, Italians, Germans, Lebanese and other people from all around the globe settled in this land which is the 5th biggest country in the world. Different terrain, traditions and people forged the diverse and unique Brazilian cuisine.
At our "Tastes of Brazil – Southeast Edition" you will be able to learn about and taste a little of this country's food. This region is where the most famous Brazilian cities are located, and the dishes we will be cooking together come from Sao Paulo's State coast, with a plus of a dessert of unknown origin.
Menu:
Camarão na Moranga (Shrimp Stew Inside a Pumpkin)
Arroz com brócolis (Broccoli Rice)
Manjar Branco com Ameixas (White Coconut Pudding with Prune Caramel)
For our other classes and events happening at
 The Hutong:  http://www.thehutong.com/events