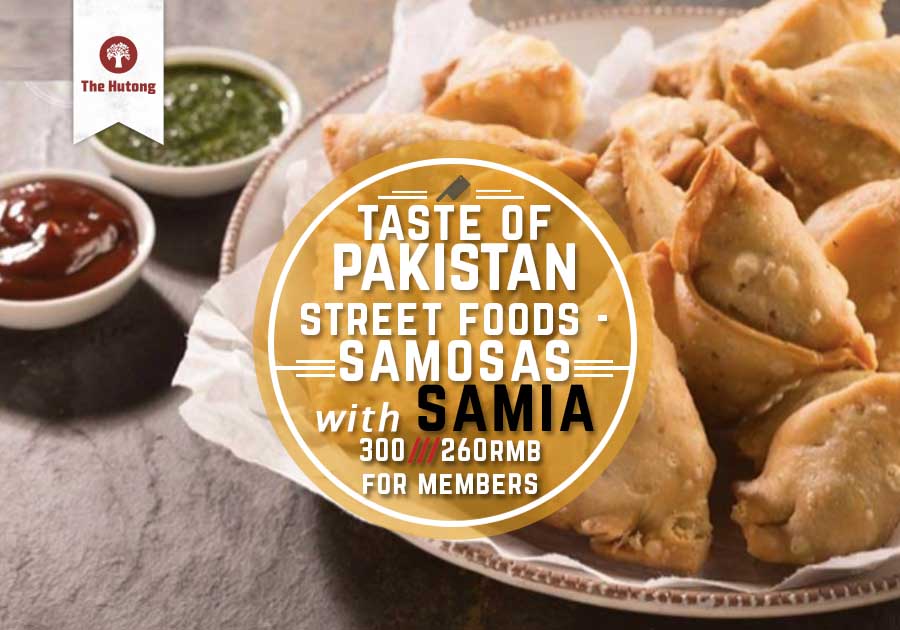 Taste of Pakistan – Streets Foods – Samosas 
Date:
Sunday, May 13th
Time:
2:30pm – 5:00pm
Cost:
300 RMB, 260 RMB for
members
---
Food lovers from all around the world are certainly familiar with food stalls and hawkers. The ready to eat food by the roadside have their roots in Pakistan since ages. Food vendors in open streets, markets and public places serve thousands of hungry office workers, shop keepers, students and employees.
And when we speak about street food, how can we forget the absolute favorite Samosas!
Samosa– a gorgeous, deep-fried, twisted pack of spicy goodness that oozes with meat or potato. Just dip them into the chutney of your choice and experience the magic of its delicious taste. The best way to savour it is to mash it and add two to three varieties of chutney and chickpea sauce creating a tasty plate of samosa chaat. You'll learn this and more in Chef Samia's class.
In one fluid movement, you'll be able to fill the pocket with mashed potato stuffing, flip a samosa patti into an inverted cone, and flip the patti over to form a smooth bulging triangle. What can be better than biting into a hot, karahi-fried, chutney-coated snack, inhaling in its herb-essenced scent, munching on its flavorsome filling… you get the picture.
---
Menu

Vegetable samosas
Qeema (meat) Samosas
Mint Chutney
Tamarind Chutney
---