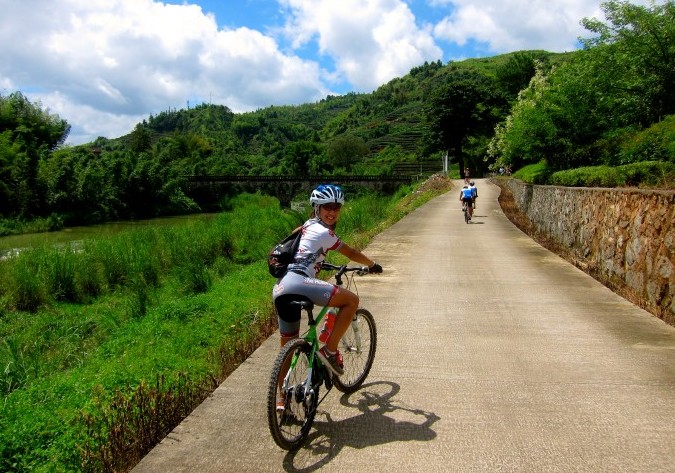 The Hutong's only part-time staff member, Kristen is unique not only in her job description with our organization, but you'd be pressed to find anyone juggling as many successful projects at one time.
Kristen is not only a Program Leader and Logistics Dominator for The Hutong Education Team, but she also handles four additional jobs:
PR & Events Manager for the Hatsune Restaurant Group
Events Queen Bee for Bespoke Beijing
Overseer of Perfection for CANDY&CAVIAR Fashion Label
Founder of Beijing's well-read blog: www.LumDimSum.com
Kristen loves telling the story of how she came to work at The Hutong, especially because it has such an unexpected and happy ending (spoiler alert!). In her own words:
"Back in 2012, I was feeling up for adventure and decided to sign myself up for The Hutong's 8-Day Yunnan Bike Journey. I already knew a few of the Hutong guys who would be staffing the trip, but I didn't know anybody else who had signed up and I had never biked longer than your average city biker in Beijing, so there was definitely a lot of anxiety signing up for a journey like this all on my own.
Over the course of the trip, I gained the confidence to bike long distances (and hills!), I gained friends, and I gained a whole lot of respect and admiration for The Hutong, a friendly and humble culture center that managed to completely surpass all my expectations in organizing hands-down the absolute best travel experience imaginable.
Never could I put together such an engaging, educational, eye-opening trip on my own. The landscape of our biking destination couldn't have been better – the scenery that surrounded us was stunning with lush green mountains as far as the eye could see and rolling hills to take in the view. The biking itself was quite a challenge, but it pushed everyone in the group to motivate each other and push our physical limits. More than just biking through breath-taking scenery, The Hutong also arranged for us to visit tea farms and tea factories, walking us through the intricate, complex process of producing pure Pu'er tea that Yunnan is so well known for. The food was phenomenally fresh and I most enjoyed our overnight visits in minority villages.
Truly a trip of a lifetime, I couldn't stop talking about it after returning to Beijing. And after sitting down to write-up one of the longest blog posts in LumDimSum history (see here), making me jump up their fan-base to basically take the title of The Hutong's #1 Cheerleader.
Shortly after, they asked me to officially join their team to continue their mission to develop additional bike journeys in new destinations and join their education team to lead international school students on programs all over China.
Since I joined the Hutong over 2 years ago, I've organized a new bike ride through the desert landscape of Ningxia, I've co-led bike programs through Fujian's tulou villages and have had the privilege of developing more creative art-focused programs in and around Beijing."
What's next for Kristen: stay tuned for Culinary Trips and Wellness Retreats!