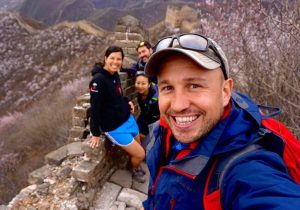 'Tell me, and I will forget. Show me, and I may remember. Involve me, and I will understand.'   Attributed to Confucius 450 B.C.
Here at the The Hutong, we are proud to be at the forefront of providing experiential education to students through travel with fun learning experiences across the country and now further afield. 
In this newsletter, I hope you will enjoy reading about our first foray into Australia with the students from Texas Christian University. It was an exciting new direction for us, emphasising our roots to Australia via our founders, Mark Thirlwall and Stacey Shine. All the while, we continue to develop innovative programming here in China, from conquering the waves of Qingdao to the mountains of Qinghai. 
This season, we have been inspired by John Marsden's talk at The Hutong on his unique views on Experiential Education, leaving us all thinking 'what more can we do to push the envelope?' And inspired by Malcolm McKenzie, Head of School at Keystone Academy, who believes that 'Through doing, learning goes even deeper than anything taught in our classrooms, and more radically transforms students' (you can enjoy reading his full article here). 
While we celebrate our 10 Year Anniversary this year and reflect on a decade of truly transformative experiences, we can't help but look toward the future and the exciting path that lays ahead for us and Experiential Education here in Asia." 
Josh Kernan, Director of Educational Programs, The Hutong

"The Hutong were a great company to work with. From pre-trip planning to facilitation, everything went very smoothly. They were responsive to questions and comprehensive in their approach. The trip was very well paced with a good mix of activities. The facilitators were highly engaging and motivating. Thank you to The Hutong for a great week."
Jonathan Evans, Yew Chung International School-Shanghai
"The Hutong provide a well-managed program that challenges and inspires students. The trip to Inner Mongolia opened a window on a completely different part of China."
David Knowles, Dulwich College Shanghai
"The staff at the Hutong were always so calm, reassuring, flexible, and positive. They were all great with the kids and really got to know them and went out of their way to help fix the problems the children came across…Thank you."
Ed Smith, Harrow International School of Beijing
"The Hutong Education Program has once again exceeded our expectations. From the initial planning stage through to the residential follow-up, everything was orchestrated with precision. The students thoroughly enjoyed their first experience of a residential. They gained many new skills in independence and team work. They were constantly challenged to explore, and achieve the Hutong's core values. Wonderful!"
Clare Cannon, British School of Beijing
"The Hutong team was super. I really enjoyed our class trip with them and would recommend them to anyone in the future."
Marco Trujillo, Keystone Academy Beijing
"The kids had a tops time! Not only did they learn about the ace history of the Xi'an region, they lived it!"
Ben Peacocke, Victoria Shanghai Academy Hong Kong
"[The] Hutong is your best partner in educating and engaging your students in China! They are all friendly, enthusiastic, caring, and knowledgeable! I really had a great time with them!"
Carrie Cheung,  ISF Academy Hong Kong

"The Hutong guides were exceptional and interactive and allowed us to really enjoy our stay in China."
Student, PVCICS
"Thank you for letting me know how important it is to experience stuff I thought I couldn't achieve, and being with friends in a group is something I really enjoyed. Thank you very much and I wish everybody else in the future will enjoy their trip with The Hutong as much as me!"
Student, YCIS-SH
"This trip was truly an amazing, inspiring and memorable experience!"
Student, Dulwich College Shanghai
"The Hutong are the best."
Student, Harrow International School Beijing
"The Hutong Education's activities were exciting!"
Student, YCIS BJ
"This program is such a great program for student and teachers."
Student, Keystone Academy
"The Hutong Education is a good place where you get to explore more and fun experience than before!"
Student, Keystone Academy
"I really enjoyed my experience with the Hutong, it was great fun making new friends and trying out new things that I had never done before."
Student, ISF Academy