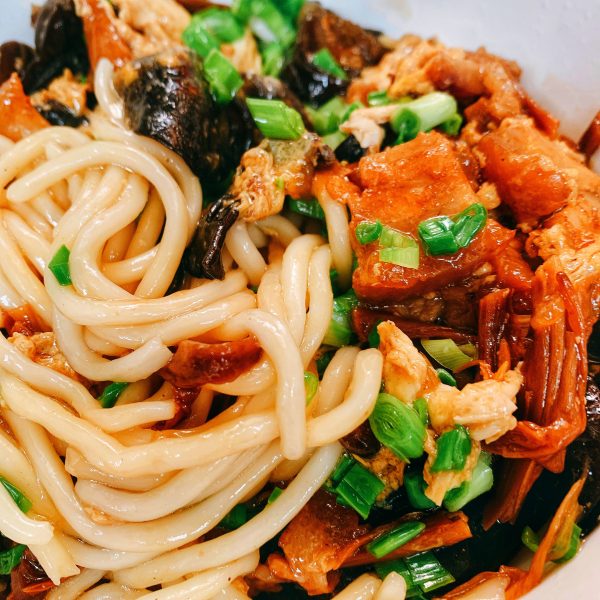 Lǎo Běijīng Dǎ Lǔ Miàn( 老北京打卤面)
---
Lǎo Běijīng Dǎ Lǔ Miàn( 老北京打卤面), one of the most of common noodle dishes in Beijing, is designed to be made with cheap/common ingredients that every household already has in their pantry. That said, the ingredients used and the cooking method may vary from region to region across Northern China. Today our chef Yao, originally from Beijing,  would like to share with you what she learned from her grandparents – the Lǎo Běijīng Dǎ Lǔ Miàn.
Traditionally, the gravy is pork-based. But the fragrant dry ingredients used can easily work in a vegan version by simply skipping the pork.
---
Serve: 4 approximately
Ingredients: 
500g fresh noodles
500g pork belly
2 big eggs whisked
4tsp minced leek
4tsp minced ginger
4tsp minced garlic
1 tbsp of coriander (optional)
1 tbsp of garlic shoot (optional)
1 cup of dried lily flower
1 cup of dried shitake mushroom
1/2 cup of dried black fungus
1 tsp white pepper
1 tsp five-spice
1 tsp  salt
3 star-anise
4 tbsp light sauce
4 tbsp dark soy sauce
1 tbsp corn starch water
Vegetable Oil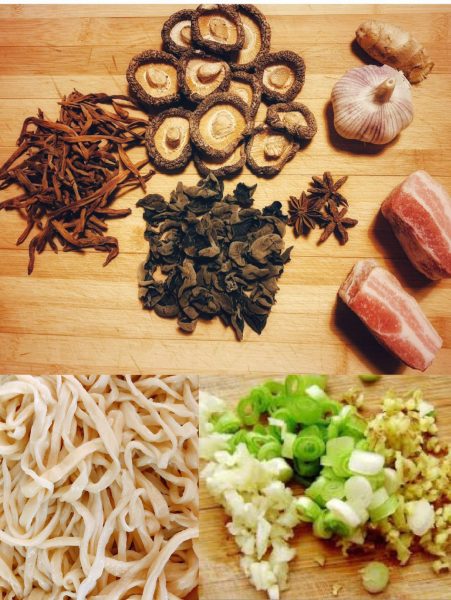 Prepare for the dried ingredients: 
Soak dried shiitake mushroom, lily flower, and black fungus for 4 hours. Remove the dry end of the lily flower.
Cut shiitake, Lily flower and black fungus into bite-size.
Prepare for the pork belly:
Put pork belly in half a wok of cold water. Turn on heat to medium-high. When water comes to boil, remove the foam.
Turn to low heat and add star anise. Cover and simmer for 20 mins.
Scoop out the pork and let it cool down. Slice thinly. Keep the stock.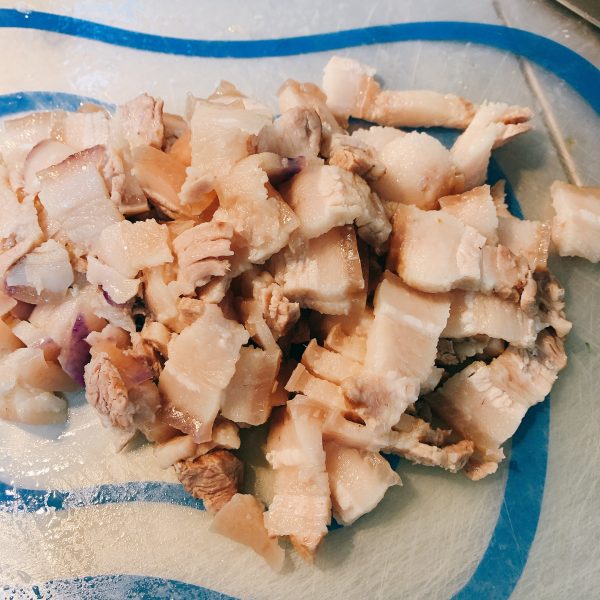 Prepare for the Sauce: 
Start heating the wok on medium heat. Add a little oil to the wok, then slowly fry the pork slices. When oil comes out from the fat, pour in the minced ginger and leek. Stir till fragrance is released.
Add in the soaked lily flower and shiitake mushroom. Stir for 2 mins. Add in the black fungus and pour the stock in. The stock should be enough to cover all ingredients.
Start adjusting flavours by adding light soy sauce, white pepper and five-spice. Adjust colour with dark soy sauce. The sauce should be brown.
Boil for 10 mins. Meanwhile, whisk the eggs. Pour in eggs and stir after 10 seconds. Add the minced garlic and stir.
Prepare corn starch and cold water mixture. Thicken the sauce while stirring.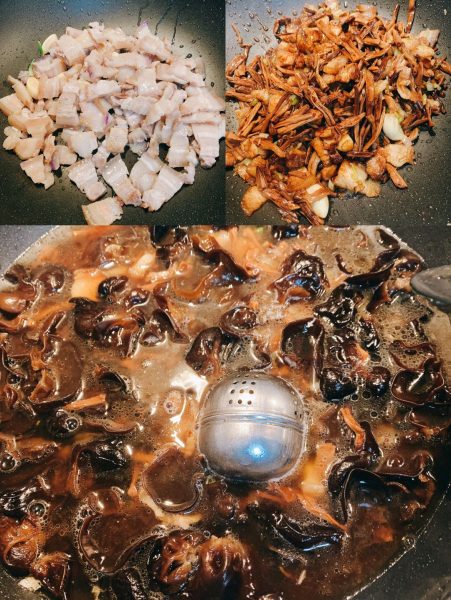 Prepare for the noodles: 
Bring a pot of water to boil with a teaspoon of salt, add the fresh noodles to boil till floating to the top and check the texture to ideal tastes.
Divide the noodles into four bowls.
Put all together: 
Pour the pork sauce on the top of noodles and garnish with coriander or garlic shoots for personal perference.  Serve and Enjoy!
---
For more information,  please contact us.
   Email: info@thehutong.com  Mobile & Wechat: 15901046127
We are looking forward to continuing to provide exceptional cultural experiences in a fun learning environment in 2020!
---