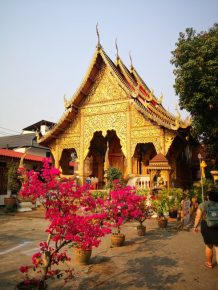 Earlier this month, with quarantines and travel bans taking hold, a couple of Hutongers found themselves stranded in northwestern Thailand. Uncertain of developments back home in Beijing and unsure of what the immediate future would hold, they decided to hunker down and make the most of a difficult situation.
One of The Hutong's internal mottos is to turn negatives into positives. This is not to diminish the severity of the Covid-19 outbreak, the incredible courage of the health workers, and the stoic response of the nation confronting this crisis. The majority of our colleagues in Beijing, Shanghai, Hong Kong and Taipei have remained quarantined in their homes, or in their hometowns, as we do our best to remain productive and work remotely.
But, a few more Hutongers, lured by the appeal of mountain air and adventure, converged onto Chiang Mai, the mountainous medieval capital of the ancient Lanna Kingdom. For now, they are calling it their temporary home: the 'Chiang Mai Hub' in Hutong vernacular.
Because our offices are spread over the length and breadth of Greater China, we don't always get as many opportunities as we'd like to connect with one another face to face. With the conditions far from normal in our home cities due to the Covid-19 outbreak, they figured they would carve out an opportunity to connect.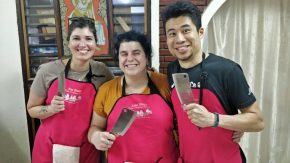 So, nestled in Chiang Mai, surrounded by Thailand's highest peaks, they are engaging in serious pursuit of culture, cuisine, and contemplation. With over three hundred temples in the city and new experiences around every corner, there's something for everyone. And they are learning more about sustainable and community based tourism in Thailand, and making a plethora of great new connections as they go.
When they're not embracing the city's nascent culture of digital nomadism, plugging into their usual day-to-day of designing exceptional cultural experiences, they're taking in as much as they can of Chiang Mai's delights. So far they've checked out cycle tours, cooking classes, rainforest treks, mountain villages, local artisanal workshops, night markets, and learned about Buddhism in local monasteries, to name a few. They are considering the possibility of developing Hutong programs in Thailand. We'll keep you posted …
written by Alastair Dawson, Hutong Learning and Innovation Coordinator