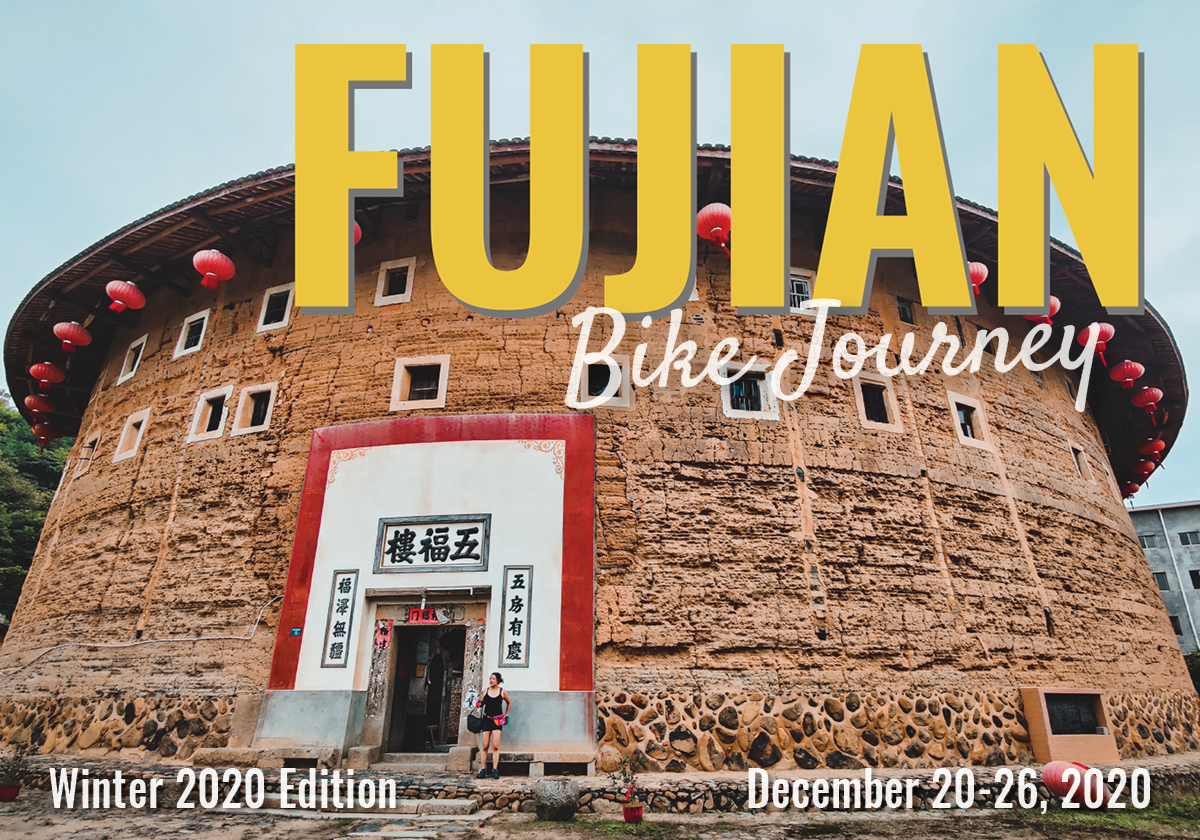 A Christmas cycling adventure through tea farms & tulous
Update (27-Nov): No spaces available – waiting list only.
Subscribe to our newsletter for notifications on our Chinese New Year journeys.
Please see our other Winter 2020 offerings here.

Mistaken in early satellite photos for missile silos, Fujian's ring-shaped tulou turned out to be way more interesting. Earthen giants, crosses between castles and community centers, a tulou can house a whole Hakka clan, living, working, and raising families in the safety of their multi-storey citadels.
On this journey, you'll experience life in these incredible UNESCO-listed buildings with our local Hakka hosts, get a taste of Fujian's vibrant folk culture, and explore the history of Xiamen, the ancient seaport city once known throughout the western world as 'Amoy'.
This 120km bike ride will take us through the mountains and valleys of rural Fujian, in Southeast China, across landscapes offering something new and intriguing around every turn. Fujian is renowned for tea-cultivation, fertile farmland, and for the distinctive Hokkien culture found in overseas Chinese communities all over the world.
In December, families will be harvesting their crops in fields around villages dating from the 15th century. We'll be privileged to stay among some of the communities which have flourished here, and to learn about the ways they've preserved elements of their culture and way of life over time.
The Christmas edition of our Fujian Bike Journey will run from
20-26 December, 2020
For full itinerary and further information on the trip, follow the link below to download the information pack.
Cycling Info
We'll cycle approximately 120km over the course of four days. Our itineraries often vary slightly; there is always a possibility we'll make minor adjustments to provide extra opportunities for exploration and discovery.
 
Cycling Difficulty
3 out of 5; You don't need to be a Tour-de-France caliber rider to complete our Tour-de-Fujian. It is challenging at certain points, and we recommend that you do some training before you join us; riding around your city is a good start, but try and find some time to ride up a hill or two, and change gears.
As long as you're in good shape, stay healthy, eat well and get enough sleep, you shouldn't have a problem riding every day and making it to each day's destination.
Christmas Celebrations
We will be celebrating Christmas Eve with our hosts in Fuyulou, the Lin Clan. For our Christmas eve celebrations, we will host a White Elephant-style Secret Santa paired with mulled wine and homemade Christmas cocktails by the Fujian Christmas tree. 
Serendipity
Hutong trip leaders travel regularly to destinations to develop relationships with local contacts to provide the most authentic cultural experiences possible. As such, trip itineraries are subject to change, pending the discovery of an even better activity or destination. Itineraries may also be subject to change due to weather, traffic, or government policies.
Price
9,500 RMB; does not include airfare
 
Departure Date
Sunday, December 20th, 2020
 
Return Date
Saturday, December 26th, 2020
 
How to Book
To express your interest and reserve your space, please email morgan[at]thehutong[dot]com. Our team will share a registration form to complete, provide updated travel information, and answer any questions you have.

 – – – – –

Download Information Pack (1.7 MB)
~ Follow us on Wechat ~