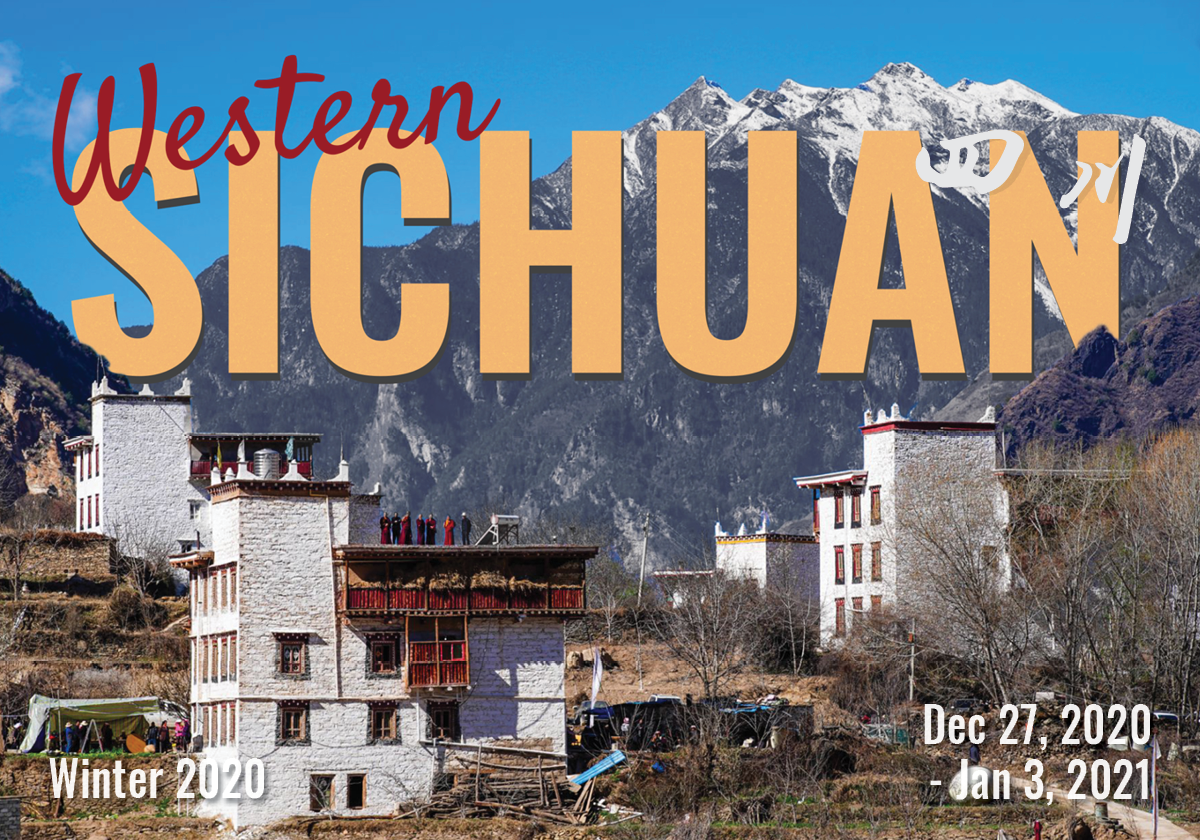 Mountains, majiao & mindfulness: A winter journey to Western Sichuan
(Update (27-Nov): Limited spaces available)
Our Western Sichuan Journey explores the ancient landmarks, the vibrant cultures, and the fiery cuisine of China's land of plenty. Soak up Chengdu's relaxing shua culture, and explore the winding alleys and bustling markets, all the while sampling the best bites of China's most famous cuisine.
Beyond the city limits of laid-back Chengdu lies a bucolic mountain landscape of picturesque cliffs, hilltop temples, and meandering rivers. Alongside its awe-inspiring vistas, Sichuan hosts some awe-inspiring creatures, including its most famous resident: the giant panda.
Geographically and culturally distinct from the fertile Chengdu Basin to the east, western Sichuan climbs the Tibetan steppe towards the foothills of the Himalayas. You'll witness a geographic and climatic shift as we move from the misty, green flatlands below to the pointed peaks, blue skies, and pine trees laying ahead. We'll move out of the basin's Han heartlands, through territories of the Qiang, and ascend the Tibetan plateau, where Tibetan is spoken more frequently than Mandarin. On our way, don't be surprised to see roving herds of yaks on the mountains above you, or on your dinner table.
This incredible expedition is the perfect way to spend the holidays, and to reset and recharge ready ring in the new year.
Our Western Sichuan adventure will run from
27 December, 2020 – 3 January, 2021

For full itinerary and more details, download the information pack below.
Destinations at a Glance 
Chengdu
Our adventure will begin in Chengdu, the capital of Sichuan. We'll dive right into its world-famous culinary delights with Chengdu Food Tours, who'll share with us their unparalleled knowledge of Sichuan's sensational food scene. You'll also have some time to explore Chengdu and experience Sichuan's famous shua culture.
Ya'an (Bifengxia)
No visit to Sichuan is complete without a panda encounter, and this trip will be no exception. Against the mountainous backdrop of the Bifengxia Nature Reserve, we'll visit a research base to see these fascinating international icons up close.
Danba
Danba is a mountain escape which basks in nearly year-round sunshine. It is home to the Jiarong Tibetan community, who have farmed the surrounding region for centuries. In Zhonglu village, 2600m above sea level, you'll meet our incredible partners from the NGO Yunhe Forest Center. As we hike, cook, meditate, explore, and learn about Tibetan Buddhism, our friends at Yunhe will shed light on the things which make this region truly special.
New Year's Eve
We will have a mindful start to our New Year's Eve, spending time in a meditation cave, dreaming up the perfect New Year's resolutions. In the evening we will engage in a Hutong Classic, the Hook 'n' Cook culinary competition, where we will whip up a delicious feast together. Afterwards, expect a merry mountain-top party with the moon and stars of Danba as our host. 
Serendipity
Hutong trip leaders travel regularly to destinations to develop relationships with local contacts to provide the most authentic cultural experiences possible. As such, trip itineraries are subject to change, pending the discovery of an even better activity or destination. Itineraries may also be subject to change due to weather, traffic, or government policies.

Price
9,850 RMB; does not include airfare
 
Departure Date
Sunday, December 27th, 2020
 
Return Date
Sunday, January 3rd, 2021
 
How to Book
To express your interest and reserve your space, please email danielle[at]thehutong[dot]com. Our team will share a registration form to complete, provide updated travel information, and answer any questions you have.

 – – – – –

~ Follow us on Wechat ~