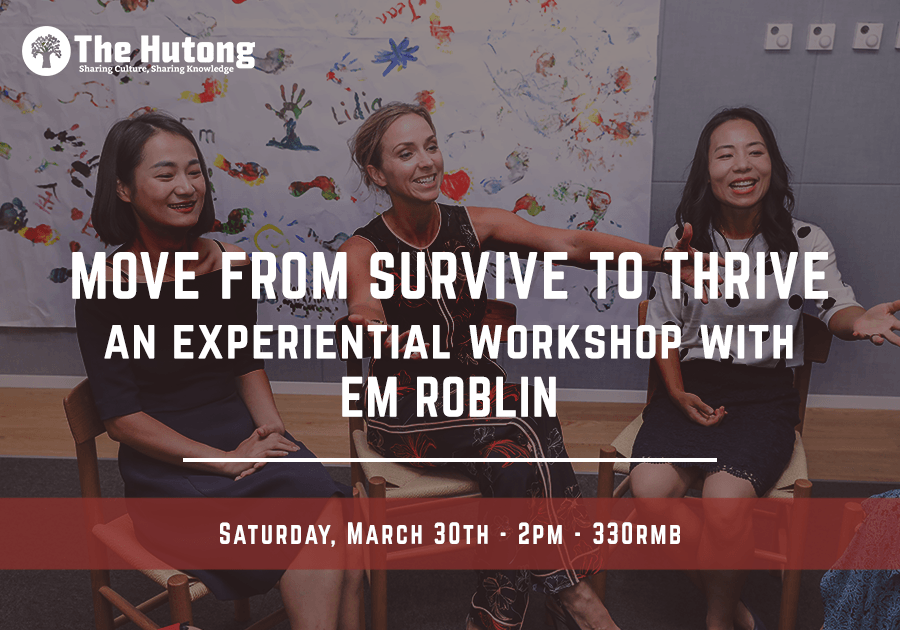 Experiential Workshop with Em Roblin: Move from Survive to Thrive
Date: Saturday, March 30th
Time: 2:00pm – 4:00pm
Cost: 330 RMB, 300 RMB for members
Each of us has the power to shine brightly, influencing others and having a meaningful impact.
When we're at our best, we radiate energy, feel productive and hopeful and operate with integrity and purpose. So often, however, with the pressures of modern life and managing across the many roles we play, we end up disconnected from ourselves. Putting everyone and everything ahead of ourselves can put us into a vicious cycle where we feel like we're just trying to survive.
In this session, participants will have a chance to learn about The Ripple Model, and get a meaningful assessment about how they're doing now with an opportunity to craft a meaningful next step for themselves. What's more, they will understand how to move from survive to thrive – a very different way to experience life and impact the people and environment around us.
Who is this session for:
Open and inclusive, this session is for anyone committed to developing themselves and those around them. Examples are tailored for professional women.
Objectives:
• Understand how to maximize your output and your impact
• Learn how to use The Ripple Model to unleash your inner power
• Assess where you are now, and know how to self-assess going forward
Outcomes:
• Reduced anxiety, pressure, frustration
• Clarity on what to focus on and where to expend energy
• Increases in sustainable productivity
• Renewed energy, enthusiasm, and commitment
• More meaningful connections with others
Meet with Em Robin
Thousands of leaders have gone through programs and experiences created by Em. From Canada, and based out of Beijing, China for twelve years, she is the passionate founder of two brands. Circles2 (2010), is a diversity and inclusion consulting firm working with leaders and managers to be more inclusive and build cultures of diversity where innovation will thrive; and Inner Circles (2015), offering experiential courses, transformative learning journeys and coaching services for women to grow personally and professionally.
Areas of Expertise: Diversity & Inclusion Women's Leadership Inclusive Leadership
Experience
-creator of well-renowned women in leadership program, an 8-day transformational experience
-has launched women in leadership programs across more that 15 companies in APAC
-has collaborated with leading global academic institutions and consulting firms in diversity and inclusion projects
-has developed customized inclusive leadership programs in collaboration with leading companies and delivered across APAC region
-regular keynote speaker, moderator and MC at high profile women's events, leadership summits, diversity and inclusion conferences, etc
-have extensive experience working strategically with leadership teams and facilitating a range of experiences for top leadership and high potential talent
-regularly invited as a guest lecturer at notable universities including Peking University, Tsinghua University, Cheung Kong Graduate School of Business, INSEAD, University of California.
-frequently called on to share as an expert on women's development and diversity and inclusion. Recent examples include The Economist Group, All China Women's Federation, CRI.
Background & Certification
She is Canadian, with an MPA from Ryerson University and a BAH in education from Queen's University. She's married with three kids. She's known for her authentic approach to integrating work and life and as a jet-setting mom-baby duo. She was recipient of the Ernst & Young women in business inspiration leadership award in 2011,and best international family in 2018 by the International Beijing Women's Federation.