Rally up fellow sweet tooths and cookie lovers and head over to The Hutong this Sunday, March 25th from 2-5pm.
所以如果你是甜品特别是饼干爱好者,星期天一定要来胡同!3月25号下午2点到5点。
An annual event co-hosted by The Hutong and LumDimSum, our Cookie Monster Bake-Off will feature 16 different types of creative cookies, each one made from scratch by 15 brilliant bakers based in Beijing.
这是The Hutong 和 LumDimSum联合举办的一年一度的饼干大赛。我们将呈现21种不同的饼干,这些有创意的饼干全都是我们的饼干达人们精心准备的。
Event Details
Date: Sunday, March 25th
Time: 2pm – 5pm
Price: RMB 80 for Hutong members or RMB 100 at the door and RMB 50 for children under the age of 12
(Includes sample bites of all 16 cookies + 1 cup of warm milk)
Location: The Hutong
Address: #1 Jiu Dao Wan Zhong Xiang Hutong
For all those cookie monsters who just want to come check out who made our score of cookies and munch through 16 different fantastic cookies, the entrance price is RMB 100 (at the door), RMB 80 for Hutong Members and RMB 50 for children under 12 (which includes sample bites of all 20 cookies + 1 drink, courtesy of The Hutong).
There will be more than your fair share of cookies to munch your way through, it really doesn't get much better than this! 到时候会有各种各样的饼干来融化你的味蕾,相信我,对于爱吃甜品的你来说,真的没有比这里更好的了!
Based on the creative and mouth-watering cookie recipes we have been receiving, these top bakers will be showcasing some serious baking talent to determine who will be crowned our triumphant Cookie Monster Winner!
我们为大家精选了一些饼干食谱,这些食谱的创造者将会为大家呈现各自的绝技。活动最后会产生一个获胜者.
The Hutong will also be serving up some hot drinks: Warm milk (cause that's what the Cookie Monster likes to dunk his cookies into), Hot Chocolate and Hot Toddy's.  The Hutong也会准备一些热饮,比如上面说的热牛奶(你是不是喜欢把饼干泡里面吃、热巧克力和热拖地。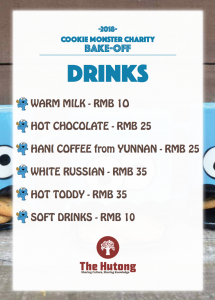 2018′s Cookie Monster Bake-Off Contestants(参赛者名单):
Tian's Fresh Mint Chocolate Chip Cookies
Tessa Veitch's Malteser Cookies
Anning Cheung's Green Tea Mochi Cookies
Andrea Lindgren's Swedish Summer Dreams
Andy Horowitz's (Andy's Craft Sausages) – "Oh My Lard" Cookies
Rebecca, Issy and Isla Alexander's Unicorn Poop Cookies
Olivia's Kitchen Sink Cookie
Danica Wang's Dried Crab Apple Biscuits
Cathy's Red Velvet Secret
Sawada's Wa Wa cookie,(蛙蛙饼干)
Chai Shuang (Alésia Boulangerie)'s Spring Calling Cookie
Anne Babilon-Teubenbacher's Cheese Cake Cookie
Chef Helen's (EAST Hotel) Cheese Stuffed Buckeye Hazelnut Cookie
Samia's Honey Almond Thins
Samia's Traditional Pakistani Shortbread Cookies (Naan Khatai)
Heming Yule's Quinoa Cookie
Don't worry, since one bite certainly won't be enough, all of our cookie contestants are also encouraged to sell their own cookies.  Please come and support our incredibly talented list of creative Cookie Monster contenders who will be slaving away in the kitchen to make sure our cookie monster attendees will all be happily satisfied! 如果尝完了所有的饼干样品你还意犹未尽的话,也可以买啊! 直到吃到你满意为止!
We'd also like to take this opportunity to thank and highlight the incredible list of prizes that have been donated to us for this Cookie Monster event.
我们还想借此机会感谢那些为了这个活动捐献各种奖品的人们!
100% of raffle tickets and the auction prize will all be donated to our selected charity, St. Joseph's Orphanage for disabled children in Renqiu.
所有的抽奖票以及拍卖奖都将捐献给慈善机构:任丘市松亚圣约瑟的残疾儿童孤儿院
2018 Cookie Monster Raffle Prizes(抽奖奖品):
CrossFit Slash: 1-Month Basecamp Pass (RMB 1,800)
EAST Hotel: One night weekend stay in East/Urban View room including daily breakfast for two at Feast (RMB 1,776)
GLO Kitchen + Fitness: CrossFit Foundations + Weekly Pass (RMB 1,200)
The Orchid Hotel: One Night Stay (RMB 800-1,800) depending on what room is available during booking (the best room will be reserved for you!)
ARCADE: Common Burger Ice Cream Sandwich Every Day in April (RMB 1,000)
Beijing by Foot: Public Walking Tour for 2 with Jeremiah (RMB 600)
FEAST (Food at EAST): Surf & Turf Dinner for two  (RMB +516)
Hatsune: Restaurant Voucher (RMB 500)
Karaiya Spice House: Restaurant Voucher (RMB 500)
The Orchid's Toast: Dinner for two (RMB 380)
The Hutong: The Hutong's T-Shirt & Membership Card (RMB 300)
The Hutong: The Hutong's Tea Journey Pack with Tea Pot & Cup with One Tea (RMB 350)
The Hutong: Recipe Pack with Sichuan + Yunnan + Dough & 2 Spices (RMB 210)
This City Art: 4 Coasters (RMB 120)
3 Little Pigs: 3 Restaurant Vouchers to New Restaurant (RMB 100 each)
The Taco Bar: 2 Restaurant Vouchers (RMB 100 each)
Alésia Boulangerie Bakery: 2 Vouchers (RMB 88 each)
Avocado Tree: 10 Restaurant Vouchers (RMB 60 each)
---
~~ Follow Us on Wechat ~~