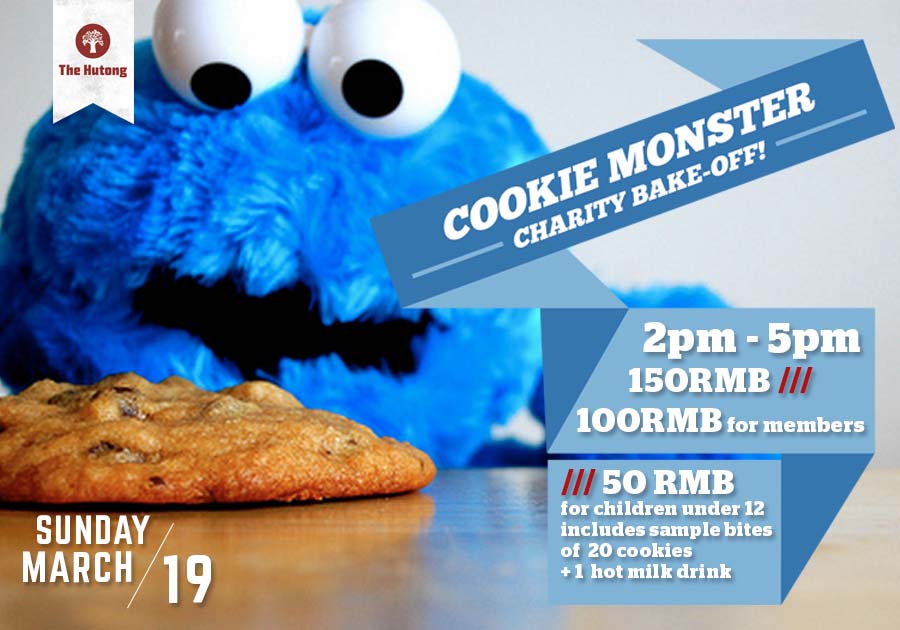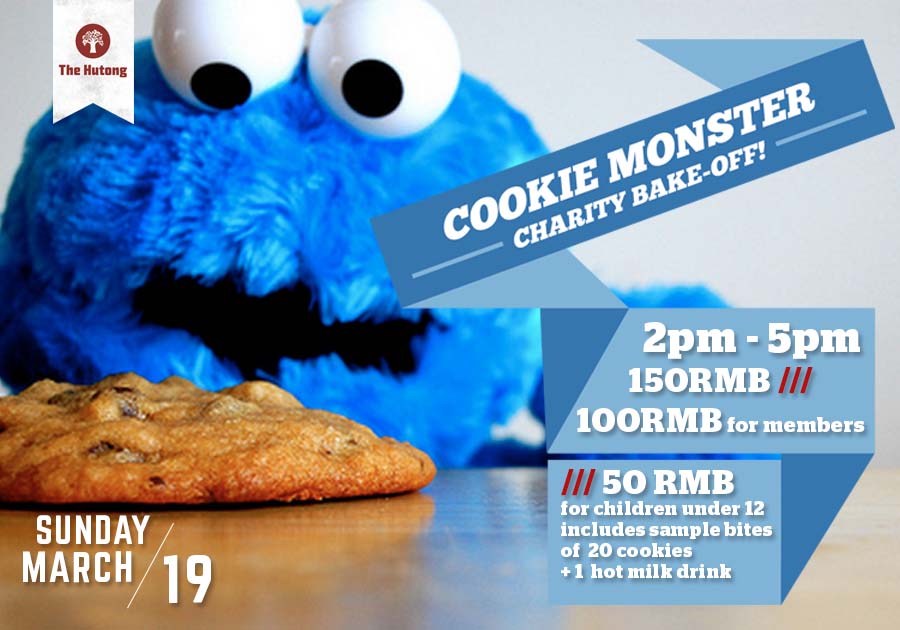 The Hutong's Cookie Monster Charity Bake-Off!
The concept is simple: The Hutong will be hosting our annual Charity Bake Off to indulge Beijing's most indulgent cookie monsters by showcasing some of Beijing's Best Bakers and supporting a local community charity, all at the same time!
Some of Beijing's best bakers have all submitted their one cherished cookie recipe to compete for the top 20 spots for our Cookie Monster Competition and all of Beijing's cookie-munching sweet tooths to determine which cookie would make Cookie Monster most excited.
20 different types of cookies to munch your way through, it really doesn't get much better than this!
So rally up fellow sweet tooths and cookie lovers and head over to The Hutong on Sunday, March 19th and if you can manage to make your way through all 20 cookie samples, you can vote for your top 3 favorite cookies!
The entrance price to sample all 20 cookies is RMB 150 per person, RMB 100 for members and RMB 50 for children under 12 (which includes sample bites of all 20 cookies + 1 drink, courtesy of The Hutong).
In the end, there will be both a People's Choice Winner and a Judge's Choice Winner as our two triumphant Cookie Monster Winners.
Based on the creative and mouth-watering cookie recipes we have been receiving, our curated list of top 20 bakers will be showcasing some serious baking talent.

The Hutong will also be serving up some hot drinks:
Warm milk (cause that's what the Cookie Monster likes to dunk his cookies into) – RMB 10
Hot Chocolate – RMB 25
Hot Toddy – RMB 40
White Russian – RMB 40
Hani Coffee from Yunnan – RMB 25
Soft Drinks – RMB 15
100% of raffle tickets and a portion of entrance ticket + Cookie sales will all be donated to our selected charity.
Cookie Monster Event Details
Date: Sunday, March 19th
Time: 2:00pm – 5:00pm
Price: 150 RMB (includes sample bites of all 20 cookies + 1 hot drink),
100 RMB for members and RMB 50 for children under the age of 12
Location: The Hutong
Address: #1 Jiu Dao Wan Zhong Xiang Hutong 东城区九道弯中巷1号
The Hutong (email: kristen[at]thehutong[dot]com)
2014's winner, Jon Ellis, says: The Cookie Monster Bake-Off is one of those things that's seemingly innocuous, but leads to great things. That is to say, after a bunch of people asking "where's your bakery" – you find yourself changing your answer from "I'm just a dude who likes to bake cookies" to "…sometime in the spring?!"
~~ Follow Us on Wechat ~~    
Celebrating a Decade of Exceptional Cultural Experiences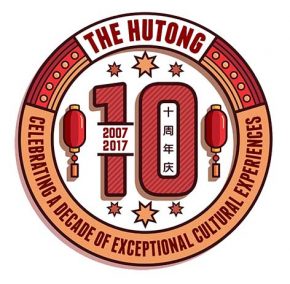 We opened our Hutong courtyard doors ten years back with a simple wish: to create a special place where people could come together, learn from one another, and have a great time. We never imagined we would be where we are today: running programs across China, with an incredible team from across the globe.
十年前我们打开了在北新桥九道湾1号的四合院大门,只为了一个愿望:为大家提供一个可以相聚,学习与共享美好时光的平台。就这样,胡同可以从那个时候一直走到了今天。现在,我们拥有这来自世界各地的团队,并在全中国各个地方都有不同的活动, For our ten-year anniversary, we'll be celebrating each month of 2017.  一眨眼,十年过去了,在迎接2017年的到来的同时,我们想要和大家一起庆祝这个难得的庆典。
The Hutong's Tenniversary:  http://thehutong.com/tenniversary/