As I huddle, hunched-over on the dirty ground next to a garbage can outside of a kitchen window, hiding quietly with two 14 year old students in what used to be a former slaughterhouse, I have to wonder how it is I'm paid to do what I do and how lucky I am to have the opportunity to share knowledge through play.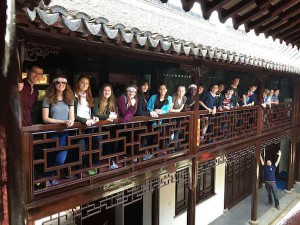 "Jeffrey, hunch over lower," my compatriot Marissa whispers loudly. "You have to pretend to be a trash can so no one can see you!"   It is the last day of a seven-day Chinese-language focus program with the American School in London's visit to Beijing and China. Our final destination before heading to the Bund is to visit 1933, touted as "the last slaughterhouse on Earth," now used as a creative arts space, as well as being an excellent location for hide-and-seek with all of the corners, bridges, and nooks. If only the cows had known how to hide when it was a slaughterhouse! We wait for the other students to find us, and I think back to the previous 6 days of adventures …
The Hutong kicked off its 2016 Spring Season with ASL's Chinese language immersion program, starting in Beijing and ending in Shanghai.   Just before Tomb Sweeping day, students from the American School in London came to Beijing for their second year in a row to put their Chinese language skills into practice. Filled with a combination of pre-designed activities and spontaneous learning opportunities, ASL students had many chances to engage in conversation with locals, both in the country's capital of Beijing, and in the financial metropolis of Shanghai.
Besides visiting the Great Wall, Qibao Watertown in Shanghai, and the 798 arts district, two of the top highlights of this year's trip centered around school exchanges, one planned and one improvised. While visiting Beijing, ASL students met with students their age at Beijing's YCIS international school. The focus of this school exchange was to meet with other students their age who also face the challenge of studying Chinese. It was an eye-opening experience for many of the ASL students, as they found studying Chinese in China much different from studying Chinese in London.
"I was so surprised," said one ASL student, "my partner at YCIS had been studying Chinese for less than a year, but they know so many more words than I do. Of course, they do live in China, so…."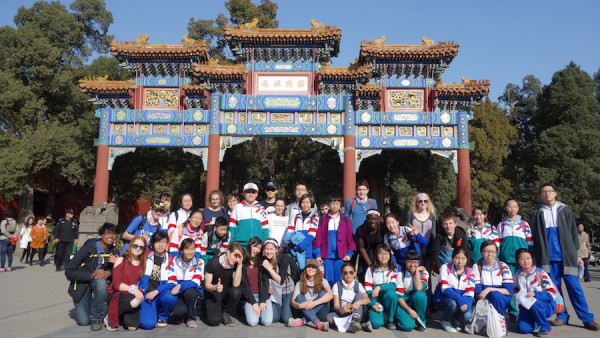 The ASL students met with YCIS students who had volunteered to join the school exchange activity in order to welcome them to Beijing and help them practice their Chinese. After the initial awkward opening moments that always come as teenagers size up one another, students shook hands and sat down with their partners to introduce themselves in Chinese. The rest went smoothly. Many thanks are in order to YCIS teacher Jessica Sun for helping to organize this well thought out encounter.
One of the benefits that ASL students discovered that YCIS students had regarding being in a Chinese language environment was their location directly next to the revolutionary-themed "Red Scarf Park" (红领巾)。 With a square devoted to revolutionary martyrs, the ASL students got an authentic Beijing experience as they explored the park with their YCIS "comrades" going out, interacting with and interviewing locals in the park. With extremely accommodating weather throughout the trip, a walk in the park could not have been more appropriate. Talking with adults and children, the ASL students broke completely out of their shells for a finale dance performance of one of their favorite Chinese pop songs, the seemingly never-ending "小苹果"(Little Apple). YCIS students joined in the dance, all to the joy and confusion of local park attendees.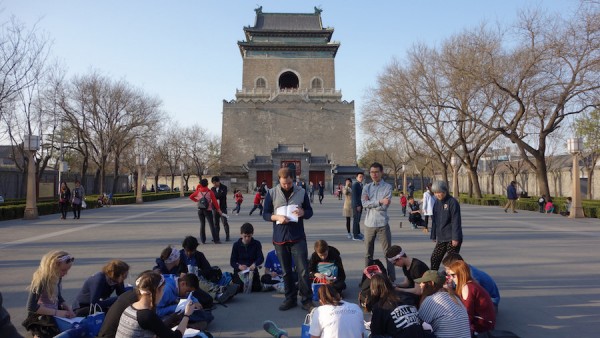 Much different from the excellently planned YCIS school exchange, the second school exchange was off-the-cuff and spur-of-the-moment. One of the days of the ASL program involved the students really familiarizing themselves with the Central Axis. Walking between 15 and 20 km in one day, the Central Axis themed day could be more likened to a day of "urban hiking," and the key theme word is 走路 (walking) for this day. The day began with an introduction at the Urban Planning Exhibition Hall on the South side of Qianmen gate. After this intro to the capital's layout and Central Axis, students found out that they would be walking all the way to the Drum and Bell tower square before taking a metro back to the hotel.
Once the group made it through Tiananmen and the looming Forbidden City (led by our very own "Rogue Historian," Jeremiah Jenne), we sat down for a much needed rest before heading to Jingshan Park. As the group lined up to enter the park, we encountered a Chinese middle school group ready to enter the park to participate in a geographical scavenger hunt filled with map-related tasks, as well as Chinese language and proverb tasks dealing with the park's history. Much credit must be given to ASL head teacher Chris Chen, as he took the initiative to reach out to the organizer of the Chinese school group's activities and ask if ASL students could join. Equally open to inclusiveness and improvisation, the local teacher saw the opportunity for a spontaneous school exchange and agreed. And with that…a match was made! After an even more awkward and unprepared introduction with the local Chinese students and ASL students, groups of four were formed, and they were sent off to work with each other on the scavenger hunt tasks. Although the Chinese students' worksheets were far beyond the level of ASL students' level, the feedback from the group was very positive.
"At first I didn't think I was going to understand anything," said one student. "But we found a way to communicate with each other using English and Chinese. It was really fun!"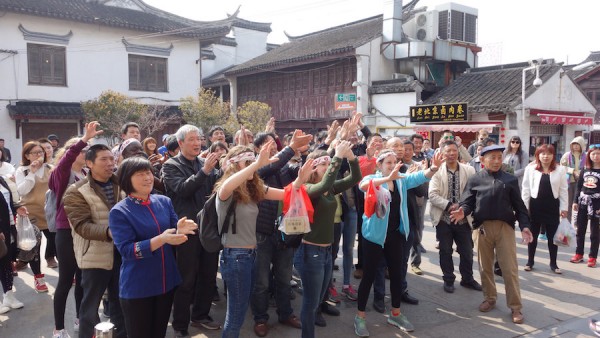 As the students gained more confidence with their Chinese, they were given more chances at independent exploration. Both in Beijing's hutongs and in Qibao's watertown alleyways, ASL students formed small groups to complete activities. They had the task to order meals on their own in Chinese restaurants, and the students were very adventurous eating such delicacies as squid, the ubiquitous Beijing 串 , and even daring to try pig's brain hot pot! In addition, in Qibao they visited the home of famous Tintin artist and lifelong friend of Herge, Zhang Chongren. Afterwards they explored the watertown and had to write their very own Tintin comic strip, incorporating whatever new Chinese words they could. Although the time in Shanghai was short, it was good for students to experience a different world from Beijing before returning to London.
"Shhhhh…..Jeffrey….someone is coming….just pretend to be a trash can!!" My heart is racing as that childhood fear of discovery during hide-and-seek returns. What if they catch me? What if they find me? It's the not knowing and waiting that is as terrifying as anything. Once you're caught, then you can relax and laugh. But it's the waiting…that's the suspense. As I hunch over in the dank corner counting down the minutes until we decide to emerge and reveal ourselves to the rest of the group, I think to myself, "What a job. What a life." I know that the students are  learning and happy, and I know that they will remember this trip to China for the rest of their lives. And hopefully, they'll return in the future, ready to use their Chinese again! Until next year, ASL!