Traditional Home Made Dumplings 
Date: Tuesday, April 4th
Time: 10:30am – 1:00pm
Cost: 300 RMB, 260 RMB for members
Come and learn how to make traditional style dumplings from scratch using the most seasonal vegetables, and paring it with pork! We will also be preparing an additional vegetarian filling. We will take you step-by-step through the process, from kneading the dough, to preparing the fillings and the proper cooking processes.
We will be doing the following fillings:
*Please specify if you have any dietary needs
The dumplings will be cooked and prepared two ways:
All our cooking classes are inclusive of free flow sodas and tea.
Upcoming Dates:
Thursday, 6th April 19:00pm
Monday, 10th April 2017 10:30am
Thursday, 13th April 2017 14:30pm
Sunday, 16th April 2017 14:30pm
Tuesday, 18th April 2017 14:30pm
Saturday, 22nd April 2017 14:30pm
Wednesday, 26th April 2017 10:30am
Tuesday, 2nd May 2017 10:30am
Thursday, 4th May 2017 19:00pm
Wednesday, 10th May 2017 14:30pm
Saturday, 13th May 2017 14:30pm
Monday, 15th May 2017 10:30am
Thursday, 18th May 2017 19:00pm
Tuesday, 23rd May 2017 19:00pm
Saturday, 27th May 2017 10:30am
Monday, 29th May 2017 14:30pm

~~ Follow Us on Wechat ~~    
Celebrating a Decade of Exceptional Cultural Experiences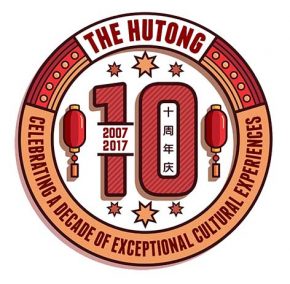 We opened our Hutong courtyard doors ten years back with a simple wish: to create a special place where people could come together, learn from one another, and have a great time. We never imagined we would be where we are today: running programs across China, with an incredible team from across the globe.
十年前我们打开了在北新桥九道湾1号的四合院大门,只为了一个愿望:为大家提供一个可以相聚,学习与共享美好时光的平台。就这样,胡同可以从那个时候一直走到了今天。现在,我们拥有这来自世界各地的团队,并在全中国各个地方都有不同的活动, For our ten-year anniversary, we'll be celebrating each month of 2017.  一眨眼,十年过去了,在迎接2017年的到来的同时,我们想要和大家一起庆祝这个难得的庆典。
The Hutong's Tenniversary:  http://thehutong.com/tenniversary/