Dear home chefs!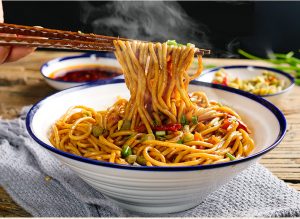 For the final week of our Quarantine cook-off, we showed our solidarity for those in Wuhan who have also had their quarantine lifted by cooking up one of their signature dishes – Wuhan Hot Dry Noodles (热干面). We also included a side dish of spinach and peanut salad (老醋菠菜花生).
This week we had mouth-watering submissions and invited Guest judge Eva Jiang from Sherpa's delivery to join forces with The Hutong Kitchen's Master chefs to judge for the top 3 dishes. The dishes were judged based on deliciousness (as much as we could perceive the taste from the photos), plating, photography, and creativity. Extra points were also awarded to entries with the most likes and interactions on social media.
We had so many great submissions that were all deserving of the top spot but before we announce the winners let's first recap the prizes from our generous local sponsors:
–    First Prize: Cheers-1 Bottle of Riesling Wine, Lost Plate -2 tickets of the Beijing Hutong Breakfast Tour, The Bulk House-Organic Cotton Reusable Makeup Pads, Sunny Dental: Phillips Electric Toothbrush.
–    Second Prize: Cheers-1 Bottle of Riesling Wine, Jing-A (Longfusi)- All You Can Eat Pizza Max 4 People, Parwaaz- Gift Voucher 1- Mango Chutney with Lime & Ginger (120RMB).
–    Third Prize:Liuba Draws -One A4 Print, Sherpa's 100RMB Coupon, Parwaaz -Gift Voucher 2 – Masala Chai (80RMB).
And now our winners: *DRUM ROLL*
3rd Place Winner – Wuhan Compassion Noodles 武汉爱心面
Submitted by Paula Machado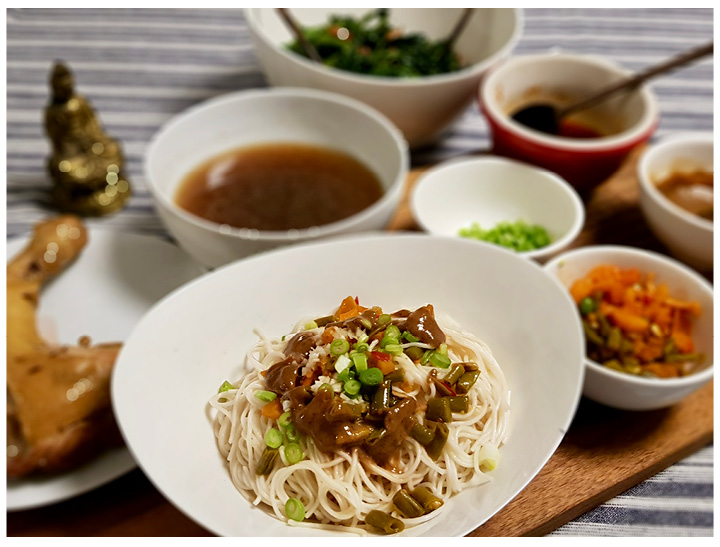 Paula Machado: "My very first childhood memories are from me helping my grandmother and my parents in the kitchen – too young to cook, but already peeling vegetables, running around them, and getting to taste the dishes while they were being prepared. For me, cooking is an act of love. I do believe that when I am in the kitchen, preparing meals, or trying new recipes for my family and friends, I am just giving them my love. This noodle dish was quite different than what I had previously experimented with Chinese cuisine and I simply loved it, especially how the chicken with Chinese spices become such a delicious broth!"
The Hutong Kitchen Chef Sophia: "I was blown away by the little details in the photography like the buddha statue, the abundance of ingredients, and honestly by how hungry I got looking at this photo."
2nd Place Winner – Quarantine Noodz
Submitted by Jomart O.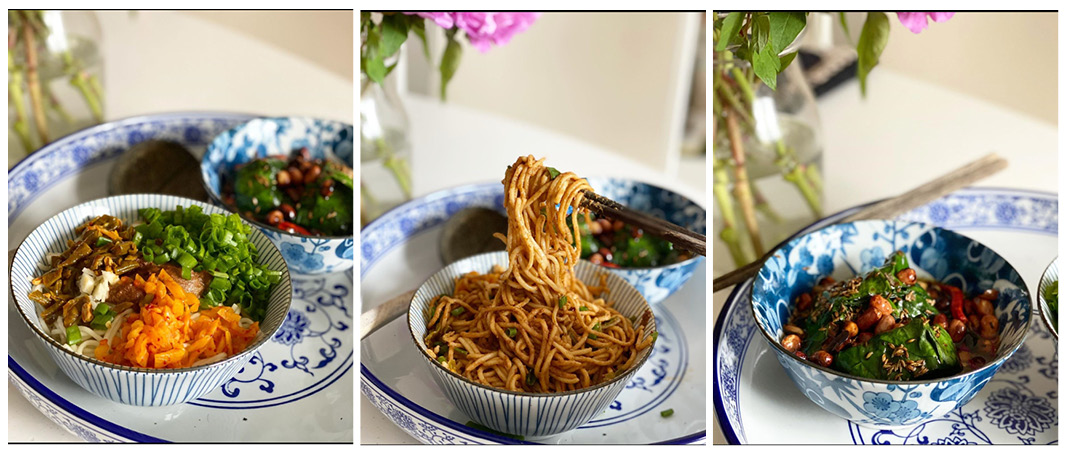 Jomart O.: "It was a pleasure to learn to cook Wuhan's legendary dry hot noodz in solidarity with the people of Wuhan. Seemingly simple it requires lots of prep work, but the result never disappoints: al dente noodles with rich and gooey sesame paste sauce, spice of chili oil, crunch from Chinese pickles and freshness of spring onion. Spinach and peanut salad – I also added deep fried fennel seeds – is a great accompaniment to this old time favorite."
Chef Jimena: "This looks the most like traditional Wuhan noodles. This was a homage well done!"
1st Place Winner – Homage to Wuhan
Submitted by Christine Young 

Christine Young: "I ate a lot of bowls of noodles and many spinach salads last week trying to get these dishes just right. I discovered that extra fried garlic makes the spinach salad extra tasty, and the Wuhan hot dry noodles can never have enough pickles and chili oil. I can't wait to visit Wuhan and try the real hot dry noodles. Thanks to the Hutong for this awesome challenge! I'm excited to learn many more Chinese recipes in the future."
The Hutong Kitchen Chef Yao: "This just looks delicious. Everything is so on point; the salad, the noodles, the plating, and the photography. Very well done! "
Congratulations to all of our winners. We were truly blown away by the submissions we got and the amount of effort and love that went into creating all these dishes.
Honorable Mentions
In addition to our top 3 dishes, here are 3 other finalist dishes that left us in awe. We'd like to acknowledge these home cooks who also submitted culinary masterpieces.

Sponsors
We are also very thankful to all our local sponsors who've donated various prizes to support the cookoff.
TheBulkHouse: https://www.thebulkhouse.com/
LostPlate: https://lostplate.com/
Cheers: https://www.cheers-wines.com/
LiubaDraws: https://www.liubadraws.com/
JingA Brewery: http://jingabrewing.com/
Sherpa's: http://sherpa.com.cn/
Sunny Dental: http://www.sunnydental.com/en/
Andy's Sausages: WeChat ID:  andy706588
Parwaaz: WeChat ID: reshma-khan
Thank YOU
A big thank you to everyone who joined the cook-off last week. We at The Hutong have enjoyed seeing all your weekly submission. We look forward to your participation in future cultural and culinary adventures!  
---
For more information,  please contact us.
   Email: info@thehutong.com  Mobile & Wechat: 15901046127
We look forward to seeing your delicious entries
---