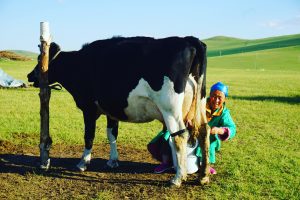 This year there has been a drought in Inner Mongolia 内蒙古. We travelled there with Canadian International School of Hong Kong – May was unusually warm and dry. All local farmers were worried that there wouldn't be enough rain.
The next trip we made was in June with Dulwich College Shanghai – still no rain. Some grass was turning yellow and the farmers were upset. Local authorities cancelled some big events: the Genghis Khan Marathon and bike race and the Xilinhot's Nadaam 那达慕 Festival, to help preserve water and protect the grass. The local farmers were concerned about having enough grass to feed their sheep and cows. Some of them even had to buy grass from other areas. Luckily for the farmers (and for us) it rained before we arrived, so we could see the beautiful green grassland that meets the blue sky on the horizon. 
Our trip started in Xilinhot 锡林浩特, a town in the middle of the steppe where we tasted good Mongolian food. The local breakfast was hardy, as traditionally Mongolians need to fuel their bodies to withstand the cold and rough climate: meat pancakes 肉饼, milk tea 奶茶 and super creamy yoghurt 耐嚼口 and of course we dipped deep fried bread 果子 in the creamy yoghurt. 
Then we hit the road and drove 2.5 hours southwest to the Asihatu Stone Forest 阿斯哈图石林. The ride was very smooth with beautiful views. When we arrived at the Stone Forest the skies were clear and sunny.
The Asihatu (or Arshihaty) Stone Forest was shaped over thousands of years from massive granite rocks exposed by thawing glaciers and sculpted by their melting waters and winds over time into magnificent 'works of art'. The scenery reminded me of ruins of medieval castles, but here the architects were nature and time.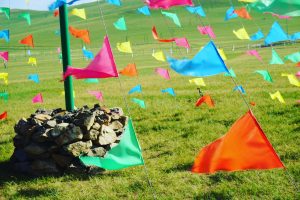 From the Asihatu Stone Forest we drove to our yurt camp where we spent the afternoon and night. After checking into our modern yurts (with electricity and bathrooms!) we started with our grassland activities. First we learned how to make Mongolian yoghurt 耐嚼口 and cheese (or milk tofu) 奶豆腐 and made a batch ourselves. Usually the Mongolians dry the cheese to preserve it for a long time, but it's incredible how good it tastes when fresh. 
After nibbling on such rich cheese we needed exercise, so we decided to try Mongolian wrestling 摔跤. The young local men at the camp demonstrated it first, introduced the rules and we were good to go. We had a couple of tussles and The Hutong's very own famous fighters "Ruby the Rockstar" and "Cissy the Champion" challenged each other. 
From wrestling we moved on to practice archery 射箭, after all, it is one of the most important skills that Mongolians have to train for since childhood. Of course, our bow and arrow skills didn't reach the level of experienced horse archers, but we did manage to hit a couple of bulls eyes as a team.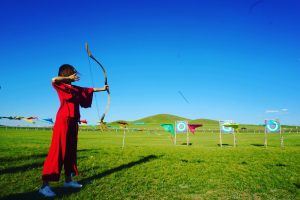 The sun started setting. We sat on the grass and watched the colors change in the sky, gratefully so far away from the polluted and crowded city life. It was dinner time and yurt camps usually have a big super-yurt (or mother-yurt) where people dine and enjoy performances. We headed to our camp's mother-yurt for our feast. Up north, the food portions are twice the size of portions everywhere else, and tasty meals awaited us. During dinner we watched performances by local Mongolians who sang, danced and played the horsehead fiddle 马头琴. And as the evening gets quite cool up here, a bonfire was waiting outside for us, to dance around it and enjoy the evening. We at The Hutong always bring marshmallows and chocolate if there's a chance of a bonfire party. So while Chinese tourists were puzzled by our odd dessert, we really enjoyed our s'mores by the fire.
The next day we started again with a big breakfast of yoghurt, cheese, bread and so on. We had horseback riding ahead of us and that is an intense sport.  We said goodbye to our hosts at the yurt camp and drove to another camp with a lot of horses. The Mongolian horses are way smaller than horses you would ride in the west. So it was rather comical when most of us, quite tall westerners, were riding the small horses and did not look as cool and shuai 帅 as we thought we would. But nevertheless, it was a great ride and in such a beautiful landscape!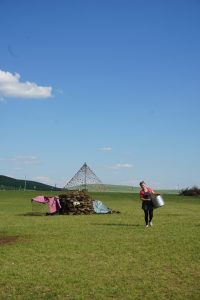 In the afternoon we explored the Dalinor Lake Geopark area. Dalinor Lake used to be a huge lake that was formed after the area stopped being volcanically active. It used to exceed six thousand square km. Over thousands of years though it has shrunk to approximately 200 sq km and it keeps on shrinking. The whole area is getting dryer and dryer. After taking a walk by the lakeside, we hiked up an extinct volcano: the sacred Anvil Mountain. The view from the top was magnificent.
We concluded our program with a session of mindfulness to wrap up the trip and look back at everything we learned and experienced. Soon after we drove back to Xilinhot where we ended our grassland adventure with a hot pot dinner. The hot pot there is of great quality and very fresh – you get the best lamb and beef for sure.
Our last trip of the season was short, but definitely a memorable one. Summertime is great for escaping the stuffy city and heading up north where the weather is cool and the sky is blue and you can spend the whole day outside hiking, riding horses, practicing archery or wrestling. But not just that, Inner Mongolia is also a great place for adventurous foodies who want to discover the local culinary traditions as Mongolian cuisine is quite unique and amazing. We are looking forward to our September trips up there and have already made plans for next spring and summer too.