Just as everything else in China, The Hutong has seen major growth since we first opened our doors in 2007.  This growth has included new destinations for educational programming, new programming options in older destinations, new partnerships with international schools, as well as new positions and opportunities to work with the company.  Another aspect of this growth is in The Hutong Hubs that help connect cultures through our educational programs and experiences.  In addition to our Beijing Hub, The Hutong has hubs in Shanghai, Hong Kong and Taipei. The following is the first of our Hutong Hub blogs relating to Taipei, with the other two shortly to follow.
Jeffrey Schwab is the representative office manager in The Hutong's newest and smallest hub of Taipei.  After leading the inaugural Taiwan program for the British School of Nanjing in the Fall of 2017, he decided to make this island his home and is focusing on developing new avenues for educational travel and cultural experiences in Taipei.

"Taiwan is so small and so diverse at the same time.  This statement is one of the things that struck me and stuck in my head the first time I visited the island on a holiday and circumnavigated it in a rental car during Chinese New Year.  I had heard that I would fall in love with Taiwan after leaving mainland China, but being a Beijinger for about 8 years and getting used to my lifestyle and relative "comfort" in Beijing, I went in with the mindset of a "Northerner", yet excited to explore a new place at the same time.  After a ten day trip, I realized it was just the beginning for The Hutong, myself, and Taiwan.  Everything about it seemed like a different dream version of mainland China and Japan mixed together in a lovely ordered balance.  At the same time, Taiwan retained its own unique sense of individuality.  Political issues aside, Taiwan struck me as extraordinarily different from and yet eerily similar in some ways to mainland China.  Here was a place with an extremely orderly populace who spoke Chinese, had the most regimented garbage disposal system I had ever witnessed, and, historically interesting, had a large memorial to Chiang Kai-shek in its capital as opposed to the celebrated Chairman Mao. Every meal was amazing (if not a little sweet), there would be random acts of kindness, people would organize themselves politically, volunteerism was a social norm, and the complex Chinese characters were…well…complex. I was hooked, and the fact that I had been in mainland China for so long made me even more curious about the Taiwanese way of life that had been influenced so long by Japanese culture before breaking off from the PRC in the Chinese Civil War. Its economy once booming and now quickly surpassed by mainland China, the island has a very relaxed feeling even in its political center. You can always find a good cup of pearl milk tea around every corner to cool the sweat from your brow.
Moving to Taiwan has proved relatively pain-free, and now The Hutong has a representative office registered in Taipei.  While we do not have scheduled programs in 2018, there is plenty of research and development to come for the Fall. Programs are quickly on the horizon in the Taipei area in 2019 with schools from Hong Kong and Macau, where international schools are seeking a "Chinese" experience without the perceived hassle of traveling to mainland China, and flights are quick and cheap.  Transportation, accommodation, and safety standards are quite high in Taiwan, and the island has proven to be able to provide plenty of chances for students to practice their Chinese, delve into Chinese culture and culinary experiences, as well as taking part in physically challenging activities.  Outdoor sports and adventure in Taiwan are quite well-developed, and The Hutong has already taken students hiking, river tracing, with rock climbing on the horizon. Chances to experience ethnic culture also abound as happened in the 2017 program in the Taroko Gorge region staying with a local ethnic tribe while eating wild boar and singing songs in local dialect atop a lush mountain range.

The future of The Hutong in Taiwan looks to develop more outdoor activities, language and cultural programs, as well as opportunities for service and ethnic homestays.  We will be researching rock climbing on the Eastern Coast of the island, creating traditional pottery and tie-dye cloth, as well as echoing our already mature cycling programs that we have learned to grow in mainland China.  We work in unison with experienced partners such as Taiwan Adventure to create expert challenge week programs involving river tracing, hiking, camping, and beach clean-ups as well.  Future programs in Taiwan also look to incorporate wetland clean-ups, school exchanges, and modern history. The Hutong also looks to capitalise on its exceptional record of experiential education programs in mainland China to promote these to the international community and schools in Taiwan as well.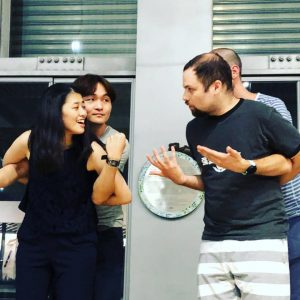 We are all looking forward to seeing what the rest of 2018 and 2019 brings The Hutong: Taipei.  Included are some pictures of the nearby hikes and sites that have been researched for upcoming programs. Until then we'll be continuing to do more research and work on remote projects in Taipei to build up our presence on the island. And for those who know me, know that I'll also be pursuing my passion for improv with the newly formed Taiwan Improv Troupe.