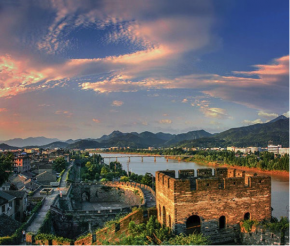 清明节, or the annual tomb-sweeping festival that falls on the beginning of April every year, not only marks the day to honor the dead but also inclines us to relive many of our old forgotten memories.
During this Qingming Holiday, I took a journey south back to my paternal ancestral home in the town of Linhai, located in Taizhou City, Zhejiang Province. In the past, not only did I view this yearly journey as an arduous task that could never be neglected, but I was also confused as to why I had to bend down and sweep the tombs of people I had never even met. However, throughout the years, as I grew up and learned to appreciate more the things around me, it became much more clear what role Linhai played in my heart and mind.
For those who had never visited or ever even heard of Linhai, it is a beautiful and ancient city located in central Zhejiang Province. From its name, it may be a bit misleading because it literally means "Seaside", but Linhai has characteristics resembling that of a coastal city, with lakes and mountains surrounding its perimeter.
Immersed deeply into its natural surroundings, Linhai has a history of over 700 years since its founding. Unlike many of the metropolitan cities where I lived, Linhai is a much smaller town that could be toured by car in less than an hour, with its tiny narrow streets surrounded by stone walls, along with the scent of morning dew.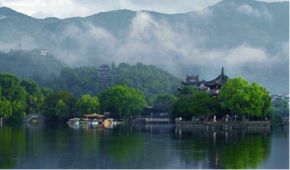 Although my stay was short, I managed to explore all of the town's most well-known ancient food streets: on 紫阳街 (Zî Yáng Jiē), home to the author Lu Xun, one can find the world's best seaweed buns! Here are some travel tips and fun facts about Linhai for anyone seeking to travel there in the upcoming May 1 holiday or any other time!
Transportation:
Train: Take the train to Linhai Station (roughly 8 hours from Beijing)
Airplane: Or the airplane to 路桥 (lù qiáo) Airport, which is approximately an hour drive awayfrom Linhai.
Flight number: CA1851, CA1869
Within Linhai:
Since Linhai is a small town, it would be perfectly sufficient to tour the town simply by foot. However it is very easy to catch a taxi within the town or take the public bus that takes you around the entire town in one ride!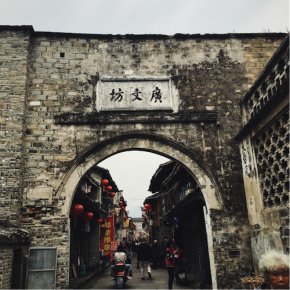 Language:
Most of the residents speak mandarin with a hint of Zhejiang accent. The local dialect in Linhai is 临海话 (lín hâi huà), which can be hard to comprehend to others, but if you listen carefully, you might just be able to catch a word or too!
Must Visit Attractions:
台州府城墙 Taizhou Governmental Great Wall
Being a local Beijinger and having toured nearly all of the Great Wall near the capital, it is safe to say that one of the only walls that meet its standards would be the one in Linhai. This wall was constructed during the Song Dynasty and is widely regarded by historians as one of the best preserved in Southern China.
2. 东湖 East Lake
The beautiful and historical lake situated right in the heart of Linhai next to the Great Wall. A must-visit sight especially at night; viewing the lake with a cup of tea in your right hand and a camera in your left, heavenly!
3. 紫阳古街Ziyang Street, oldest street in Linha-Where all the eats can be found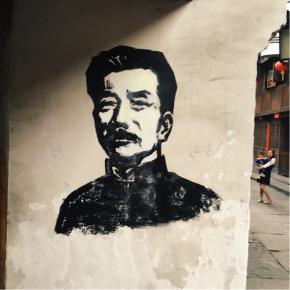 This is the ultimate destination for all foodies. Ziyang Street is home to all of the best and most traditional foods in Linhai, and also of the revolutionary modern Chinese author Lu Xun (鲁迅) to whom the Lu Xun museum is dedicated .

4. 江南大峡谷 Jiangnan Canyon
Callout to all the adventure seekers. The Jiangnan Canyon has a great river for rafting just 12 kilometers outside of the center of Linhai.
Weather:
Linhai is considered to be part of the Asian tropical region. Linhai has four distinct seasons and a wet climate throughout the entire year with frequent precipitation. If you plan on visiting Linhai during May, the average temperature will be between 15 degrees to 25 degrees Celsius, and make sure to bring your raincoats and umbrellas!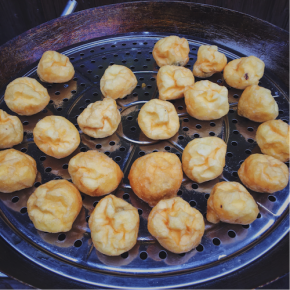 Eats:
Now the last and most important part: food. What is a journey without food?
蛋清羊尾 (dàn qīng yang wêi) Egg White Balls:
This dessert, 蛋清羊尾, means "egg white lamb tail" when directly translated. Regardless of its name, this sweet dessert is made of beat up egg whites with a red bean paste stuffing and then deep-fried in oil to give it crispy coat and soft filling.
2. Linhai Styled Stuffed Pancakes麦饼 (mài bîng)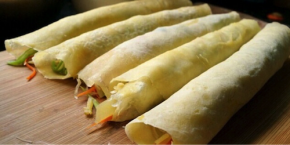 You may have eaten stuffed pancakes elsewhere but the Linhai style stuffed pancake is one of my personal favorites because this is the dish that my grandmother would make for me every weekend. Linhai locals like their pancakes stuffed with goodies such as fried rice, pork stir-fry and eggs, and one of my personal favorites: mashed potatoes.

3. Seaweed Pancakes (海苔饼):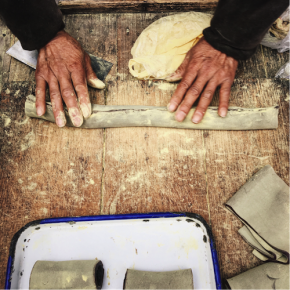 We all know that seaweed is abundant in Linhai, but who knew that they would make pancakes with it? An interesting combination of flavors, textures, and presentation, the Linhai seaweed pancake is must-try. It is sweet and chewy inside and golden and crispy outside. You'll love it!
4. "Shrimp" Noodles麦虾 (mài xiā)
When famine struck Linhai and people could not afford any shrimp or meat, they came up with a different type of "shrimp" made out of flour. The Linhai "shrimp" noodle resembles the chunky pulled noodle often served in beef broth and enjoyed as a traditional breakfast with pickled vegetables and salted meat.
5. Pork Rib Noodle大排面 (dà pái miàn)
Due to Linhai's wet weather, everyone needs, once in a while to cheer up, a large satiating bowl of pork rib noodles. For all those noodle fans out there, the Linhai styled pork rib noodle is a dish with a ramen style noodle topped with a specially braised pork rib and greens. It is definitely one of the most cherished guilty pleasures of every local.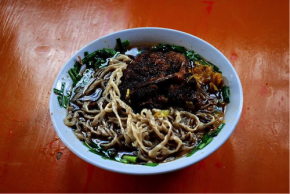 6. Mixed Pancake Wrap麦油脂 (mài yóu zhî)
This local eat usually devoured during the festivities, consists of a single fried pancake and multiple dishes alongside, including pork belly stir fry, cabbage and starch noodles, etc. I personally like to see it more or less as a Linhai-styled tortilla; you simply wrap, roll, and enjoy!
7. Waxberry 杨梅 (yáng méi)
The waxberry is a typical type of berry grown in Southern China that is harvested in Linhai during the spring. Often compared to prunes, because they have the same dark burgundy color and sour taste.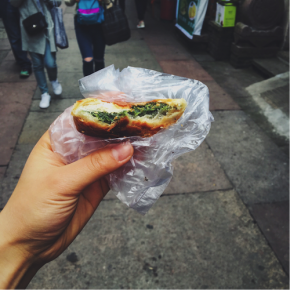 8. 橘子 Oranges
During the fall harvest season, you can see the streets of Linhai filled with their local oranges. Unlike other types of oranges or tangerines, the Linhai orange has a very thin skin and is juicy and sweet. Word of advice: if you ever visit Linhai during the fall orange season, make sure to purchase a pound or two and bring it back with you.
9. 勾青茶叶 (góu qīng chá yè) Gouqing Tea
This is a special type of green tea that originated in Linhai and is a Taizhou specialty. Many claim that it has a better aroma than other types of green tea with its unique flavors and soft texture.
Before reading this article many of you probably had never heard about Linhai or 'Taizhou city' , but now that you've read about these towns, it is time to pay them a visit and experience their wonders and their specialties. Linhai is still such a small town with many hidden secrets and  you will not experience the rush of tourists flocking in crowds. And since they don't get yet many visitors, the locals are very friendly towards tourists. So seize the time, book your ticket and enjoy all the wonders of Linhai this May Holiday!
Blog post by Audrey Tao, Tsinghua International School, Hutong Intern Extraordinaire