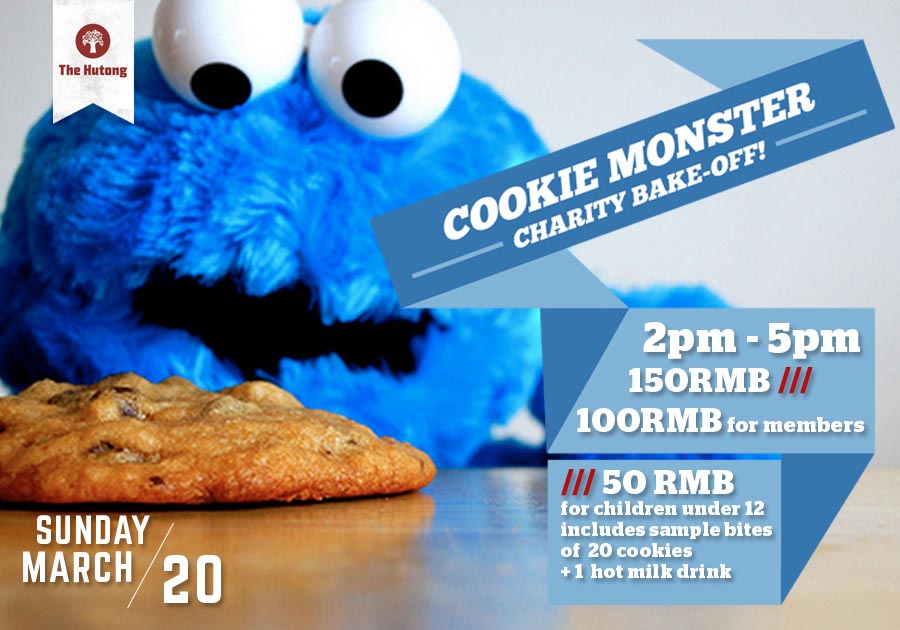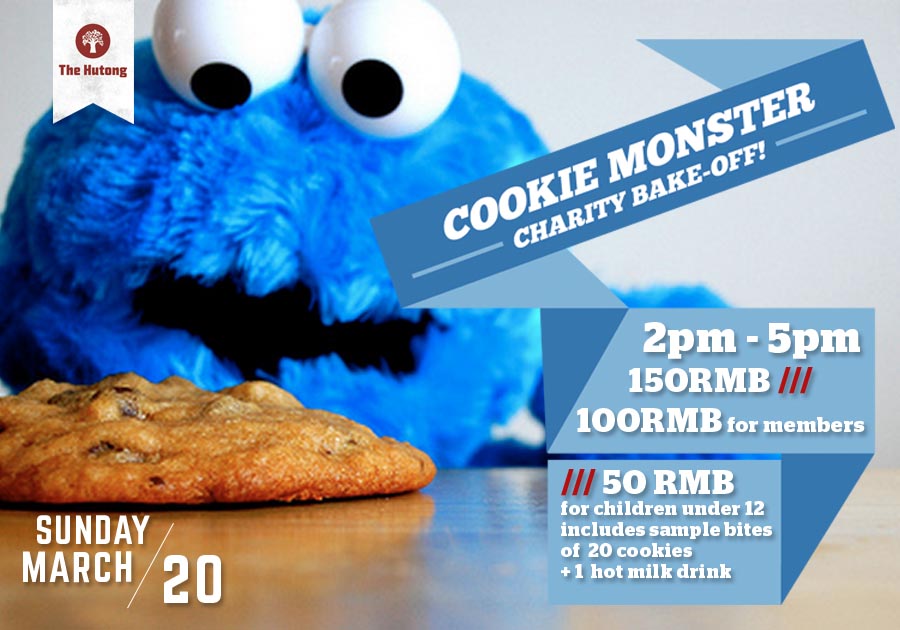 The Hutong's Cookie Monster Charity Bake-Off!
The concept is simple: The Hutong will be hosting our annual Charity Bake Off to indulge Beijing's most indulgent cookie monsters by showcasing some of Beijing's Best Bakers and supporting a local community charity, all at the same time!
Some of Beijing's best bakers have all submitted their one cherished cookie recipe to compete for the top 20 spots for our Cookie Monster Competition and all of Beijing's cookie-munching sweet tooths to determine which cookie would make Cookie Monster most excited.
20 different types of cookies to munch your way through, it really doesn't get much better than this!
So rally up fellow sweet tooths and cookie lovers and head over to The Hutong on Sunday, March 20th and if you can manage to make your way through all 20 cookie samples, you can vote for your top 3 favorite cookies!
The entrance price to sample all 20 cookies is RMB 150 per person, RMB 100 for members and RMB 50 for children under 12 (which includes sample bites of all 20 cookies + 1 drink, courtesy of The Hutong).
In the end, there will be both a People's Choice Winner and a Judge's Choice Winner as our two triumphant Cookie Monster Winners.
Based on the creative and mouth-watering cookie recipes we have been receiving, our curated list of top 20 bakers will be showcasing some serious baking talent.
2016′s Cookie Monster Bake-Off Contestants:
Becca Ruskin, Rachel Friedman & Sydney Hess: A Salty Surprise
Zhaoyi: Baymax Cookies
Ivy Wang: Scottish Oaty Raisin Cookies
Audrey Tao: Vegan P'n'J Cookie with Coconut Jelly
Peter VanderMeulen (Ahava Bistro & Cafe): Buzzerscotch cookies
Abigail Arterburn & Laurey Lou: "巧"克力 Cookie
Jamie Kung of Sugar & Spice: "Queen of the Cookie Jar"- White Chocolate Chip Oatmeal Cookie with Salted Caramel Drizzle
Julie Bonanno: Sweet Julie's Praline Peanut Cookies
Malou Claessens: Matcha Almond Cookies 
Kelvin Goh: Dark Chocolate-Orange Cookies
Grace Yang and Rachel Sun from EAST hotel: White Chocolate Raspberry Macadamia Nut Cookie
Charlotte Arneson: "Treat Yourself" Chocolate Cookie Truffles
Matthew Edmondston: Yin & Yang Shortbread Cookies
Anete Elken: Rye Chocolate Cookie with Cranberries
Kyla McIntyre: Chewy Chocolate Chip Cookies
Melissa McKenna of Juice by Melissa: Almond butter chocolate chip bars
Gretchen Johnson & Shirley Fan: Salted Hazelnut Cookies with Chocolate

Greta Bradford: Spring Sugar Cookies
Britt Langford of Sweet Tart Bakery: Snickerdoodles

The Hutong will also be serving up some hot drinks:
Warm milk (cause that's what the Cookie Monster likes to dunk his cookies into) – RMB 10
Hot Chocolate – RMB 20
Hot Toddy's (recipe by the one and only Joshua Kernan)- RMB 30
100% of raffle tickets and a portion of entrance ticket + Cookie sales will all be donated to our selected charity.
Cookie Monster Event Details
Date: Sunday, March 20th
Time: 2:00pm – 5:00pm
Price: 150 RMB (includes sample bites of all 20 cookies + 1 hot drink), 100 RMB for members and RMB 50 for children under the age of 12
Location: The Hutong
Address: #1 Jiu Dao Wan Zhong Xiang Hutong 东城区九道弯中巷1号
The Hutong (email: kristen[at]thehutong[dot]com

or kristen[at]lumdimsum[dot]com

)
2014's winner, Jon Ellis, says: The Cookie Monster Bake-Off is one of those things that's seemingly innocuous, but leads to great things. That is to say, after a bunch of people asking "where's your bakery" – you find yourself changing your answer from "I'm just a dude who likes to bake cookies" to "…sometime in the spring?!"