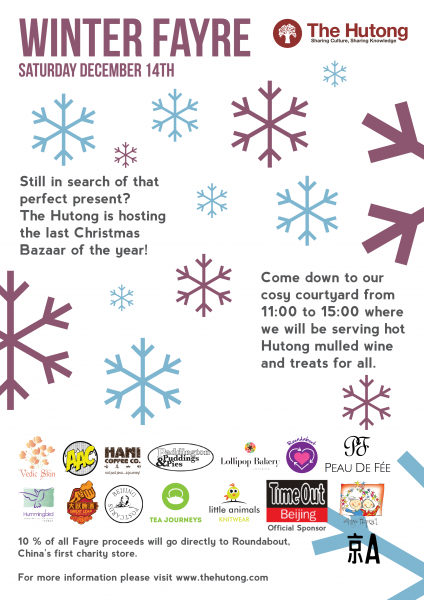 The Hutong continues its tradition of hosting the last Christmas Bazaar of the year! Come join us for The Hutong Christmas Fayre on Saturday, December 14th from 11:00 to 3:00. To celebrate the holiday season we'll have a "warm-winter" theme and will be serving piping hot cups of vin brulé. And with Christmas just around the corner, you can pick that rare find for your friends and loved ones.
10 % of all Fayre proceeds will towards Roundabout China, a Beijing-based social enterprise headed by volunteers. Roundabout provides a free service connecting those who wish to give, be that monetary or otherwise, to those in need. Founded in 2008, Roundabout was the first charity store in mainland China, and now run many community programs and give support to 48 charitable organizations in the Beijing area and many more throughout China and Mongolia.
Place: The Hutong
Date: Saturday, December 14th
Time: 11 am – 3 pm
We are thrilled to be partnering with Time Out Beijing, as our exclusive media partner for the 3rd year in a row.
Click here for our map, with directions.
Fayre is an old English word describing a fun gathering featuring a range of locally produced goods made and sourced from, and connected to the local community. The products on offer range from our homemade jams, teas, cheeses, baked goods and chocolates to handmade handicrafts, photography, jewelry, cashmere scarves and unique cards and papers. Our Fayre is a place to catch up with friends and enjoy the holiday spirit, and promises to be a fun day out for the whole family.
Vendors include: Affordable Art, Art Eco, BJ Postcards, Great Leap Brewery, Hani Coffee, Hummingbird Spa, Jing A, Little Animal Knitwear, Lollipop Cupcakes, Magic Hospital, Puddington Pies, Peau de Fée, Tai Tai, Tavelin Bagels, Tea Journeys, Wangjing Cufflinks, Yellow Pummelo, and more.
For 2014 we are thrilled to be partnering with Time Out Beijing once again, as our official media event sponsors.
We look forward to seeing you on Saturday the 14th at 11:00!
Click on the link to see a beautiful Christmas Fayre webpage and video by Maggie Wu of Radio Beijing, from 2011′s Christmas Fayre. Thank you Maggie!
-->