"There are some parts of the world that, once visited, get into your heart and won't go. For me, India is such a place. When I first visited, I was stunned by the richness of the land, by its lush beauty and exotic architecture, by its ability to overload the senses with the pure, concentrated intensity of its colors, smells, tastes, and sounds… I had been seeing the world in black & white and, when brought face-to-face with India, experienced everything re-rendered in brilliant technicolor."




- Keith Bellows, Editor in Chief of National Geographic Traveler
A culinary expedition uncovering the soul of an ancient culture. To learn more, join us for Reshma's free Q & A with tapas at The Hutong on the late afternoon of Sunday, December 7th or the evening of Wednesday, December 10th.

India is a kaleidoscope of colors, customs, costumes and cuisines. Soaring mountains, sweltering desert, shimmering backwaters, luscious paddy fields, sunny beaches: the colossal variety of India's natural environment will truly make your head spin. From North to South, the country's food mirrors, and makes the best of this myriad of landscapes. Few countries can offer as much diversity in food as India. One can spend an entire lifetime exploring the unique plurality of this land.
Our tour is specially designed for travelers and food lovers who are venturing into India for the first time. We have picked destinations that will ensure that the traveler can sample the rich cultural heritage, the numerous religions, traditional folk arts, the varied terrains and above all the diversity of its multi-layered cuisine.
PHASE 1 :
11-day program (February 14th – February 25th)
North India Tour
(Delhi-Agra-Fatehpur-Jaipur-Jodhpur-Ranakpur-Udaipur)
Explore the vibrancy of Northern India. A treasure trove of diverse colors, religions, lifestyles, flavors, architecture and cultures – Northern India never fails to fascinate her visitors.

Explore the spice markets and try the street food of Old Delhi. Barbeque at the home of a family and wipe your plate clean in authentic North Indian restaurants. Go on a culture and culinary tour through the streets and bylanes of the famous pink city and volunteer at the kitchen of a social work organization. Sample the rich food of the maharajas in the Lake city and enjoy the delights of a simple village home in Jodhpur.

In between the cooking and eating, you will weave your way through India's rich cultural tapestry, taking in the ancient cities, the stunning scenery and colors, the forts, the palaces and of course the beautiful Taj Mahal.

Itinerary – Phase 1
Day 1 : Fly Beijing to Delhi. Reach Delhi late night.
Day 2 : Delhi
Day 3 : Delhi 
Day 4 : Agra 
Day 5 : Fatehpur Sikri • Jaipur 
Day 6 : Jaipur
Day 7 : Jaipur
Day 8 : Jodhpur
Day 9 : Jodhpur
Day 10 : Ranakpur • Udaipur
Day 11 : Udaipur
(We will leave Udaipur late afternoon to drive back to Delhi and
take the late night flight back to Beijing)
PHASE
2:
11-days program (Golden Week, October, 2015)
South India Tour
(Mumbai-Kochi-Alleppey-Thekkady-Goa)
Blessed by two stunning coastlines, you will start in vibrant Mumbai and travel through the colonial city of Kochi, followed by the backwaters of God's Own Country and the spice plantations of the Periyar hills. Wind down with a few relaxing days on the beaches of idyllic Goa.
Along the way, our expert chefs will have you serving up spicy seafood and vegetarian dishes enjoyed in Kerala, and delicious dosas and idlis, South India's signature food. Visit spice and rubber plantations, a historic synagogue and iconic churches. Take cooking lessons on the banks of Kerala's shimmering backwaters, and on the lawns of our idyllic home-stays.

Itinerary – Phase 2
Day 1 : Arrive in Mumbai late night 
Day 2 : Mumbai
Day 3 : Mumbai
Day 4 : Spa (Kerala)
Day 5 : Kochi 
Day 6 : Kochi
Day 7 : Alleppey (Alappuzah)
Day 8 : Kanjirappally • Thekkady 
Day 9 : Thekkady • Fly to Goa.
 Arrive late night.
Day 10 : Goa
Day 11 : Goa
Day 12 : Goa • Fly to Delhi
 • Fly to Beijing
The first phase of The Indian Culinary Expedition runs from February 14th to the 25th. To reserve your space email

kristen[at]thehutong[dot]com

. 16 culinary enthusiasts is our maximum group size.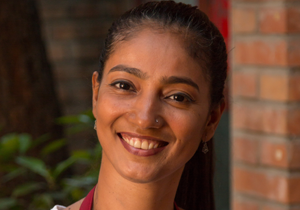 The aroma in Reshma Khan's kitchen will take you on a journey to India, where ancient recipes waft tales of royal banquets and rustic delights. Hailing from a family of restaurateurs ("…we are very proud of the immense variety in Indian cuisine," she explains), Reshma grew up spending many a summer holiday watching chefs cook and honing her talent under trained eyes.

Reshma grew up in the bustling metropolis of Mumbai but has travelled across India, savoring the varied ingredients that distinguish each region. Her own family is an Indian cosmos: her parents and in laws hail from Kerala, Hyderabad, Maharshtra and Gujarat. As a result, Reshma is familiar with recipes of different communities, festivals and regions of India.

Over the years, Reshma has collected recipes from relatives and friends, all sharing specialties ranging from family favorites to local delicacies. Compiled into a journal, the book is like a travel guide, albeit with a hint of aroma. A warm personality, Reshma's enthusiasm for cooking is as infectious as it is appetizing. Her long-anticipated Culinary Expedition promises to win over your heart, and stomach, and let you experience India in its brilliant technicolor glory