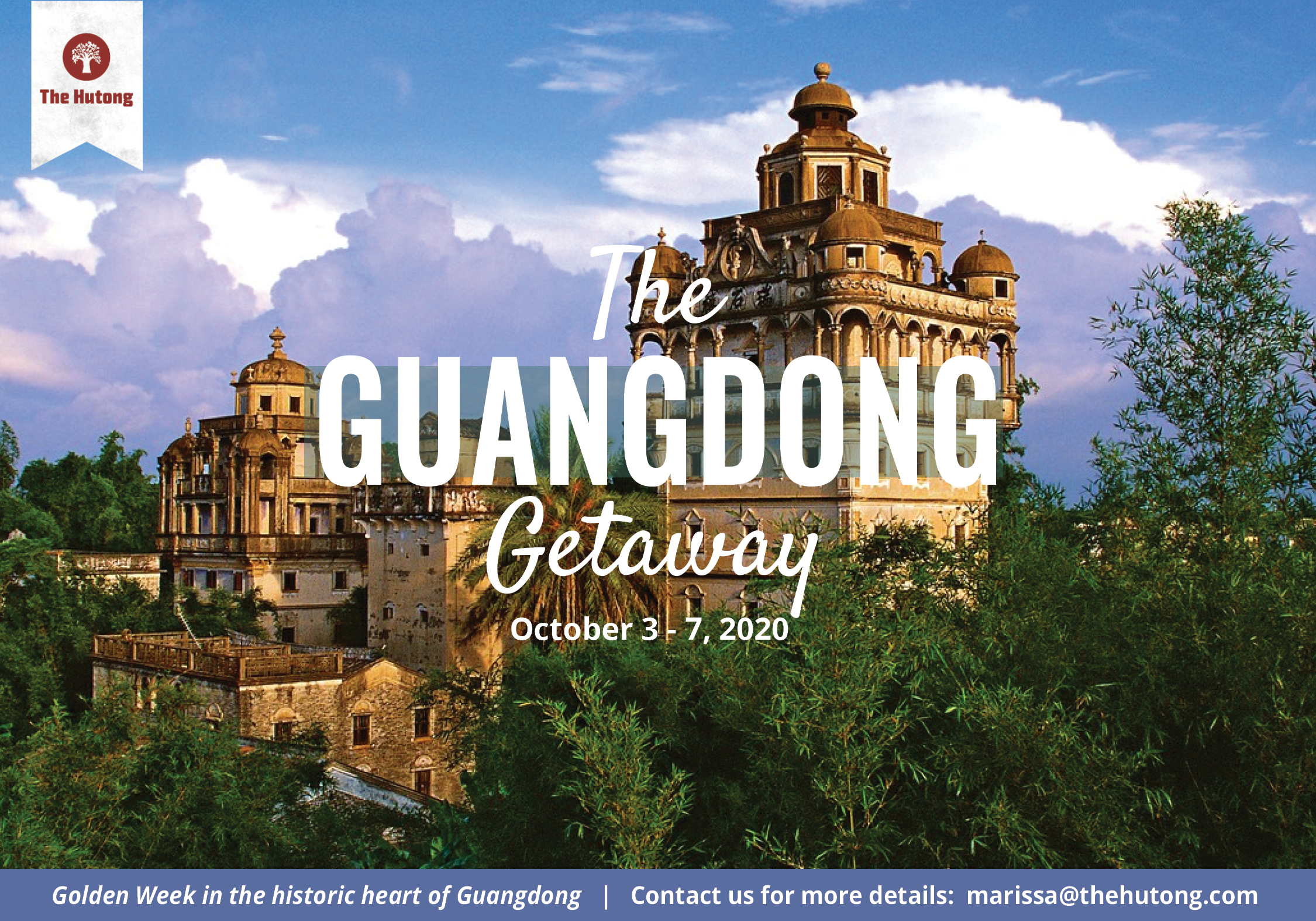 Lion dance, kung-fu, UNESCO watchtowers, and countryside adventures: Golden Week in the heart of Guangdong. 
Experience ancient traditions in the scintillating south this fall: farm with the whole family in wide open green fields looked over by historic UNESCO-protected watchtowers, explore the countryside by bike before learning lion dancing and kung-fu from world champions, dive headlong into village life, and explore everything the Yue Kingdom has to offer. Spend your golden week with The Hutong in glorious Guangdong!
As one of the earliest locations in China opened to foreigners for trade, the Southern province of Guangdong has served as a nexus for exchange of ideas, products, cultures, food, and ways of life. One of the more prosperous provinces in China, Guangdong is especially known for its local cuisine with many locals enjoying their mornings and afternoons with a cup of tea and dim sum. Although Guangdong is world-renowned for its exports, both material and intangible, this week-long getaway will give you the chance to relax, slow down and gain an authentic insight into Cantonese culture.
This trip is family-friendly, and open to solo travelers and couples as well!
Itinerary Overview: 
At the beginning of the week, based in the stunningly tranquil and culturally fascinating village of Tangkou, situated in the Kaiping area of Guangdong's Jiangmen region, you'll traverse some of the province's extraordinary greenways by bike and on foot. With us, you'll visit some of the best-preserved examples of Kaiping's towering, UNESCO-protected Diaolou watchtowers. In Tangkou, we'll be guests in a heritage restoration project, a beautifully furnished converted watch factory doubling as a community cultural space, part of a wider countryside revitalization project, spearheaded by some great friends of The Hutong. Whether it's a farm-to-table cooking class using locally grown fresh ingredients, or energetic Lawn Games, or a guided walking tour through local villages focused on heritage preservation, there's something for kids and adults alike.
After three idyllic days immersed in Kaiping's countryside, we'll move on to a single-night stopover in historic Foshan as we meander back towards civilization. In Foshan, birthplace of Ip Man (Ye Wen, 葉問), there'll be a chance for your children to master martial arts, following in the footsteps of Bruce Lee's tutor and the Qing dynasty folk hero Huang Fei Hong (Wong Fei-hung), among others. At a lion dance training centre home to a world-champion troupe, the children will learn lightning-quick 'hung ga' kung fu combos, before trying their hand at some impressive lion dance routines. We'll also visit the storied Foshan Zumiao –Ancestors' Temple, exploring more about the region's illustrious past. At the Nanfeng kiln, the oldest 'dragon kiln' still in use in China, dating from the Ming dynasty, you'll have the chance to explore a quaint artists' village in well-preserved surrounds, try your hand at creating ceramic art, and whipping up a bowl of shuang pi nai, 黄皮奶. You'll leave inspired by the places you've been to and the things that you've seen. Join us in glorious Guangdong and experience the magic of the south!
Our 2020 Golden Week 

Guangdong Getaway

will run from

Saturday October 3rd to Wednesday October 7th 2020.
We are currently taking tentative reservations. To receive an itinerary and tentatively reserve your space, contact

marissa[at]thehutong[dot]com

.

 

Price:

6,200 RMB per person; does not include airfare. Family package pricing available. 

 

Start Date:  

Saturday, October 3, 2020. This journey 

begins in Guangzhou.

 Participants should plan their travel to arrive in Guangzhou by midday on October 3. The Hutong will help to arrange a group flight option.

Return Date:  Wednesday, October 7, 2020. This journey ends in Guangzhou. Participants should plan their travel to return home from Guangzhou on evening of October 7; should you wish to stay in Guangzhou an extra day or two, we can recommend some great activities!

Physical Challenge:


1.5 out of 5 (the most physically strenuous activities will include guided countryside walks on paved routes, and a day of cycling among the diaolous is on a largely flat, paved "greenway" path).


How to Book:


Contact marissa

[at]thehutong[dot]com

for booking information.

Serendipity:

Hutong trip leaders travel regularly to destinations to develop relationships with local contacts to provide the most authentic cultural experiences possible. As such, trip itineraries are subject to change, pending the discovery of an even better activity or destination. Itineraries may also be subject to change due to weather, traffic, or government policies.


  

~~ Follow Us on Wechat ~~