Mistaken in 1980′s satellite photos for missile silos, Fujian's Tulou turned out to be far more interesting: multi-storied, fengshui-alligned, rammed earth fortresses built from the 13th Century onward to protect the "newly" arrived Hakka Clan's and their rich culture. 300 Tulou scattered across Southern Fujian are now UNESCO listed World Cultural Heritage gems, best appreciated on a bike, with plenty of tea. 
Join The Hutong on a connoisseurs' cycle through Fujian's famed tea fields and Tulou Roundhouses.
Designed as a weekend getaway for city workers, this trip departs Xiamen at 7.30 pm on Friday night with a 3-hour transfer to the Tulou. 
You will support heritage conservation by staying in two lesser known UNESCO listed Tulou. Tea lovers and non-hardcore cyclists are encouraged to join. There are some challenging hills but the cycling is not rushed. In total, you will cycle 90 km kilometers of both beautifully paved country back roads, and tiny village pathways (some less than beautifully paved, but providing intimate access to the tulou villages and fields).
Our next Tea & Tulou Eco-Cycle Journey is from December 6 – 8. To reserve your space email

morgan[at]thehutong[dot]com

. 15 cyclists is our maximum group size.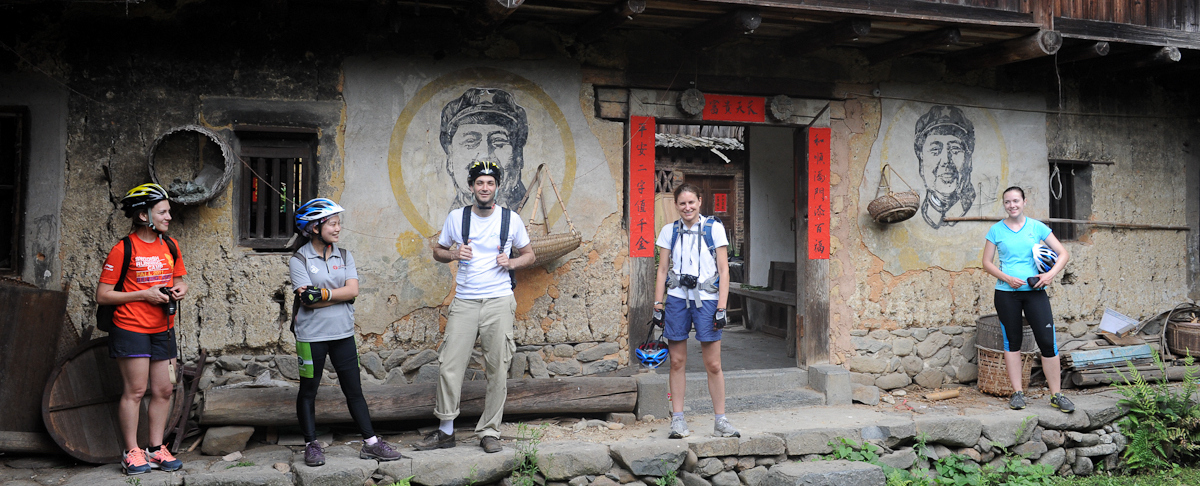 Price: 3300 RMB
Included: All meals (including rare Hakka delicacies like Tulou-Chicken), twin-share accommodation, mountain bike, helmet, two days supported cycling, and vehicle transfers to and from Xiamen Airport/train station.
Not included: Your travel expenses to Xiamen. We recommend arriving in Xiamen around 7:00 pm. We will transfer directly to the tulous (3 hrs). For participants who arrive earlier in the day or later in the evening, we will coordinate separate transfers to the tulous.
For participants who arrive earlier – whether Friday morning or even Thursday evening – The Hutong will provide tips on what to do, see and eat in Xiamen before joining the group bus to the tulous on Friday evening.
Our Fujian Bike Weekend Getaway is done in partnership with Bruce Foreman at Bikeaways. For more information click here.
Departures
Departing from Beijing: There are more than 17 flights a day. The 24 hour train ride is truly for afficionados.
Departing from Shanghai: The new bullet speed D-Trains take about 8 hours from Shanghai to Xiamen. There are seven direct flights on a Friday – China Eastern MU 5563 the most convenient for the 7.30 pm meet up.
Departing from Hong Kong: Flights are roughly 1 hour from Hong Kong to Xiamen. Flight KA 604 departing at 5.40 pm is perfect for those joining straight from work on Friday afternoon. For the eco- minded with a little more time there is a fantastic new bullet train that takes just 3.5 hours from Shenzhen North Station.
Return options: The Tea and Tulou Eco Cycle trip finishes at Xiamen Airport at 6pm Sunday night to connect with flights back to all major cities (Hong Kong, Beijing and Shanghai). Please check ticket availability for your return before you book.