Blog post by Ariana Lee, Amherst College, Hutong Intern Extraordinaire
豆浆和油条 (dòu jiāng hé yóu tiáo)
SOY-MILK AND FRIED DOUGH
Walking through the busy streets of Beijing during morning rush hour, it is inevitable that you will run into a local vendor selling bowls of soy-milk along with a plate of crispy fried dough. This traditional Chinese breakfast includes soy-milk made from dried soybeans that have been soaked, ground, and mixed with water. The soy-milk is lightly sweetened and full of rich and thick flavors. The fried dough that accompanies it is lightly salted and crispy, and is dipped into the soy-milk before tasting it. The soy-milk is served in a large pot, then ladled into bowls. It takes just a few minutes to fry the dough. This quick and affordable dish makes soy-milk and fried dough a very favorable breakfast option for many Chinese who hurry to work every morning. There is a saying that the contrasting flavors of sweet and salty, and hot and cold, relate to the concept of the Yin and the Yang. Chinese tradition regards the lightly salted fried dough as something hot and fiery; therefore, to compliment it, the fried dough should be eaten with something cool and sweet such as soy-milk. The balance between the different flavors is enjoyable and beneficial to your health.
Where to go: Taoyuan Village S9-10 Sanlitun Taikoo Li South Section, Chaoyang District, Beijing, China (+86 10 6416 5117) 桃园眷村三里屯太古里朝阳区
煎饼 (jiān bǐng)
FRIED PANCAKE
Jianbing is definitely the first thing I look for as I fly into Beijing from the United States. It is often regarded as another affordable and delicious breakfast option by the Chinese; however, other expats and I also associate this snack with late-night hunger cravings after a night out. In fact, where there are nightclubs and karaoke bars, one can find numerous Jianbing vendors along the streets. The wheat and mung bean flour mix is spread onto a circular iron grill and cooked until it becomes golden brown. While the mix is cooking, two eggs are cracked into it to give it an egg flavor and protein. Once cooked, the pancake is seasoned with a hoisin and chili sauce spread, and then covered with a crispy sheet of fried wonton to give it an extra crunch. Finally, the pancake is topped with vegetables, cilantro, scallions, and pickles. The eclectic mix of flavors and textures combined, from the soft pancake and the crispy wonton to the spicy chili sauce and the fresh and light vegetables, make this snack irresistible to many.
Where to go: Workers' Stadium North Road (but also literally on any street corner) 工体北路
驴肉火烧 (lǘ ròu huǒ shāo)
DONKEY SANDWICH
Many may be surprised by the popularity of donkey meat sandwiches. However, for many, it makes a savory dish to be enjoyed at any time of the day. Donkey sandwiches originally came from the Ming dynasty. The military forces of Zhu Di were on the brink of starvation, so they began to kill and feed upon their own horses. However, for common people, horses were a very valuable resource, and so they began to kill donkeys instead. To prepare a donkey sandwich, two buns are grilled until golden brown. While the breads cook, fresh donkey meat is chopped into smaller pieces, seasoned with green pepper, and cooked in gravy. Once the bread has reached perfection on the grill, it is sliced open and donkey meat is packed into the sandwich. The crunchiness of the bread perfectly compliments the tenderness of the meat. Similar to Beijing's other treats, the donkey sandwich is also served at an incredibly reasonable price, making it the perfect to go lunch or snack.
Where to go: Wang Pangzi 86 Gulou Xidajie Xicheng District (+86 10 8672 7507)
王胖子驴肉火烧.鼓楼西大街80号
炸酱面 (zhá jiàng miàn)
ZHAJIANG NOODLES
Zhajiang noodles are another staple Beijing local food and they make many locals reminisce on the significance of this dish during their childhood. I have heard my friends rave countless times about their grandmother's home-cooked Zhajiang noodles and how it is something they look forward to the most upon coming home to Beijing. This dish originated in Shandong province in Eastern China, which was the center of the country's economic activity at the time. Shangdong's delicious cuisine spread throughout China and because of China's proximity to Korea and Japan, Zhajiang noodles gained popularity there as well. Prices of Zhajiang noodles range from 10 RMB to 100 RMB, but even the least expensive sold by local vendors taste delicious. Zhajiang noodles are thick flour noodles seasoned with sweet bean sauce, ground bean sauce, ground pork, topped with cucumbers, carrots, scallions, mushrooms, and sometimes other vegetables such as bean sprouts. The richness and smoothness of the sauces perfectly couples with the lightness and freshness of the cucumber and carrot slices, giving this dish a very scrumptious flavor.
Where to go: Lao Beijing Zhajiangmian 29 Chongwenmenwai Dajie Chongwen District (+86 10 6705 6705) 老北京炸酱面崇文区崇文门外大街29
饺子 (jiǎo zī)
DUMPLINGS
When the clock strikes midnight on Chinese New Year Eve, my heart beats with excitement as I see plates of steaming hot dumplings being brought to the table. Now a popular dish worldwide, Chinese dumplings are traditionally eaten at midnight on Chinese New Year. Since the dumpling shape resembles that of a golden nugget, the currency once used in ancient China, it is a folk belief that eating dumplings on New Years Eve will bring fortune and prosperity to the family. Dumpling skin dough is kneaded using noodle flour and hot water. It is then rolled into a circular shape. Different types of dumpling fillings can be made with pork, black mushrooms, onions, Chinese cabbage, Chinese chives, and many other ingredients. The filling is placed into the dumpling skin and then wrapped with simple folds. The variety of ingredients used in the filling gives every bite into a new soft dumpling a surprise of different flavors.
Where to go: Baoyuan Dumplings North of 6 Maizidian Jie, Chaoyang District, Beijing 100025, China (+86 10 6586 4968) 朝阳区麦子店街6号楼北侧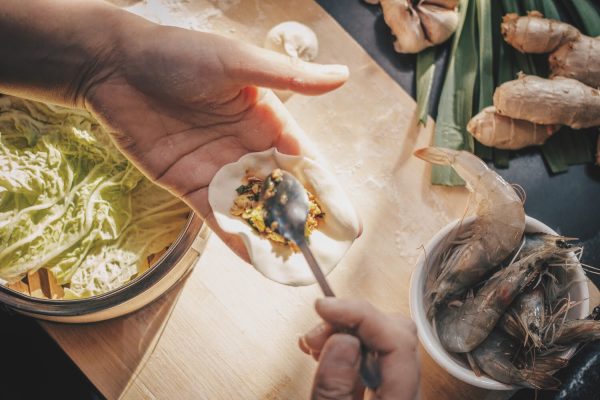 北京烤鸭 (běi jīng kǎo yā)
PEKING DUCK
Peking duck is the traditional Beijing dish. Duck meat is roasted till its skin is light and crispy and its meat is tender and juicy. The meat is put on a pancake and topped with sugar, sweet bean sauce, and cucumber sticks before everything is wrapped together with the pancake. The remaining duck fat and bones are often made into a broth that is to be served afterwards. The various textures of the fresh cucumber, the thick sauce, the crispy duck skin, and the tender meat create a variety of flavors that come together to make this dish enjoyable during important occasions. Peking duck is considered a royal dish because it was customarily enjoyed by the imperial courts of ancient China. Many poets and scholars began praising the dish in their writings. Today, Peking duck is considered a celebratory meal. The longstanding tradition of Peking duck echoes so much history in every bite.
Where to go: Da Dong 1-2/F, Nanxincang International Plaza, 22A Dongsi Shitiao, Dongcheng District (+86 10 5169 0329) 东城区东四十条甲22号南新仓国际大夏1-2层
驴打滚 (lǘ dá gǔn)
ROLLING DONKEY
Lv Da Gun are steamed glutinous rice rolls topped with red bean paste or brown sugar, rolled, and covered with soybean flour crumbs. Rolling Donkey gets its name because when rolled in the soybean flour crumbs, it resembles a donkey rolling in the ground, creating a cloud of dust. Lv Da Gun is often sold in street markets and at local vendors for cheap prices! It makes the perfect dessert to snack on or after a meal.
Where to go: Jiumen Xiaochi 1 Xiaoyou Hutong Xicheng District 九门小吃西城区孝友胡同1号
艾窝窝 (aì wō wō)
STICKY RICE WITH SWEET FILLING
Ai Wo Wo is made from steamed sticky rice shaped into a round ball, filled with sesame and white sugar, pea flour, jujube paste, and other fillings. The Ai Wo Wo is then rolled in white flour to make its surface snow-white and powdery. Ai Wo Wo dates back to the Yuan Dynasty. This powdery ball of sticky rice and its sweet filling created a snack that was enjoyed by the Chinese emperor and imperial families.
Where to go: Jiumen Xiaochi 1 Xiaoyou Hutong Xicheng District 九门小吃西城区孝友胡同1号
冰糖葫芦 (bīng táng hú lu)
CANDIED HAWTHORNE STICK
Bing Tang Hu Lu is a sweet traditional snack often found on the local streets of Beijing. Candied fruits, usually Chinese hawthorn berries, are skewered, dipped into sugar, and then hardened to form a crusty coating. As one bites through the sugared coating into the soft juicy fruit, a sweet flavor delights the taste buds, making candied hawthorn a treat enjoyed by local Chinese. Bing Tang Hu Lu is most commonly found in the winter because the red color of the hawthorn compliments the splashes of red that are visible across China during Chinese New Year. It is said that hawthorn aids digestion, so there is no guilt about eating too much of it!
Where to go: Houhai Shichahai Lake Scenic Resort, Xicheng District, Beijing 100009, China 后海什刹海西城区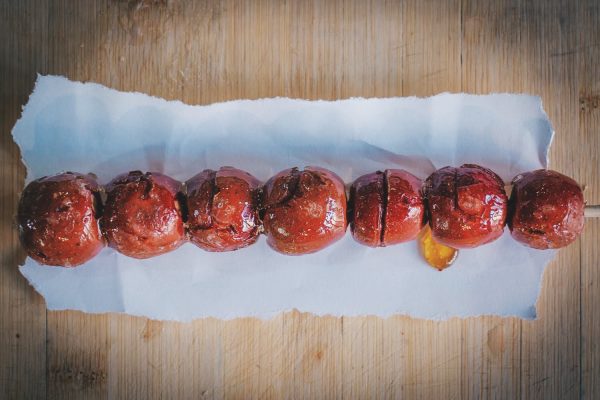 蝎子 (xiē zi)
SCORPION
Many westerners would squirm in shock if they saw a scorpion being served on a skewer at a street market. However, scorpions are customary in Chinese cuisine and considered a perfect snack or appetizer to go with a meal. At a street vendor stall, scorpions are generally deep-fried and then seasoned with different spices. While many may expect scorpions to taste slimy or bitter, they actually taste like popcorn or fried chicken skin and are quite delicious! The frying of the scorpion neutralizes the poison on the scorpion's tail, making it safe to eat. Scorpions are typically sold along with other exotic snacks such as fried lizards, starfish, silkworm cocoons, centipedes, and many insects. Will you be brave enough to try them?
Where to go: Sichahai Snack Street 什刹海小吃街