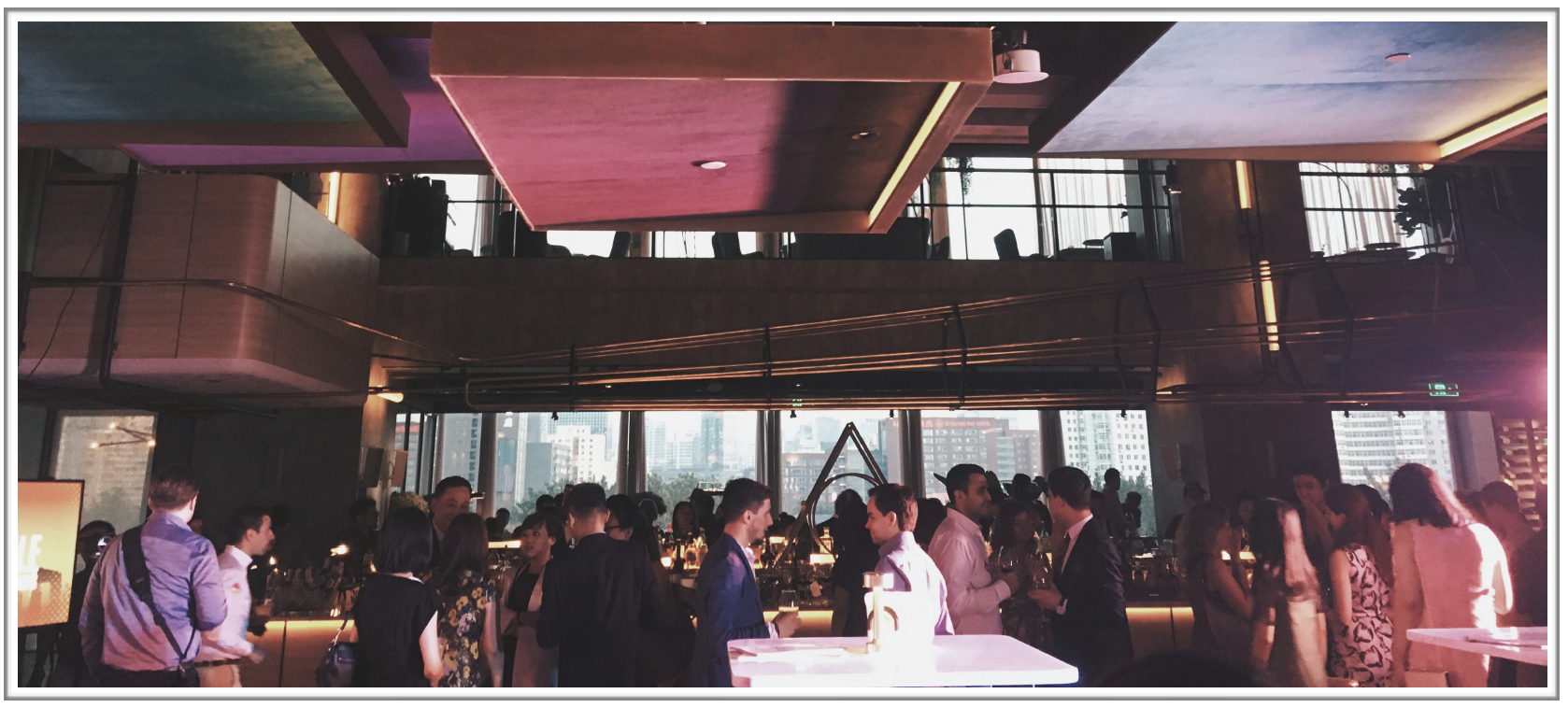 The Hutong Wins Chinese Culture Exchange Centre of the Year!
Adorned with magnificent golden ornaments and purple lights, Unico at the Topwin Centre was filled with music, laughter, and delicious food and drinks as Beijing's most prominent beauty, fitness, lifestyle, and nightlife brands came together for That's Beijing's award ceremony on July 11th, 2017.
Our own Hutongers: Michelle, Daisy, Ben, Jane, Moon, Bing Bing, Phoebe, Femi, and I dressed up in dashing outfits (Femi wins best dressed), and attended the event on behalf of the entire Hutong family.  At the entrance of Unico, there was a large backdrop that had 'That's Beijing' spelled out in huge letters.  All of us gathered together and smiled while a photographer frantically snapped away with flashes of lights.
As we made our way into the event, we were greeted by waiters walking around the venue with plates of delicious snacks and sliders, as well as artfully decorated desserts. I immediately reached for a slider and started munching away, as various flavours of creamy mayonnaise, grilled pork, and fresh vegetables delighted my tastebuds. Others headed over to the bar and sipped on mango cocktails and glasses of red and white wine. People were chatting, amiably engaged in conversation.
After I had some oysters and a bit too much to drink, the 'That's Beijing' MCs came out on stage to introduce themselves and warmly welcome everyone to the awards ceremony. There were a number of different categories and a list of nominees. 'That's Beijing' readers were able to vote online. Two winners from each category received awards, one picked by the readers and the other picked by the editors.

We were all waiting with anticipation as categories and their winners were being announced one by one.  One of the MCs read out the category for Chinese Cultural Exchange Centre of the Year and announced the winner,  "The Hutong", in a loud booming voice! Among cheers and applause we made our way to the stage to receive the award. Cameras started snapping away and flashing lights blinded our eyes.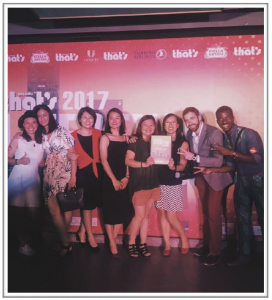 The MCs continued to announce categories and winners throughout the night, each followed by resounding applause. Everyone was anxiously waiting for the final lucky draw event, with a prize of a free trip to Europe courtesy of Turkish Airlines. For this event, all participants had put their business cards into a jar that the editors of That's Beijing would draw from. The MCs  invited the sponsors of the event to come on stage and present the prizes:  a precious vintage wine from Georgia, a one-night stay at the Kerry Hotel in Beijing, and… the free trip to Europe.
The MC read out the winner of the free one-night stay at the Kerry Hotel in Beijing: Phoebe Han from the Hutong! We cheered and congratulated Phoebe, who smiled, pleased with the idea of spending one luxurious night in this fancy hotel. The MCs kept announcing other awards and finally invited the representative from Turkish Airlines to the stage to present the free trip to Europe prize. A couple of cards were pulled out, but each were no shows. Then a card was pulled out and the MC read out "Wang Bing Bing from the Hutong". Our jaws dropped: Bing Bing had just won a free trip to Europe! We gathered around her cheering.
In just one night we were so lucky to win three awards, one of which included that trip to Europe! Here we are hoping this opportunity will give us a chance of  'Sharing Culture and Sharing Knowledge' with our future European friends!
Blog post by Ariana Lee, Amherst College, Hutong Intern Extraordinaire.