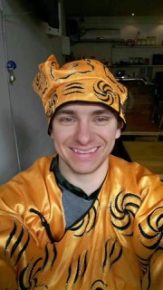 To Members of the Greater Hutong Family,
Recently, tragedy struck The Hutong when we lost a dear friend and Hutong family member, Glenn Crossley. He passed away at the age of 30 years old when he died suddenly on Tuesday, March 28th. Although Glenn was not a member of The Hutong Family for very long, he was very eager to learn and be a part of our wonderful community. He participated in numerous trainings, was always there with his pen, notebook, passionate attitude towards experiential education, and an innate ability to smile and improvise his way through any challenge. He is remembered by his parents and brother, as well as his closest friend and Hutong family member Aidan Hammond who will be returning to Canada in the near future.
Glenn's family members are currently starting a scholarship in his name back at Capilano University in Vancouver, BC. Longtime Hutong partner organization, Beijing Improv, will be hosting a show to honor Glenn, from which all the proceeds of the show will go to support the scholarship that his family is setting up in his honor. To the left is an image of Glenn on one of his Hutong programs, dressed as Sun Wukong, the Monkey King, a role that he relished and played with joy.