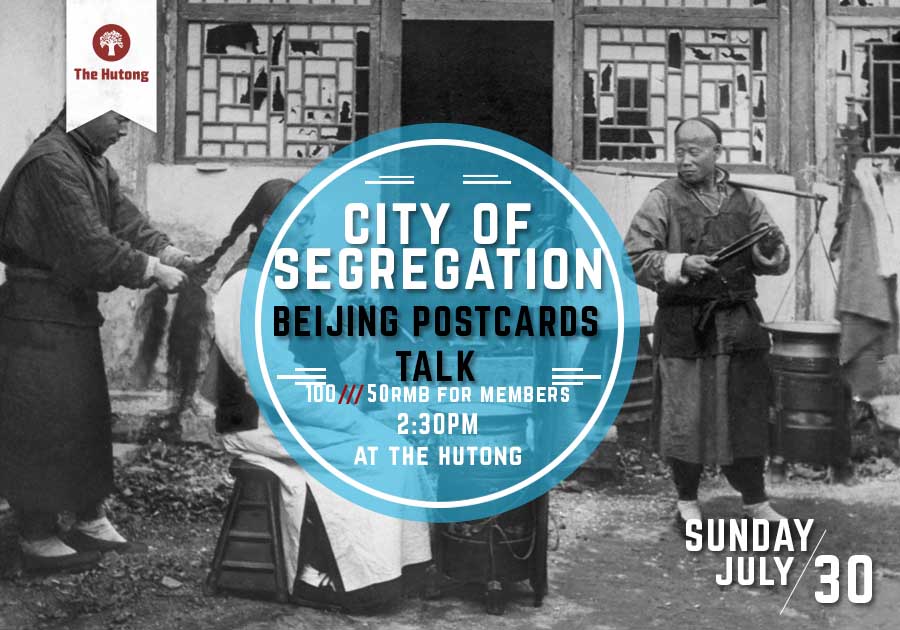 City of Segregation
Date: Sunday, July 30th
Time: 2:30pm – 4:00pm
Cost: 100 RMB, 50 RMB for members, includes a drink
Did you know that Beijing was once a deeply segregated city?
People from the South of town could not freely marry people from the Northern part.
And this did not change till 1902.  Beijing during the Qing dynasty was a city under occupation.
The Imperial clan and the soldiers of the 8 banners lived around the palace, and below them the Chinese civilians. These two societies were divided both by law and physically by Walls and gates.
The reason for this was that the rulers were afraid of losing their ethnic identity.
But despite their vigorous efforts the virtues of nomadic life eventually proved difficult to preserve…
"City of Segregation" is the story of how the Manchu's occupied the Capital of Beijing for an impressive almost 280 years, how they changed the city and still strongly helped influence our notion of "old Beijing" today.
Very likely the ancestors, of your small talking- bird-raising Beijing neighbor, originally belonged to a whiplashing nomadic people of the plains.
As seats are limited, please register for this talk using the button below

Beijing Postcards
 is a company that is dedicated to modern Chinese history, with an emphasis on Beijing. It can be difficult to understand the complex nature of Chinese society today. To help, Beijing Postcards offers a large variety of talks presenting interesting subjects on Beijing and China's history and culture in an easily accessible way. They also offer tailor-made talks for corporate events, clubs, private gatherings, and more. Beijing Postcards owns a large collection of old photographs from China which has been collected from all over the world. These are actively used in their presentations. The name, 
Beijing Postcards
, symbolizes the passing on of Chinese history and culture in a way that everybody can understand and appreciate it.