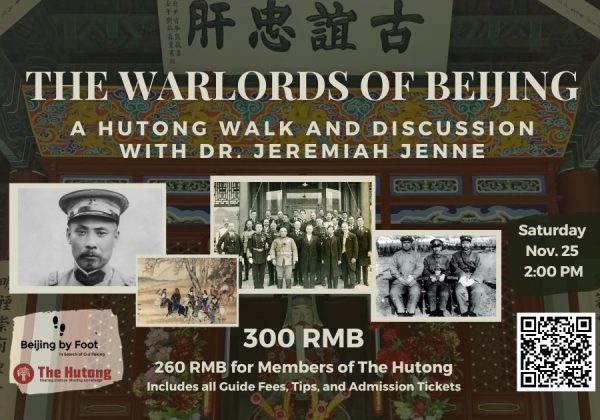 The Warlords of Beijing: A Hutong Walk and Discussion with Dr. Jeremiah Jenne
Date: Saturday, November 25
Time: 2:00 pm – 4:30 pm
Cost: 300 RMB (260 RMB for members of The Hutong) includes all guide fees and admission tickets.
Step back into the Warlord Era and follow the footsteps of some of history's most colorful personalities through the rough and tumble Peking of the nineteenth and early 20th century with our expertly curated walking tour led by historian and writer Dr. Jeremiah Jenne.
This journey will feature tales of power struggles, political shenanigans, loyalty, bravery, and sacrifice. We'll talk about Yuan Shikai, the man who would be Emperor; Duan Qirui, the cunning warlord who weaved a web of intrigue; Feng Yuxiang, the "Christian General" who sought to modernize and unify China at any cost; and some famous non-warlord military figures like the courageous poet and statesman Wen Tianxiang who remained loyal to his ideals in the face of adversity and Senggelinqin, the fearless Mongolian prince who left his mark on Chinese military history.
Be transported back to a world of bravery, betrayal, and blind ambition. Combining meticulous research and infectious wit, Dr. Jenne will share captivating stories from the archives and little-known facts about these famous figures and other ruffians, rogues, heroes, and villains from the Warlord Era. Spaces are limited for this small-group exploration to minimize our impact on local communities and historic sites.
Duration: About three hours
300 RMB per person (260 RMB for members of The Hutong), including all admission tickets, guide fees, and tips.

Spaces for this walk are limited and registration is required. Details about the walk including meeting points and payment information will be sent by email as part of your registration confirmation.