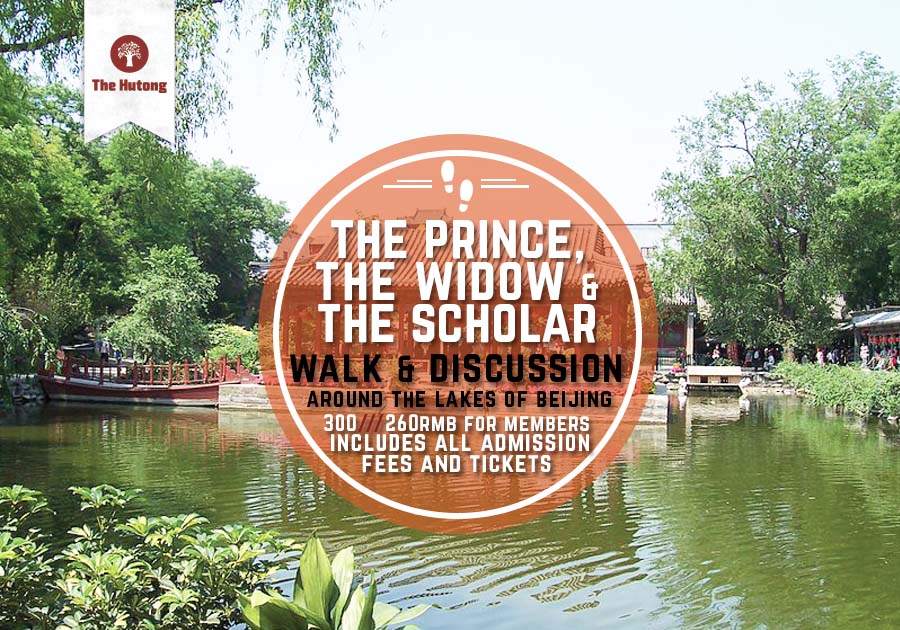 The Prince, The Widow, and the Scholar: Walk and Discussion around the Lakes of Beijing
Date: Monday, November 27th
Time: 1:00 pm – 4:00 pm
Cost: 300 RMB (260 RMB for members of The Hutong) includes all guide fees and admission tickets.
This walk takes us around Beijing's scenic lakes including Qianhai and Houhai. We will first visit the gorgeous former home of Guo Moruo, an author, artist, and poet who was one of the most influential Chinese scholars of the 20th century.
We will then visit the palace of Aisin-Gioro Yixin, better known as Prince Gong. The younger brother of the Xianfeng Emperor, Yixin helped defend Beijing from the Anglo-French Expeditionary Force in 1860 after his brother had fled the city. Later Yixin would become a diplomat, a reformer, and an official who suffered through a long career serving under the Empress Dowager Cixi. His palace, a Beijing landmark, is famous for its lavishly restored pavilions and gardens.
Finally, we will travel around the lakeside to the former home of Soong Ch'ing-ling, the widow of revolutionary leader Sun Yat-sen. One of the famous "Soong Sisters" (her brothers-in-law include Chiang Kai-shek and Chiang's finance minister H.H. Kung), she established her own legacy after her husband's death in 1925.
Along the way, we will travel the shorelines and back alleys of Beijing's lake district, getting a glimpse of life in the old Beijing hutongs (alleyways) while exploring one of Beijing's liveliest neighborhoods.
Walk Duration: Three to four hours

Spaces for this walk are limited and registration is required. Details about the walk including meeting points and payment information will be sent by email as part of your registration confirmation.  
~~ Follow Us on WeChat ~~