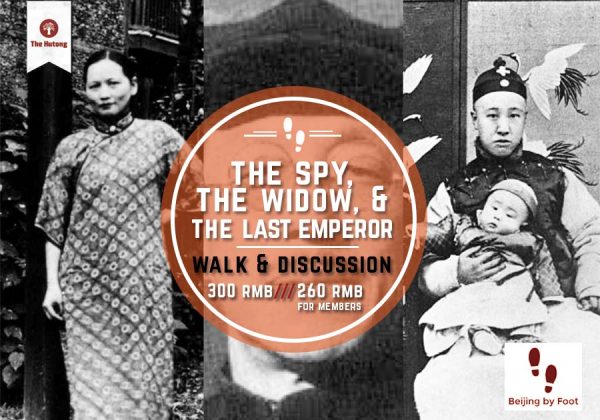 The Spy, the Widow, and the Last Emperor: A Walk and Discussion in the Historic Hutongs of Beijing
Date: Saturday, November 30th
Time: 1:00 pm – 4:00 pm
Cost: 300 RMB (260 RMB for members of The Hutong) includes all guide fees and admission tickets.
The hutong neighborhoods of Xicheng are less visited – and less touristy – than those of the eastern part of the city. They also were once home to some of Beijing's most famous faces. We'll explore the lakeshores and hidden alleys west of the Drum Tower. Along the way, we'll visit the home of Song Qingling, the widow of the revolutionary Sun Yat-sen, who stayed behind when the rest of her family fled to Taiwan in 1949. We'll also see the mansion where the Last Emperor was born and walk down the hutong where Kang Sheng, Mao Zedong's notorious spymaster once lurked. Along the way, we'll also explore the history of some of Beijing's lesser-traveled byways and observe life in Beijing's hutong neighborhoods.
Duration: About two to three hours


Spaces for this walk are limited and registration is required. Details about the walk including meeting points and payment information will be sent by email as part of your registration confirmation.  
~~ Follow Us on WeChat ~~