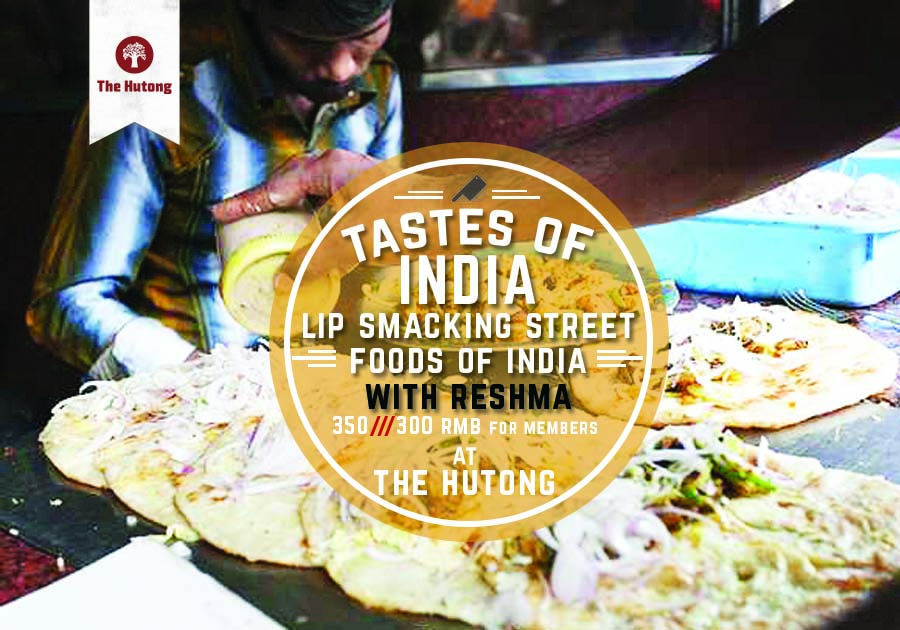 Tastes of India: Lip Smacking Street Foods of India
Date: Thursday, March 19th
Time: 10:30am – 1:00pm
Cost: 350 RMB, 300 RMB for members
Exotic, saucy and above all delicious, street food stirs, sizzles and surprises.  It evokes the spirit of a place in a bite. The streets is where you explore the heart of a cuisine and its culture. Food eaten on the streets truly reflects life as led by its people on the go.  It always brings back memories spanning  an all-night party  ending at the samosa stall round the corner to the welcome hot masala chai and bun in a tiny tea shop on a mountain .
Street cuisine don't hide behind linen napkins and silver cutlery. Their unashamedly bold flavour shout at you from a highway stall and leads you by your nose into a tiny bylane in Delhi tempting you to devour the kababs, the chhole bhaturas and the Jalebis.
Colourful ingredients  beckon enticingly and you cannot help but be seduced. It is street theatre at its best as the chef creates a masterpiece –  chopping, sautéing and cooking with the dexterity of a multi-armed Goddess. One bite and you are in ecstasy as multiple flavors explode in your mouth and swirl in unison. You may cough, splutter or even have tears streaming down your cheeks.
But you find yourself saying weakly, "One more please." You are hooked. The street has claimed you as its own.
Join chef Reshma Khan as she takes you for a walk on the wild side through the wonderful melting pot that is India and and invites you to dip into the best loved street foods of the country. Enjoy learning how to make the spicy 'batawada' from the bustling streets of Mumbai or rustle up a kathi roll evocative of old Calcutta.
Your journey will leave your taste buds tingling and and your fingers itching to book your ticket to India on a foodie vacation
MENU
Kathi Roll
Vada pav
Aloo Tikki Chaat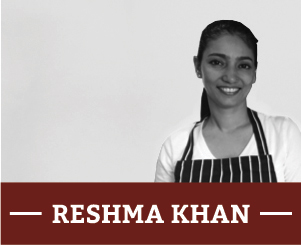 Hailing from a family of restaurateurs, Reshma grew up spending many a summer holiday watching chefs cook and honing her talent under trained eyes. Her own family hails from Kerala, Hyderabad, Maharashtra and Gujarat and over the years, Reshma has collected recipes from relatives and friends. She believes that gastronomy can be made simple, and can cater to the requirements of modern life without losing authentic flavors.