Confucius Said What is a fun, informative, and occasionally irreverent introduction to the basics of Ancient Chinese Thought.
Date: Sunday, February 20
Time: 2:30 pm – 4:00 pm
Cost: 150 RMB, 100 RMB for students and members of The Hutong
What did Confucius really say? Is Winnie the Pooh the best way to understand Daoism? What is Legalism, and why has it made a comeback in the 20th and 21st centuries?
In this session, we go back a few thousand years to look at the roots of Chinese thought and philosophy while also discussing the possibilities (and limitations) of using China's indigenous philosophical tradition as a lens to view Chinese society today. Join Dr. Jeremiah Jenne for a comprehensive – but fun and occasionally irreverent – briefing on Ancient Chinese Thought.
As seats are limited, please register for this talk using the button below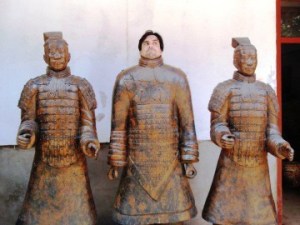 Jeremiah is a writer and historian based in Beijing since 2002. He earned his Ph.D. from the University of California, Davis, and taught Late Imperial and Modern Chinese History for over 15 years. His essays and articles on China have appeared in The Economist, South China Morning Post, The Journal of Asian Studies, Los Angeles Review of Books, and The World of Chinese. His writings can also be found in China in 2008: A Year of Great Significance, The Insider's Guide to Beijing, and the 2015 collection While We're Here: China Stories from a Writer's Colony. Jeremiah is frequently asked to speak and lead workshops on history, culture, and cultural adaptation for students, embassies, companies, and community groups and is the proprietor of Beijing by Foot, which organizes educational programs and historic walking tours of Beijing's most famous sites and less-traveled byways. Along with David Moser, Jeremiah hosts the podcast Barbarians at the Gate.