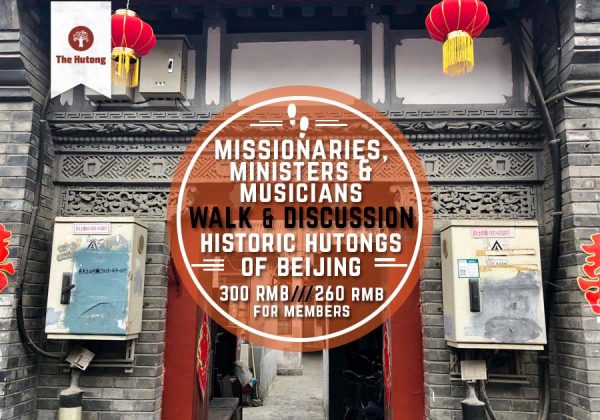 Missionaries, Ministers, and Musicians: A Walk and Discussion in the Historic Hutongs of Beijing
Date: Saturday, February 22nd
Time: 1:00 pm – 4:00 pm
Cost: 300 RMB per person (260 RMB for members of The Hutong) including all admission tickets, guide fees, and tips.

One of Beijing's most distinctive urban features, the hutongs have long been at the heart of the capital's unique local culture. This walk explores the past, present, and future of the hutongs, Beijing's network of historic alleyways while also visiting essential landmarks along the edge of the old city. Our walk will take us through the neighborhoods around Dengshikou and Dongsi which during the late-19th and early-20th centuries was where many of Old Peking's elite lived and worked.
We'll discuss the lives of missionaries, scientists, diplomats, ministers, and Hua Guofeng, the unfortunate successor to Chairman Mao. We'll also look at daily life in the hutong neighborhoods of Beijing and talk about the evolution of these spaces and what the future development of Beijing means for the preservation of historic neighborhoods in the capital.
We'll also visit the Zhihua Temple and watch a performance of Ming Dynasty court music performed on traditional instruments and spend some time exploring the Shijia Hutong Museum, one of the best museums in the city.
Duration: About three hours

Spaces for this walk are limited and registration is required. Details about the walk including meeting points and payment information will be sent by email as part of your registration confirmation.  
We never cancel a walk and discussion. If you sign up, we're walking!
~~ Follow Us on WeChat ~~