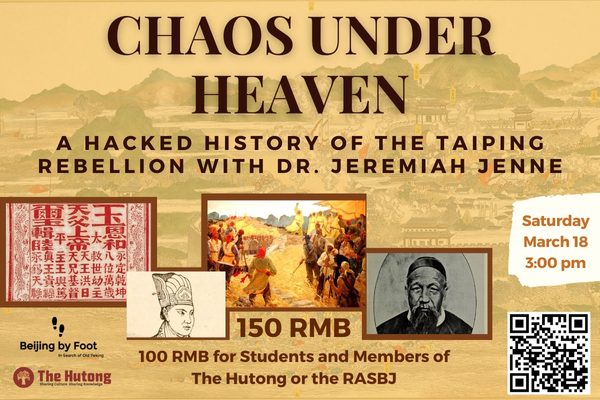 Chaos Under Heaven: A Hacked History of the Taiping Rebellion with Dr. Jeremiah Jenne
Talk and Discussion
Date: Saturday, March 18
Time: 3:00 pm – 4:30 pm
Cost: 150 RMB, 100 RMB for members 

In 1837, a young scholar named Hong Xiuquan had a nervous breakdown and dreamed of a great golden-bearded gentleman and an elder brother commanding him to slay demons.
Six years later, Hong stumbled upon a missionary pamphlet that gave meaning to his visions. He realized that he was no ordinary man but the son of God and the younger brother of Jesus Christ. From Hong's visions sprang a movement that nearly toppled an empire. Declaring war on the Qing Dynasty, The Heavenly Kingdom of the Taiping ruled a large part of central China from 1854 to 1863 with a mix of Christian philosophy, social revolution, and Hong's unique brand of madness.
Join historian and writer Dr. Jeremiah Jenne for a fun, informative, and occasionally irreverent look at Hong, his crusade, and the history of the Taiping Rebellion.

Jeremiah is a writer and historian based in Beijing since 2002. He earned his Ph.D. from the University of California, Davis, and taught Late Imperial and Modern Chinese History for over 15 years. His essays and articles on China have appeared in The Economist, South China Morning Post, The Journal of Asian Studies, Los Angeles Review of Books, and The World of Chinese. His writings can also be found in China in 2008: A Year of Great Significance, The Insider's Guide to Beijing, and the 2015 collection While We're Here: China Stories from a Writer's Colony. Jeremiah is frequently asked to speak and lead workshops on history, culture, and cultural adaptation for students, embassies, companies, and community groups and is the proprietor of Beijing by Foot, which organizes educational programs and historic walking tours of Beijing's most famous sites and less-traveled byways. Along with David Moser, Jeremiah hosts the podcast Barbarians at the Gate.