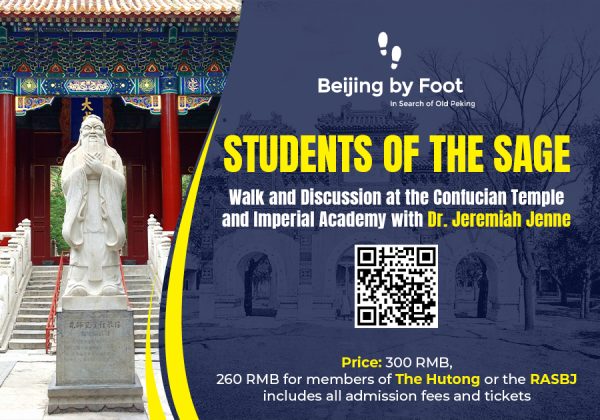 Students of the Sage: A Walk and Discussion at the Confucian Temple and Imperial Academy
Date: Saturday, November 26
Time: 2:00 pm – 4:00 pm
At the Confucian Temple, Officials and rulers venerated the Great Sage, while next door at the Imperial Academy, students prepared for the examinations, which were the gateway to power and elite status in imperial China. We'll discuss the origin and evolution of Confucian thought and consider the role the ideology of Confucianism and the examination system played in indoctrinating and training generations of scholar-officials. We'll also look at the modern fate of Confucianism and how ideology and education intersect in today's China.
This walk will offer insight into the history of Confucianism while exploring one of Beijing's most famous, photogenic, and celebrated historic sites.
Duration: About two hours
300 RMB (260 RMB for members of The Hutong) per person, including all admission costs, guide fees, and tips.

Spaces for this walk are limited, and registration is required. Details about the walk, including meeting points and payment information, will be sent by email as part of your registration confirmation.  
Jeremiah is a writer and historian based in Beijing since 2002. He earned his Ph.D. from the University of California, Davis, and taught Late Imperial and Modern Chinese History for over 15 years. His essays and articles on China have appeared in The Economist, South China Morning Post, The Journal of Asian Studies, Los Angeles Review of Books, and The World of Chinese. His writings can also be found in China in 2008: A Year of Great Significance, The Insider's Guide to Beijing, and the 2015 collection While We're Here: China Stories from a Writer's Colony. Jeremiah is frequently asked to speak and lead workshops on history, culture, and cultural adaptation for students, embassies, companies, and community groups and is the proprietor of Beijing by Foot, which organizes educational programs and historic walking tours of Beijing's most famous sites and less-traveled byways. Along with David Moser, Jeremiah hosts the podcast Barbarians at the Gate.