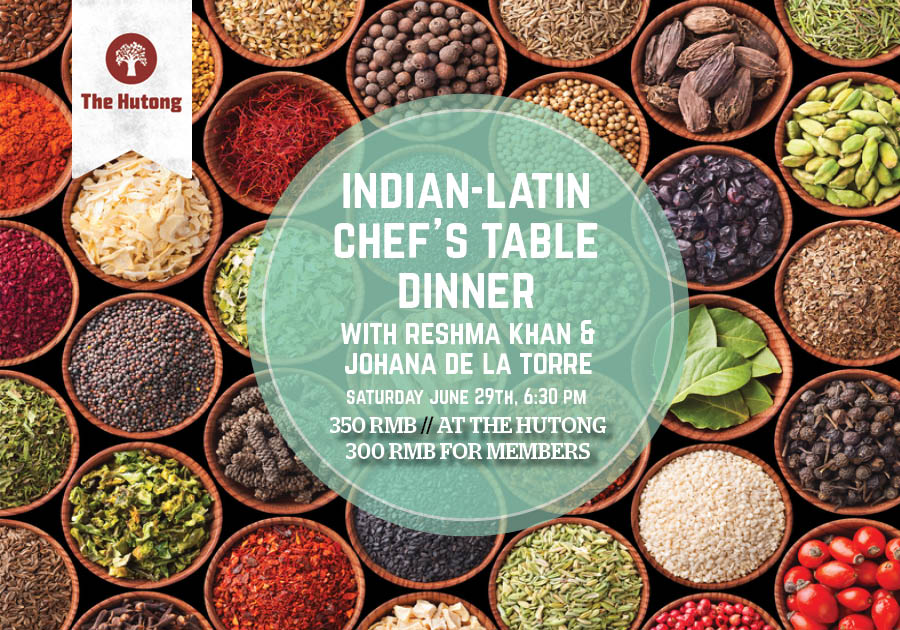 Indian Latin Chef's Table Dinner with Reshma & Johana
Date: Saturday, June 29th
Time: 6:30pm – 9:00pm
Cost: 350 RMB, 300 RMB for members (includes free flow local beer and soft drinks)
Our chef's table series offers an intimate dining experience with guest chefs, giving you the opportunity to see how their dishes are prepared up close in our hutong kitchen. Engage with chefs as they introduce the background and inspiration behind each course. Set menus allow you to relax while the experts compose a memorable meal.
---
Hailing from a family of restaurateurs, Reshma grew up spending many a summer holiday watching chefs cook and honing her talent under trained eyes. Her own family hails from Kerala, Hyderabad, Maharashtra and Gujarat and over the years, Reshma has collected recipes from relatives and friends. She believes that gastronomy can be made simple, and can cater to the requirements of modern life without losing authentic flavors.
Chef Johana started cooking at an early age when her parents decide to start a butterfly farm in the cloud forest of Ecuador. Her siblings and her started cooking for themselves and discovering new flavors. Soon after graduating from school she traveled to Israel where she was got a job as a sous chef at a kibbutz kitchen. She then traveled to Europe where she had the opportunity to cook in Italian, French, Danish and German kitchens. Mexico and Argentina were her next stops and where she enrolled in different culinary programs. Chef Johana returned home to open a restaurant at her parents magical farm. She now lives in Beijing where she explores new flavors and discovers new ways to combine her cuisine with the world. She loves bringing people together and letting them taste her Latin cooking.
---
Menu
shrimp ceviche • pappadums 
lentil vadas • chimichurri 
paneer jalfrezi empanadas • pineapple jalapeño chutney 
aji de gallina kathi wraps • tomato garlic chutney 
llapungachos • mangalorean lamb sukka • passionfruit ayi • chipotle dressing 
bunuelos • masala chai ice cream